Taking Care of Our Service Members and Families | Nov. 2022
Military OneSource sent this bulletin at 10/25/2022 02:05 PM EDT
| | | |
| --- | --- | --- |
| | An official communication from the United States Defense Department. | View In Browser |
Formerly known as the Service Provider eNewsletter.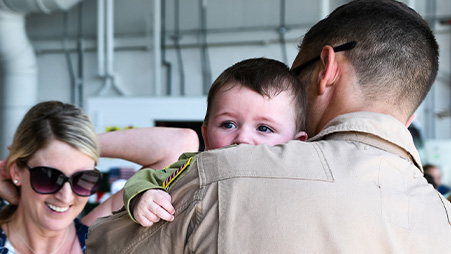 Taking Care of Our Service Members and Families
The secretary of defense announced actions to support service members and families. New initiatives will make military moves easier, expand opportunities for spouse employment, strengthen support for military families and ensure basic needs are accessible and affordable.
70+ New Employers Join MSEP
At the 2022 Military Spouse Employment Partnership Annual Event, new companies joined 540+ existing partners committed to hiring MilSpouses. Help spouses find new career opportunities with the MSEP Job Search.

Share the job search »
---
Family-Centered Solutions Webinar
Dr. Childress and Dr. Schumaker-Murphy explore the benefits and challenges of family-centered strategies during virtual intervention visits. Sign up now for their webinar on Nov. 16 at 11 a.m.

Register now »
---
EFMP Resources Webinar Recording
Watch this on-demand recording to learn about Exceptional Family Member Program resources for you and the families you support. Explore EFMP & Me, eLearning platforms, educational directories, podcasts and toolkits.

Play the webinar »
---
PADD Rights Trifold
This trifold outlines the rights of the designated person authorized to direct disposition of a service member's remains. It explains these rights and the steps you will take if you are the PADD.

Get the PDF »
---
Share the Scoop
If you know someone who might benefit from receiving the Military Community and Family Policy MilProvider eNewsletter, formerly the Service Provider eNewsletter, forward this email or send them to the MilProvider eNewsletter page to sign up.
---
This email was sent to Email Address on behalf of Military OneSource.