New Connections + New Resources = New Opportunities [Winter 2022]
Military OneSource sent this bulletin at 01/28/2022 11:20 AM EST
| | | |
| --- | --- | --- |
| | An official communication from the United States Department of Defense. | View In Browser |
Meet Our New MSEP Partners
The DOD recently inducted 45 new companies and organizations into the Military Spouse Employment Partnership. Learn about these new partners and discover new opportunities they've created by committing to recruit, hire, promote and retain military spouses.
The MyCAA Scholarship: Better than Ever
Now, eligible MilSpouses can use My Career Advancement Account Scholarship money for national tests for course credits for a degree, as well as traditional licensure and certification. Start strategizing for your next career move.
On-Demand Summit Sessions for Relationship TLC
Watch session recordings from the Relationship Wellness Summit and get proven tools to strengthen your relationship with yourself, your partner and other people you care about. Tune in and share with your friends.
---
---
---
Account for That With MilTax
It's tax season! File fearless with free MilTax software and expert support. Made for the military, MilTax makes it easy to account for common MilLife considerations like:

Multistate filings
Living OCONUS
Special pay and more!
Get started with MilTax »
---
Career Coach Tips
---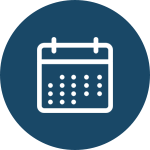 Mark Your
Calendar
Thursday, Feb. 3, 2022 –
1 p.m. EST
MSEP Partner Connect: Servpro Industries
Thursday, Feb. 10, 2022 –
3 p.m. EST
SECO Spotlight:
Careers for Business Types
Thursday, Feb. 17, 2022 –
1 p.m. EST
MSEP Partner Connect: CAVA
---
This email was sent to Email Address on behalf of Military OneSource.