Suicide Loss Support, New Online Memorial & More: Dec. 2021
Military OneSource sent this bulletin at 12/16/2021 10:23 AM EST
| | | |
| --- | --- | --- |
| | An official communication from the United States Department of Defense. | View In Browser |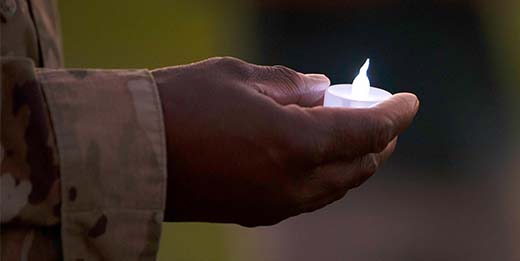 After a Suicide
Every death by suicide is a tragedy and research shows that an average of
135 people are affected when such a death occurs. The "After a Suicide" MilLife Learning course is designed to help those impacted understand what techniques, support systems and self-care routines may be best for them.

New Online Military Memorial
Pay your respects to a loved one today by creating an enduring place of honor to preserve their memory. Add a family member's name to the Military In Lasting Tribute online memorial and celebrate their service.
Online Survivor Benefits Report Updates
Procedures for accessing online survivor benefits reports were recently updated. Changes include a two-factor authentication login. Learn more to make your login experience seamless.
Trauma and Moral Injury
Surviving family members, veterans or service members of recent events in Afghanistan, or the pandemic, are at risk for moral injury. Learn how to heal to prevent thoughts or acts of self-harm or suicide.
---
Connectedness and Combating Stress
The military community provides support, even in the most challenging times. Help yourself and others; listen to and share the following livestream recordings:
---
---
---
Manage Your Benefits
The survivor milestone trifold guide outlines the change in benefits eligible survivors can expect and what decisions a survivor may need to make. Download the trifold PDF to learn about resources and support.
---
Stay Updated on COVID-19
The Defense Department is working with the Centers for Disease Control and Prevention and the Department of State to provide support for dealing with the coronavirus disease 2019 pandemic. Get the latest information relevant to the military community.
---
---
| | | |
| --- | --- | --- |
| | We send our best wishes for peace and joy during the holiday season. | |
DOD/VA Survivor's Forum
Jan. 20, 2022
---
---

| | | |
| --- | --- | --- |
| | Survivors can view this eTutorial for information about investigations involving the death of a loved one. | |
---
This email was sent to Email Address on behalf of Military OneSource.