Support MilSpouses, Prioritize Mental Health & Access MWR Fun
Military OneSource sent this bulletin at 05/27/2021 11:33 AM EDT
| | | |
| --- | --- | --- |
| | An official communication from the United States Department of Defense. | View In Browser |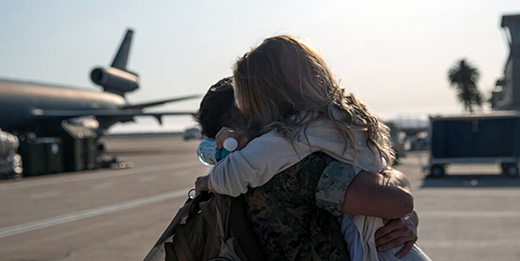 Support the MilSpouse in Your Life
May is Military Spouse Appreciation Month – a time when we recognize military spouses for rocking the MilLife. It can be tough to figure out how to support the MilSpouse in your life, but here are ways to help them feel strong and understood.
---
Prioritizing Your Service Member's Mental Health
If your service member is experiencing stress, relationship concerns, sleep problems or grief, your support can steer them to get help. The Department of Defense offers many mental health services for the military.
---
Free-Time Fun With MWR
Being mission-ready requires having downtime to relax, recharge and have fun. Service members and families have access to Morale, Welfare & Recreation facilities, tickets, rentals, vacations, the digital library and other free or low-cost adventures.
---
Plan For The Future With Military Life Cycle Modules
Your service member can watch Department of Veterans Affairs online courses to learn about their transition benefits and services. This information can make a difference in their military career or future civilian life.
---
Expanded GI Bill Benefits
With the recent passing of the Isakson and Roe, beginning Jan. 6, 2021, service members can transfer all or part of their Post-9/11 GI Bill entitlement to their ward or foster child. This is one way the VA is ensuring the unique needs of military children are met.
---
About Military OneSource
Military OneSource is a Department of Defense program that connects service members and their families to information, resources and support to live their best military life. We know that friends and family are an important part of each service member's support network.

View How We Serve »
---
Share With Your Network
Know others who may be interested in the Friends & Family Connection eNewsletter? Share this resource:
---
This email was sent to Email Address on behalf of Military OneSource.