Homeland Security Investigations brings counterfeit designers to heel
U.S. Immigration and Customs Enforcement (ICE) sent this bulletin at 07/28/2011 04:47 PM EDT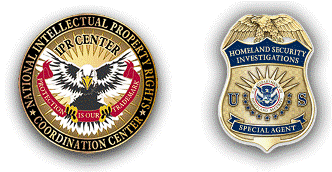 Having trouble viewing this email? View it as a Web page.
Homeland Security Investigations brings counterfeit designers to heel
Project "Shoe Clerk" is the 6th phase of "Operation In Our Sites" which protects consumers from counterfeit goods - yields an arrest in upstate New York
WASHINGTON - In order to protect consumers from deals that are too good to be true, U.S. Immigration and Customs Enforcement's (ICE) Homeland Security Investigations (HSI) served court orders seizing 16 domain names of websites selling counterfeit goods over the Internet. An upstate New York man was also arrested and charged for producing and selling counterfeit goods as part of the operation.
This project dubbed, "Shoe Clerk," is the sixth phase of "Operation In Our Sites," a sustained law enforcement initiative to protect consumers by targeting counterfeiting and piracy over the Internet.
The 16 domain names seized were commercial websites engaged in illegally selling and distributing counterfeit goods. During the course of the operation, federal law enforcement agents made undercover purchases from online retailers suspected of selling counterfeit goods. Purchased counterfeit items included: shoes, boots, sneakers, jackets, shirts, hats and sunglasses.
Once the materials were confirmed to be counterfeit or otherwise illegal, HSI agents obtained from federal magistrate judges seizure orders for the domain names of the websites that sold or distributed the items. In most instances, the counterfeit goods were shipped directly into the United States from suppliers in other countries using international express mail. The 16 websites have been shut down, and now show a banner stating that the domain name of that website has been seized by federal authorities.
The seized counterfeit items represent 13 name brands: Dolce & Gabbana, Gucci, Lacoste, New Era, Nike, The North Face, Oakley, PUMA, Ralph Lauren, Ray-Ban, Sons of Anarchy, Tory Burch and UGG.
Following is a list of the 16 seized websites:
discountedoakleysunglasses.com

onlypuma.com

ralphlauren-polos.org

solesold.com

toryburchsoutlets.org

toryburchsoutletsale.net

ventma.com

choosepuma.com

ebayshoppingjoy.com

lacosteshoesmall.com

menlacosteshoes.com

newerahatsnow.com

newerahatss.com

pumaforever.com

replicaoakleysunglasses.net

shoplacosteshoes.com
As part of the operation, Ryan Breen, 31, of Savannah, N.Y., was also arrested and charged with using the Internet to traffic in counterfeit goods. Breen was identified as the owner and operator of a website seized in this operation that sold unauthorized apparel from the FX Network series "Sons of Anarchy." The website offered counterfeit t-shirts for sale using the show's trademark brand without the permission of the Fox Broadcasting Company. If convicted, Breen faces a maximum penalty of 10 years in prison and a $2 million fine.
This nationwide operation was spearheaded by the HSI-led National Intellectual Property Rights Coordination Center (IPR Center); HSI offices in Baltimore, Buffalo, Denver, Detroit and Houston; and in coordination with the following U.S. Attorneys' offices: District of Maryland, Western District of New York, District of Colorado, Eastern District of Michigan, and Southern District of Texas.
"American business is under assault from counterfeiters," said ICE Director John Morton. "These counterfeits represent a triple threat by delivering shoddy and sometimes dangerous goods into commerce, by funding organized criminal activities, and by denying Americans good-paying jobs. HSI and our partners at the IPR Center will continue to work together to keep counterfeit products off our streets."
"Legitimate creators, performers and craftspeople who grow and support the economy through their hard work and talents must have their intellectual property protected," said U.S. Attorney William J. Hochul Jr., Western District of New York. "In today's age, the theft of another's property, to include one's ideas, is just as likely to occur over the Internet as it is on the streets of a community. By using court-ordered warrants to 'seize' a particular website or domain, our office is using 21st century techniques to combat criminals operating in the virtual world."
"We take the protection of our intellectual property very seriously and we applaud the efforts of ICE in the battle against counterfeiting," commented Mei-lan Stark, 20th Century Fox Film Corporation's Senior Vice President of Intellectual Property. "We hope this arrest sends a clear message that stealing our valuable properties will not be tolerated."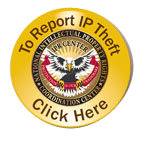 In June 2010, HSI and the IPR Center began "Operation In Our Sites." Since the launch of this operation, HSI and the IPR Center have seized a total of 141 domain names and redirected those domain names to a seizure banner. Eighty-six of the 141 domain names seized have now been forfeited to the U.S. government. Through the forfeiture process, individuals who have an interest in the seized domain names are provided a period of time after the "Notice of Seizure" to file a petition with a federal court and additional time after the "Notice of Forfeiture" to contest the forfeiture. If no petitions or claims are filed, the domain names become property of the U.S. government.
Intellectual property rights violators unfairly devalue America's contributions, compromise American jobs, and put consumers, families, and communities at risk. Intellectual property rights are intended to discourage thieves from selling cheap imitations of products that are often far less safe or reliable than the original products. More importantly, intellectual property rights protect public safety by preventing the proliferation of counterfeit pharmaceuticals and other materials that are potentially harmful.
It is estimated that intellectual property theft costs American industry billions of dollars and hundreds of thousands of jobs every year. Additionally, "Operation In Our Sites" is also targeting counterfeit pharmaceuticals, software, electronics, games and other products that threaten public health and safety.
The IPR Center is one of the U.S. government's key weapons in the fight against criminal counterfeiting and piracy. The IPR Center is led by HSI and includes partners from the following agencies: U.S. Customs and Border Protection, FBI, Food and Drug Administration's Office of Criminal Investigations, U.S. Postal Inspection Service, Department of Commerce's International Trade Administration, Patent and Trademark Office, Naval Criminal Investigative Service, Defense Criminal Investigative Service, Army Criminal Investigative Command's Major Procurement Fraud Unit, General Services Administration's Office of Inspector General, Consumer Product Safety Commission, Defense Logistics Agency's Office of the Inspector General, Air Force Office of Special Investigations, Department of State's Office of International Intellectual Property Enforcement, National Aeronautics and Space Administration's Office of Inspector General, INTERPOL, Government of Mexico's Tax Administration Service, and Royal Canadian Mounted Police.
As a task force, the IPR Center uses the expertise of its member agencies to share information, develop initiatives, coordinate enforcement actions, and conduct investigations related to IP theft. Through this strategic interagency partnership, the IPR Center protects the public's health and safety, the U.S. economy and the war fighters.
To learn more about the IPR Center, or to report IP theft, visit www.IPRCenter.gov.