Latest News and COVID-19 Updates from Broxtowe Borough Council
Broxtowe Borough Council sent this bulletin at 14-01-2022 02:14 PM GMT
In this newsletter:
Council Statement on Colin Slater

Stapleford Town Centre Recovery Fund Now Open

Omicron Hospitality and Leisure Grant Now Open

COVID-19 Updates

Other News
Council Statement on Colin Slater
With the passing of Colin Slater MBE, the Leader of Broxtowe Borough Council, Councillor Milan Radulovic has shared:
"We were all deeply saddened to hear of Colin's passing on Monday 10 January.
As a Freeman of the Borough of Broxtowe, he made an exceptional contribution to both his journalism profession but also to the City as a whole.
He truly was a Nottingham icon. Our sincerest condolences go to his family and friends."
Stapleford Town Centre Recovery Fund Now Open
Applications are now open for businesses to apply for the Stapleford Town Centre Recovery Fund.
As part of the successful development of the Stapleford Town Deal Programme, a total of £1million has been allocated for the Town Centre Recovery Fund project. 
The overall fund will offer grant support to high street businesses in Stapleford Town Centre, and will be split into two grants to support different aspects of business recovery:
The Business Continuity Grant (BCG) aims to support business resilience and growth over the long term, sustaining occupancy levels within Stapleford Town Centre.
The Building Development Fund (BDF) is to create buildings of the future; improving accessibility, energy efficiency and the look and feel of Stapleford Town Centre.
Omicron Hospitality and Leisure Grant Now Open
Broxtowe Borough Council will be administering two grant schemes to support businesses in the Hospitality, Leisure and Accommodation sectors or those businesses supporting these.
The first of these schemes is the Omicron Hospitality and Leisure Grant and is now live for businesses meeting the qualifying criteria to apply.
The scheme will close for applications on 20 February 2022 and all final payments must be made by 31 March 2022.
The second grant scheme will be to assist those businesses that support the Hospitality, Leisure and Accommodation sectors. The Council is still awaiting details of the allocation of this grant and will be developing the policy to support businesses as soon as this information is received.
COVID-19 Updates
Community Testing
Mobile asymptomatic LFT testing will be available across Broxtowe next week.
These tests are for those who do not currently have any COVID-19 symptoms and the locations and times of testing are as follows:
Walter Parker Memorial Square, Stapleford
Monday 17 January 2022, 9am-3.30pm
The Sun Inn, Kelham Way, Eastwood
Wednesday 19 January 2022, 9am-3.30pm
Newdigate Street Car Park, Kimberley
Friday 21 January 2022, 9am-3.30pm
Ikea (outside Boots) Giltbrook Retail Park
Sunday 23 January 2022, 9am-3.30pm
You do not need to book - just turn up.
Changes To Self-Isolation
From 17 January in England, if you are self-isolating with COVID-19 and provide negative lateral flow test results on day 5 and 6 you will be able to end self-isolation after 5 full days.
Vaccination Bus Returns to Beeston
The COVID-19 Vaccination Bus will be back in Beeston on Friday 21 January.
The clinic will run 10.00am - 12.30pm at Devonshire Avenue car park and 1.00pm - 4.00pm at Beeston Fields Recreation Ground.
First, second jab and boosters will be available for those 18 and over. There's no need to book, just turn up.
Other News
Make 2022 the year to go Green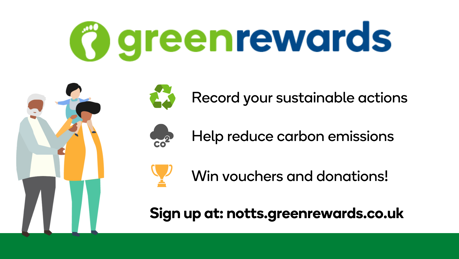 This January, Broxtowe Borough Council is asking residents to sign up for Green Rewards – it's free, easy to use and by signing up you are joining hundreds of Broxtowe users who are spending a couple of minutes each day to tackle climate change in Nottinghamshire.
Users are rewarded 'Green points' for logging actions which reduce their carbon footprint and can then be exchanged for vouchers. There is also a leaderboard which participants can use to monitor how Broxtowe is performing. 
As part of Green Rewards, Broxtowe Borough Council is promoting small changes residents can make to make a big difference starting in January 2022.
Are you ready to be #AlightinBeeston?
On Saturday 29 January 2022 Beeston holds its first Light Night. From Beeston Marina to Barton House, the High Road to the Square and High Street.
Featuring brand-new neon street art, video projections, live music, fire spinning, specially commissioned, locally-made film, an immersive edition of the Beeston Film festival, street performers and an all day market (10am-10pm).
Celebrate Beeston's creativity and community spirit and find out why things really are #AlightinBeeston.
Strategic review of Nottinghamshire's Recycling Centres has now been approved
On 5 January, Nottinghamshire County Council approved a strategic review of Nottinghamshire's recycling network. This is to make certain that the recycling needs of the county's growing population are all catered to.
There are 12 recycling centres in total across Nottinghamshire and for each centre the site access, facilities and capacity will be assessed to ensure they are operating to the highest standard.
Plans to close Dovecote Lane, Beeston to promote safer cycling
A key road and cycling route in Beeston, Dovecote Lane, is due to close to through traffic in order to make cycling safer in the town centre. 
The closure will be put into place as instructed by an Experimental Traffic Regulation Order (ETRO) to close the road to through traffic north of Beeston's West End. This is all part of Nottinghamshire County Council's Active Travel Fund (ATF) proposals to ensure that safety is prioritised for local residents, cyclists and drivers.
You can send your feedback to publicrealm@viacem.co.uk
Queen's Jubilee Pudding Competition
This year marks 70 years of the Queen's reign and 2022 promises to be a special year of celebration culminating in a 4 day bank holiday weekend from 2-6 June. More details of The Council's plans will follow over the coming weeks.
However, this week, a national competition was launched to create a Platinum Pudding! The winner will have their recipe shared with the nation and the winning creator will also be invited along to the celebrations.
Nottinghamshire needs YOU to care
A major recruitment campaign has been launched by Nottinghamshire County Council to help care providers fill vacancies in Broxtowe.
There are various roles available working as a care professional with younger and older adults, offering full training and flexible hours.
If you're looking for a fulfilling and rewarding role that makes a difference to the lives of vulnerable adults every day, caring could be the career for you.
Support Available
Self-isolating
If you develop symptoms of COVID-19, stay at home and self-isolate immediately. If you have a positive test result but do not have symptoms, stay at home and self-isolate as soon as you receive the results. 
Support to get essential supplies
If you are vulnerable and need help to get food, medicine or community support, please get in touch with the Nottinghamshire Community Support Hub www.nottinghamshire.gov.uk/coronaviruscommunityhub or call 0300 500 80 80
Financial support
In some circumstances, if you are required by law to self-isolate, you may be supported by a payment of £500, payable from Broxtowe Borough Council. Find out more about this scheme and other financial support at www.broxtowe.gov.uk/testandtracepayment or call 0115 917 7777
Mental health
The impact of the pandemic on you and your loved ones and not being able to enjoy all of the activities you would normally be involved in can all have an impact on your health. It is important to remember to look after yourself. Useful resources to support you, your family and friends can be found at www.broxtowe.gov.uk/wellbeing or call the Nottinghamshire Mental Health Helpline between 9.00am and 1.00pm, seven days a week on 0300 555 0730.
Accessing NHS services
If you have symptoms or a health concern you are worried about, please contact your GP practice. GP practices are still open and here for you. When you call your practice, you may be offered a consultation online or over the phone. If they feel they need to see you in person, they will invite you in for a face to face appointment. Read more for guidance at https://nottsccg.nhs.uk/covid-19/gp-appointment-guidance/
Staying up to date
The easiest way to stay up to date is by checking our dedicated Coronavirus webpages. 
They contain useful information on:
We also share daily updates on our social media accounts and will be sending you this email bulletin every Friday.