Iowa Department of Human Rights Newsletter
The Iowa Department of Human Rights (DHR) brings strength to Iowa's rich heritage.  Our three divisions - Community Action Agencies, Community Advocacy and Services, and Criminal and Juvenile Justice Planning - work to reduce cultural, social, and economic barriers to opportunities for Iowans to succeed.
Utilities-LIHEAP Deadline April 30, 2021
Low-Income Home Energy Assistance Program (LIHEAP)
The Low-Income Home Energy Assistance Program (LIHEAP) can help Iowa families stay warm and reduce health and safety problems.  The program provides assistance with heating bills, energy crisis, and weatherization and energy-related home repairs.  
LIHEAP helps qualifying low-income Iowa homeowners and renters pay for a portion of their primary heating costs for the winter heating season. The application deadline is April 30, 2021. Customers who qualify for LIHEAP are protected from having their natural gas and electric utilities disconnected from November 1 to April 1.
Applications are taken at your local community action agency.  Anyone having difficulty paying their utility bill or facing disconnection at any time should contact their local community action agency for assistance. To find your local agency, visit https://humanrights.iowa.gov/dcaa/where-apply, or contact the Iowa Department of Human Rights (DHR) at (515) 242-5655 or 1-800-351-4659. LIHEAP information is available in multiple languages on the DHR's website.  Iowans may also call 2-1-1.
DHR Video
Iowans have endured an unprecedented time that included the pandemic, natural disasters, and social issues.  The impact of these crises have exacerbated the challenges of vulnerable Iowans that affect their health, finances, food security, and everyday life. The Department of Human Rights operationalized strategies to support the well-being of vulnerable communities that include low-income households, communities of color, persons with disabilities, and those who have few resources.  Learn about the highlights and impact of DHR's work and COVID-19 response by watching this video. 

DHR Accepting Applications from Youth 
The Iowa Department of Human Rights is accepting applications for the State of Iowa Youth Advisory Council (SIYAC) and Iowa Youth Congress (IYC) for the 2021-2022 membership term. There is no cost to apply or participate. Applications are due June 4. 
State of Iowa Youth Advisory Council
The State of Iowa Youth Advisory Council (SIYAC) is comprised of 21 youth members from across Iowa between the ages of 14-20. SIYAC is a statutory council that provides input to the Governor, legislature, and communities about important issues that affect youth. 
   To learn more: https://humanrights.iowa.gov/cas/siyac 
   To apply: https://forms.gle/CvhWH5TBTezxXJKX6  
   Letter of recommendation: https://forms.gle/9a2wkxmsRmuLJynH9
Iowa Youth Congress           
The Iowa Youth Congress program provides an opportunity for a diverse group of up to 100 Iowa high school-aged youth to learn about the legislative process, leadership skills, civic engagement, and advocacy. 
   To learn more about IYC: https://humanrights.iowa.gov/iowa-youth-congress 
   To apply: https://forms.gle/TAt7hh7wVbqyN52y8 
Iowans with Underlying Conditions Eligible for COVID-19 Vaccine 
The Iowa Department of Public Health announced that effective Monday, March 8, 2021, Iowa vaccine providers can officially begin vaccinating additional priority populations. Individuals 64 years of age and younger with medical conditions that are or may be an increased risk of severe illness from COVID-19 are now eligible. See Center for Disease Control's (CDC) recommendations for those conditions here.
This announcement comes as several Iowa counties have reported they are nearing completion for vaccinating previous priority population groups. Some counties and vaccine providers will remain focused on previous priority populations until they are closer to completion.
Because vaccine production has not fully met the demand for vaccine, Iowans will need to remain patient as vaccine production increases. The White House announced this week that by the end of May, there will be enough vaccine for anyone over the age of 16 who chooses to receive one.
Starting March 9, the 211 Call Center will be able to assist Iowans age 65 and older who need assistance scheduling an appointment and don't have access to the technology to do so. 
Getting a COVID-19 vaccine adds one more layer of protection.
New State Vaccine Website
The State has launched a new website, Vaccinate.Iowa.gov, that provides information about vaccine priority populations and eligibility, resources available for Iowans age 65 and older, and answers to frequently asked questions about vaccine. The site also hosts a locator tool where users can enter their zip code to find vaccine providers near them. Once a provider is selected, appointment scheduling will be done through the provider's website or scheduling platform. Information on the site will be updated regularly and site content can be translated into multiple languages.
Slam the Scam!
Federal agencies are warning consumers about vaccine scams and other other scams that ask for money or personal information.  Here's information on how to protect yourself and how to report a scam.
March is Women's History Month
Nominate Women Who Make History 
The Iowa Women's Hall of Fame honors women who make history.  Every day, women in Iowa lead in ways that make the world a better place.  These women are the people you know: they are your co-workers, neighbors, friends and local leaders; they may spend their time as professionals, educators, mothers, care-givers, philanthropists and entrepreneurs.  To nominate a woman for the 2021 Iowa Women's Hall of Fame, go to the Iowa Department of Human Rights' website by clicking here:  2021 Nominations.  To learn more about those who have been honored since the Hall of Fame was established in 1975, click here:  Inductees by Year.   The nomination deadline is April 1, 2021.
National Votes for Women Trail  
The National Votes for Women Trail is a project of The National Collaborative for Women's History Sites, which seeks to celebrate and tell the stories of people and places that were instrumental in the lengthy struggle for women's suffrage. The Trail consists of two parts: 1) a database with digital map and 2) a program of historical markers for about 250 women's suffrage sites across the country.
Iowa on the Map
DHR's Commission on the Status of Women, along with partners, placed the Mary J. Coggeshall Votes for Women Marker on the Iowa State Capitol Grounds for the 19th Amendment centennial in 2020.  The Iowa Capitol Planning Commission approved the marker, and it was placed in the flowerbed south of the Pioneer Statuary Group/Buffalo Fountain, which is located west of the Iowa State Capitol on September 17, 2020.   
In November 2020, the marker honoring Belle Babb Mansfield was unveiled at Iowa Wesleyan University in Mount Pleasant, Iowa.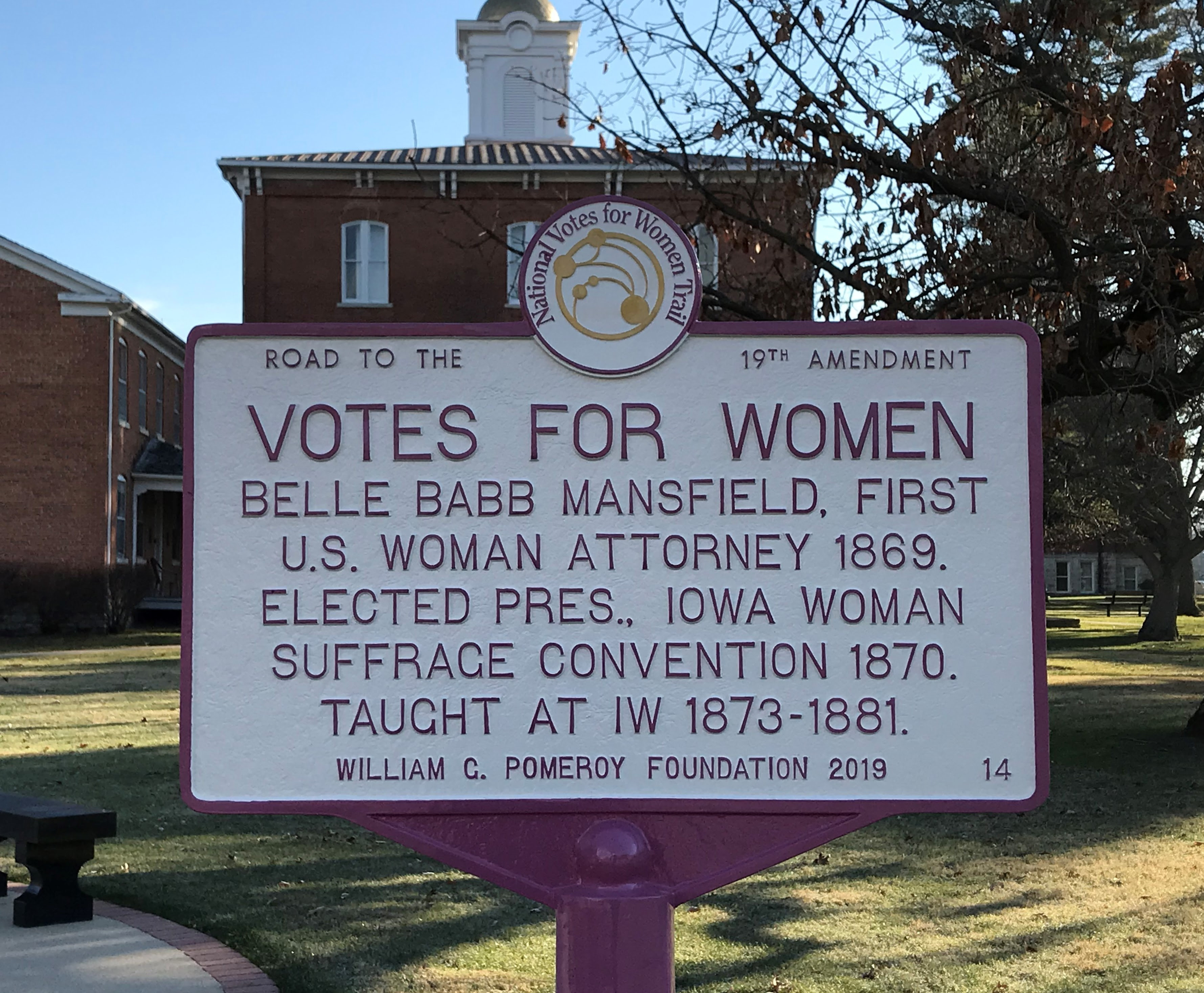 P/C: Legislative Services Agency                                    NCWHS.org     
Work from Home Jobs Display
Iowa Workforce Development announced that it has added a remote/work from home jobs display to its website in order to assist job seekers specifically looking for these opportunities.The list of remote/work from home jobs can be found on the www.IowaWORKS.gov home page.  Once you open the home page, scroll down to see the new purple card on the left marked "Work from home in these exciting career opportunities."  You can click the button on that card to see the list of jobs displayed, with a brief job description.  When you click on a job title, it will be necessary to log into IowaWORKS.gov to see the full description and how to apply.
COVID-19 Language Resources
American Sign Language Videos-CDC
Centers for Disease Control and Prevention (CDC)
Centers for Disease Control and Prevention (CDC)-Resources for Limited English Proficient Populations
Congolese Health Partnership Videos
Coronavirus, State Website
Crescent Community Health Center-Marshallese Language
EMBARC Ethnic Minorities of Burma and Advocacy and Resource Center
Hawaii Office of Language Access-Youtube
Iowa Department of Human Rights-Language Access
Iowa Department of Public Health
Iowa Spanish Helpline 515-344-3936 
Multi-Lingual Hotline  1-877-558-2609
Refugee Alliance of Central Iowa  
Test Iowa-Free COVID-19 Testing (Spanish available)
Are there other resources we should know about? Let us know.
To unsubscribe from this newsletter, click here or navigate to the "Manage Subscriptions" section below.
Iowa Department of Human Rights
Lucas State Office Building
321 E 12th Street
Des Moines, IA 50319
515-242-5640 or 1-800-351-4659
Contact Us Form