Iowa Department of Human Rights Newsletter
We are here to help.
The Iowa Department of Human Rights (DHR) brings strength to Iowa's rich heritage.  Our three divisions - Community Action Agencies, Community Advocacy and Services, and Criminal and Juvenile Justice Planning - work to reduce cultural, social, and economic barriers to opportunities for Iowans to succeed.
Get to know DHR Director San Wong
Thank you to Business Record for its Fearless story on DHR Director San Wong.  Read more about her growing up in Singapore, making Iowa home, and her passion for helping vulnerable Iowans. Click here for article.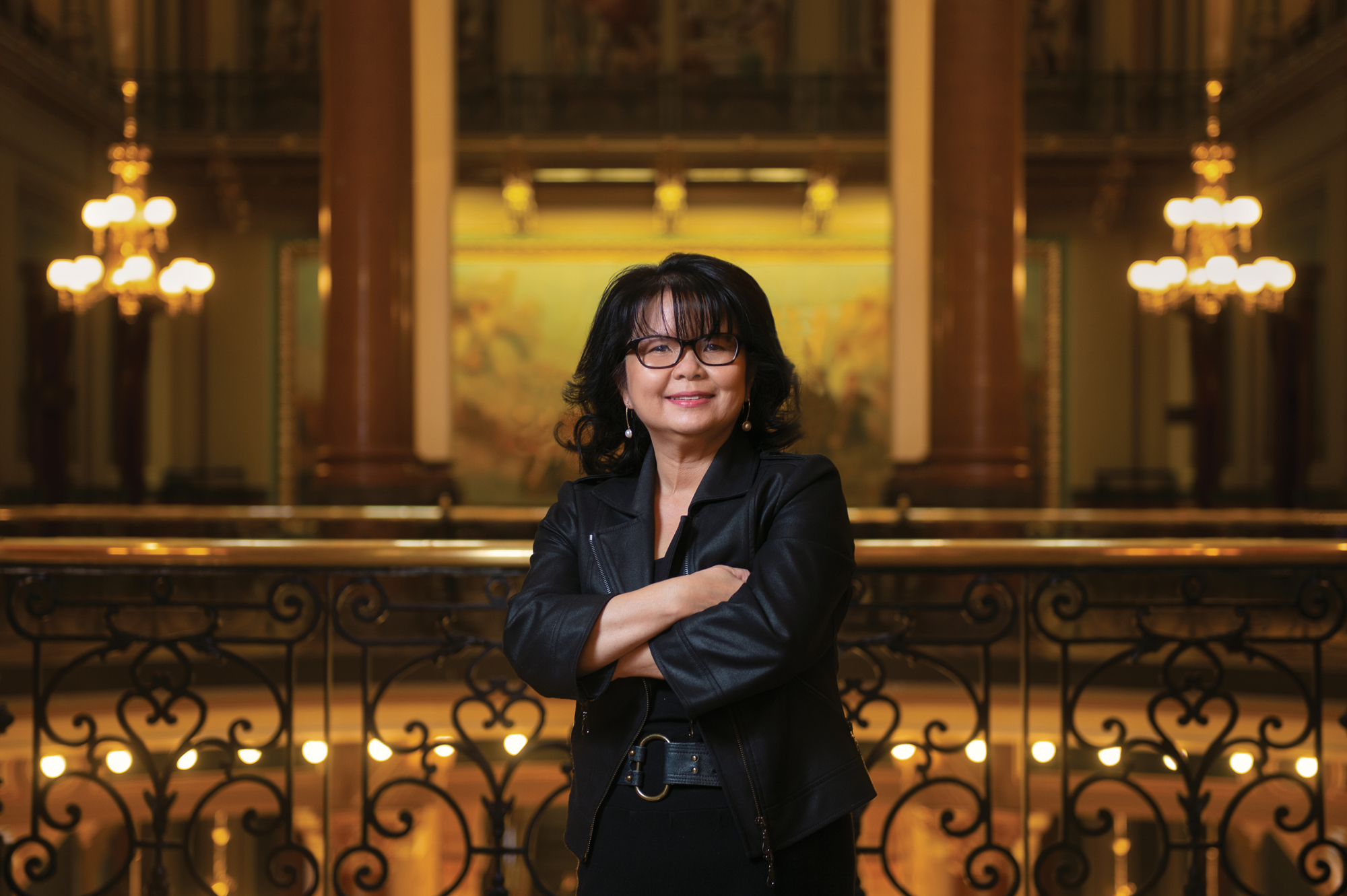 Photo credit: Business Record/Fearless
Medicaid Now Available to all Eligible COFA Adults
The Department of Human Services (DHS) is now providing full Medicaid benefits to all eligible adult citizens of Palau, the Marshall Islands, and the Federated States of Micronesia living in Iowa through treaties known as the Compacts of Free
Association (COFA).
The 2021 Consolidated Appropriations Act was signed into federal law on December 27, 2020, allowing Medicaid coverage for COFA adults. COFA adults must still meet all other Medicaid eligibility requirements (e.g. income limits and Medicaid program requirements) to be eligible for full Medicaid benefits.
DHS has updated its Medicaid eligibility policies and systems to allow for this federal change in Medicaid coverage. Previous federal legislation caused COFA migrants to be barred from receiving full Medicaid coverage since 1996. Read full press release.
Thank you to the Department of Human Servies for providing the press releases in:
                 English            Chuukese             Marshallese               Pohnpeian
Utilities
Low-Income Home Energy Assistance Program (LIHEAP)
This year's Iowa winter has turned extremely cold.  The Low-Income Home Energy Assistance Program (LIHEAP) can help Iowa families stay warm and reduce health and safety problems.  The program provides assistance with heating bills, energy crisis, and weatherization and energy-related home repairs.  
LIHEAP helps qualifying low-income Iowa homeowners and renters pay for a portion of their primary heating costs for the winter heating season. The application deadline is April 30, 2021. Customers who qualify for LIHEAP are protected from having their natural gas and electric utilities disconnected from November 1 to April 1.
Applications are taken at your local community action agency.  Anyone having difficulty paying their utility bill or facing disconnection at any time should contact their local community action agency for assistance. To find your local agency, visit https://humanrights.iowa.gov/dcaa/where-apply, or contact the Iowa Department of Human Rights (DHR) at (515) 242-5655 or 1-800-351-4659. LIHEAP information is available in multiple languages on the DHR's website.  Iowans may also call 2-1-1.
Customer Rights and Responsibilities to Avoid Shutoff for Nonpayment
The Iowa Utilities Board has information and resources for customers to avoid shut off. There are answers to many questions such as:
What can I do if I receive a notice from the utility that says my service will be shut off because I have a past due bill? 
When can the utility shut off my utility service because I have not paid my bill?
What if someone living at the residence has a serious health condition? 
Is there any other help available besides my utility?
Rights and Responsibilities:     Natural Gas         Electric Service
Iowa Rent and Utility Assistance Program Coming Soon
The Iowa Finance Authority will be administering the Iowa Rent and Utility Assistance Program.  The program will provide financial assistance to eligible COVID-19 impacted Iowans for rent and utility costs for a period of up to 12 months. Assistance to be available through the program includes rent assistance for past due and future payments, and utility payments owed at time of application (no future payments).
Renters in need of assistance are encouraged to use the eligibility precheck tool to determine if they meet the initial eligibility criteria, and if eligible, to sign-up to receive notification when the full application is available, which is currently anticipated to be sometime in March.  Click here for program details or call 1-855-300-5885.
For Polk County, the program is being administered locally at IMPACT Community Action Partnership. Polk County residents are ineligible to apply for the Iowa Rent and Utility Assistance Program and must may apply through IMPACT instead. More information for Polk County residents will be available here at https://www.impactcap.org.
Mental Health - Identity and Cultural Dimensions
According to the National Alliance on Mental Illness (NAMI), our culture, beliefs, sexual identity, values, race and language all affect how we perceive and experience mental health conditions. These factors can influence what treatments, coping mechanisms and supports can help. Learn more about identity and cultural dimensions and ways to get help for communities of color, LGBTQI, and people with disabilities at nami.org.
Where can I get the COVID-19 vaccine?
The State of Iowa coronavirus website has a tool where you can find a vaccine provider near you.  Iowa has begun Phase 1B with tiered priority groups, but there continues to be a limited supply of vaccine in Iowa. For details and to locate a provider, visit:  coronavirus.iowa.gov
For general questions about the vaccine, you may call 2-1-1.  
COVID-19 Language Resources
American Sign Language Videos-CDC
Centers for Disease Control and Prevention (CDC)
Centers for Disease Control and Prevention (CDC)-Resources for Limited English Proficient Populations
Congolese Health Partnership Videos
Coronavirus, State Website
Crescent Community Health Center-Marshallese Language
EMBARC Ethnic Minorities of Burma and Advocacy and Resource Center
Hawaii Office of Language Access-Youtube
Iowa Department of Human Rights-Language Access
Iowa Department of Public Health
Iowa Spanish Helpline 515-344-3936 
Multi-Lingual Hotline  1-877-558-2609
Refugee Alliance of Central Iowa  
Test Iowa-Free COVID-19 Testing (Spanish available)
Are there other resources we should know about? Let us know.
To unsubscribe from this newsletter, click here or navigate to the "Manage Subscriptions" section below.
Iowa Department of Human Rights
Lucas State Office Building
321 E 12th Street
Des Moines, IA 50319
515-242-5640 or 1-800-351-4659
Contact Us Form