Fresno District Office - August 2022 Small Business Newsletter
Small Business Administration (SBA) sent this bulletin at 08/01/2022 11:00 AM EDT
Disaster Preparedness!
Wildfire season is here.  Learn on how to prepare your business this season.
Wildfires are unplanned fires that burn in natural areas like forests, grasslands or prairies. These dangerous fires spread quickly and can devastate not only wildlife and natural areas, but also communities.
Prepare for Wildfires

Recognize Warnings and Alerts
Have several ways to receive alerts. Download the FEMA app and receive real-time alerts from the National Weather Service for up to five locations nationwide. Sign up for community alerts in your area and be aware of the Emergency Alert System (EAS) and Wireless Emergency Alert (WEA), which requires no-sign up.
Pay attention to air quality alerts.

Review Important Documents

Strengthen your Home and Business
Use fire-resistant materials to build, renovate or make repairs.
Find an outdoor water source with a hose that can reach any area of your property.
Create a fire-resistant zone that is free of leaves, debris or flammable materials for at least 30 feet from your home.
Designate a room that can be closed off from outside air. Close all doors and windows. Set up a portable air cleaner to keep indoor pollution levels low when smoky conditions exist.

Know your Evacuation Zone
Image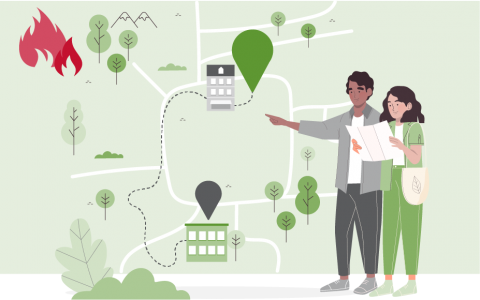 You may have to evacuate quickly due to a wildfire. Learn your evacuation routes, practice with household, pets and identify where you will go.
Follow the instructions from local authorities. They will provide the latest recommendations based on the threat to your community and appropriate safety measures.

Have enough supplies for your household, including a first aid kit, in your go bag or car trunk.

Being prepared allows you to avoid unnecessary excursions and to address minor medical issues at home, alleviating the burden on urgent care centers and hospitals.
Remember that not everyone can afford to respond by stocking up on necessities. For those who can afford it, making essential purchases and slowly building up supplies in advance will allow for longer time periods between shopping trips.

Be cautious when carrying flammable or combustible household products that can cause fires or explosions if handled wrong, such as aerosols, cooking oils, rubbing alcohol and hand sanitizer.
If available, store an N95 mask to protect yourself from smoke inhalation.
Keep your cell phone charged when wildfires could be in your area. Purchase backup charging devices to power electronics.
Government Contracting  
Do you qualify as an Economically Disadvantaged Woman Owned Small Business?: 
The Small Business Administration (SBA) has several contracting assistance programs to help small businesses win a fair share of the federal government's dollars. These types of programs allow for small businesses with a GSA Schedule to be more competitive in the world of government contracting. One of these programs is the Economically Disadvantaged Women Owned Small Business (EDWOSB). With this business designation, your company has greater access to specific contracting opportunities and programs that are designed to help you succeed in the federal marketplace. We'll cover what a EDWOSB is and if your company qualifies so you can take advantage of these contracting assistance programs.
Some contractors want to know the difference between Women-Owned Small Businesses (WOSBs) and Economically Disadvantaged Women Owned Small Businesses (EDWOSBs). An EDWOSB is a small business concern that is at least 51% owned by one or more women and is considered economically disadvantaged. If you qualify as an EDWOSB, you automatically qualify for the Women-Owned Small Business Program (WOSB). However, if you qualify as a WOSB first, you do not automatically qualify as an EDWOSB. The WOSB casts a wider net than the EDWOSB.
Both of these programs are very beneficial for small business GSA Schedule contractors, because they qualify your company for specific set-asides, which are contracts set aside specifically for small businesses. If a GSA contractor is able to qualify as a WOSB or EDWOSB, they will have a direct track to access some of these set-aside contracts.
SBA Lending
SBA Lending 
SBA Fresno District Lending reports will now be available for each newsletter.  
Veteran Outreach
Boots to Business (B2B) is an entrepreneurial education and training program offered by SBA as part of the Department of Defense's Transition Assistance Program (TAP). B2B provides participants with an overview of business ownership and is open to transitioning service members (including National Guard and Reserve) and their spouses.
On July 21 and 22, Luisana Martinez, Fresno SBA Veteran Business Development Officer (Pictured above) and Oscar Garcia, SCORE Mentor provided B2B program to transitioning service members at Naval Air Station Lemoore.  
Online Training
Entrepreneurial Training
Like all successful missions, small business ownership starts with training. That's why SBA empowers service members, veterans, National Guard and Reserve members, and military spouses with entrepreneurial trainings and resources right in their local community. Through a network of partners and grantees, SBA offers specialized training programs for women veterans, service-disabled veterans, and veterans interested in federal procurement. Entrepreneurs across the nation can access these programs in-person or virtually at every stage of small business ownership.
 

Women own or co-own 45% of all businesses in the United States. These businesses represent all types of industries and are owned by all types of women. The majority are small, with great potential for growth in both revenues and job creation. That's why we created Ascent and packed it with in-depth information to help you grow your business. Click to edit this placeholder text.

 
Small Business Assistance - SBA Partners
Central California Small Business Development Centers
The SBDC Network serves 14 counties in Central California with six dedicated SBDC Centers.
Our expert Business Advisors will work with you and your company across multiple disciplines, whether it's preparing a strategic plan, developing digital marketing strategies, streamlining operations, accessing capital, or launching an innovative technology start-up.
Contact your local SBDC Service Center to arrange a no-obligation meeting to learn more about how we can be of assistance. For more information on the Center nearest you, visit our Locations page.
Womens Business Centers
Mission Community Services Corporation (MCSC) formed in 1998 and is a 501(c)3 that has been host to the Small Business Administration Women's Business Center (WBC) since October 2006.
MCSC's Women's Business Center is  full-service, technical assistance and training resource for entrepreneurs of all stages. Special focus is directed to underserved low-to-moderate income minority women. Although we operate as the Women's Business Center we inclusively serve all small businesses. Our service territory covers San Luis Obispo, Kern, and Monterey counties. 
MCSC is in its 15th continuous year and was recognized as the 2020 Women's Business Center of the Year for the San Joaquin Valley and Central Coast Region.
Veteran Business Outreach Centers
The Center provides small business services to Veterans, DVBE, Reservist and Guard Members in their initiatives to start, cultivate or expand a business initiative.
The Center offers  small business training services in areas of business development, marketing, sources of capital, government contracting, financial management, operational infrastructure design and implementation, acquisitions and mergers, employee relations, business planning and much more.
Educational workshops are offered in areas of Business Basics, Marketing, Franchising, Business Plan Development, Financing and Government Contracting.
SCORE
We believe that anyone can start a small business with the right support. We also know that the road is harder for some than for others. SCORE for All is the bridge that makes the journey to success more direct and sure-footed for entrepreneurs who need more support.
Diverse backgrounds, different voices and unique needs may call for specialized resources or a personalized approaches in mentoring.  SCORE is listening, recognizes and fulfills these diverse needs in a wholly inclusive platform called SCORE for All.
WE VALUE YOUR FEEDBACK!
If you are a current or prospective small business owner, who has interacted with the SBA Fresno District Office, take our customer service experience feedback survey to help us better determine how we can improve our services.
SBA Fresno District Office
801 R Street, Ste 201
Fresno, CA 93721 
Phone: 559.487.5791
SBA Fresno
Subscriber Services
Unsubscribe  |  Manage your account