Feature Story: Faces of Forces Micronesia Lt. Chelsea Garcia
U.S. Coast Guard sent this bulletin at 03/21/2023 11:13 PM EDT
Faces of Forces Micronesia: Lt. Chelsea Garcia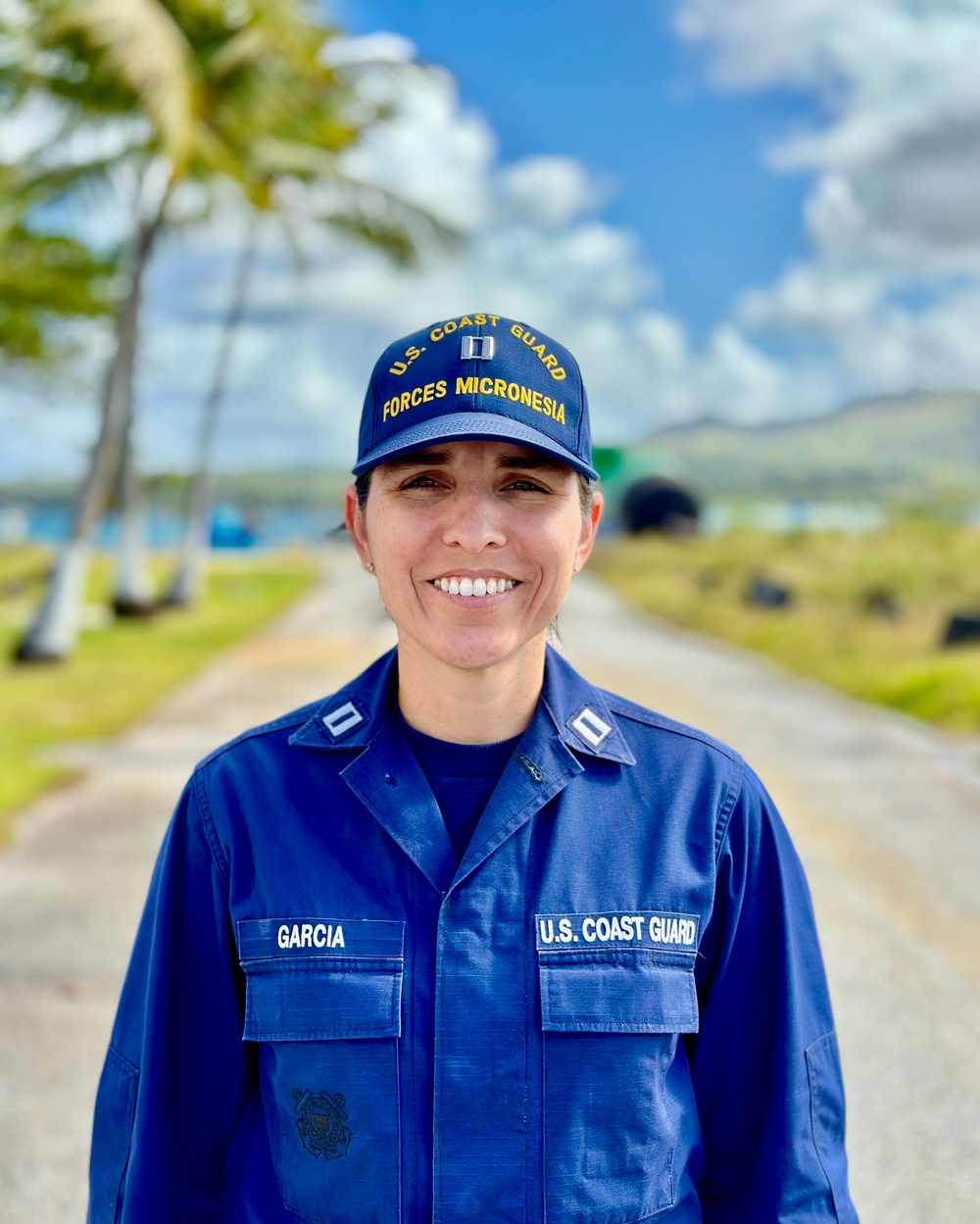 Editor's Note: Click on the images above to view more or download high-resolution photo.
Diverse backgrounds and diverse planning
Forces Micronesia operations are focused on benefitting the Nation and our partners by supporting regional stability and prosperity throughout Oceania, mainly using the Guam-based Fast Response Cutters. This regional effort, in turn, supports the National Strategy in the Pacific. We are one Oceania and, despite vast distances, very interconnected. These operations are successful because of the professionals who plan and execute joint, interagency, intergovernmental, and multinational operations.
Lt. Chelsea Garcia is our lead cutter deployment planner here in Guam. Her extensive Coast Guard background, first as an enlisted operations specialist and then as a junior officer in the response field, prepared her well for the role. Her early life experience is multicultural, as her mother is indigenous from the Arapaho Tribe, born in Riverton, Wyoming.
"She was adopted, her mother is full Arapaho, and she recently found her biological father through DNA testing. He is Mexican and Spanish, and we are excited to learn more about him," said Garcia.
Originally from Longview, Texas, Garcia attended college on a soccer scholarship with the support of her father, who managed the groundskeeping for the campus. Following her first year of studies, it became apparent she was not passionate about her studies. Her father, who served four years in the Air Force, recommended the military. She contacted the Air Force and the Coast Guard recruiters, and you can guess who called back first.
Garcia has a passion for communication, organization, and action. Despite an early ambition to be an FBI agent, after joining in 2003, she found a fit in the command center environment. She thrived as an operations specialist as the rate came online and matured.
One of the biggest challenges encountered during her two decades of service has been raising a family and being married member-to-member.
"While that shared experience is valuable, we've had a lot of help from family and friends over the years. Guam has been a special challenge so far removed from my extended family, but the opportunities here have been incredible. The network you build is so important, and so is asking for help when needed," said Garcia.
Her spouse is a health services technician. Being able to stay co-located came with a compromise. While she was unopposed to going to a ship, and sea time is a requirement for advancement to Chief as an OS, things never aligned. Several mentors encouraged her to consider Officer Candidate School. She was selected, and when she graduated, she went to an incident management billet in response at Sector Long Island Sound.
Once again thriving, she built her skills by learning about pollution response, attending secondary training, and gaining qualifications as a pollution responder and Federal On-Scene Coordinator while remaining a committed spouse and raising two sons and one daughter. Toward the end of that tour, she received an extension to align her tour with her spouse, and that extension came with the concession she would move from her beloved pollution response to enforcement.
"Many of my plans came to fruition, but not on their original timelines. It's almost funny that here I am 20 years later, a federal law enforcement officer, similar to my original intention of joining the FBI and being a field agent."
Garcia is known among her colleagues for her adaptability and willingness to "support the plan," but that's not to say she won't raise essential concerns and advocate for the people who the planning and operations affect.
"In the back of my mind, I always think would I want to be like that person, or would I want to work for that person again? I agree with the Coast Guardsman's Manual when it discusses positional and personal power, 'Personal power is gained from your subordinates and is based on their respect for you as a person. Personal power encourages your people to give you their commitment and trust because of your personal behavior towards them. Personal power encourages your followers to perform tasks not because they have to but because they want to."
Indeed, as a planner for the FRCs deployments, she is usually first in the room to begin considering second and third-order effects of planning decisions to mitigate unnecessary stress on operational crews. She's also a boarding officer and the unit's assistant command security officer, working across many divisions at the unit to the benefit and safety of all.
This theme of looking out for others and consistent progress permeates everything she does and likely stems from her upbringing. "To put it plainly, my family was working class. My dad mowed lawns, and my mom cleaned houses. I think it influenced me with a good work ethic. It continues to influence me because we work for the working class. We must remember the importance of maintaining the public's trust in everything we do," said Garcia.
This philosophy also reflects in her family-friendly movie picks -- Zootopia and Tangled -- which showcase strong, driven, and adaptable characters unwilling to accept the status quo as gospel when improvement benefiting the team is possible. Special nod to Judy Hopps, the first rabbit on the police force, appealing to that enforcement officer role and a little sarcastic humor.
As we continue to project a persistent presence and strengthen relationships in Oceania and the Indo-Pacific, officers like Chelsea Garcia, who not only have a mission and regional fluency but are also attuned to the needs of and impacts on the crews in the field, are vital. The U.S. Coast Guard continues to evolve our strategy for supporting our partners. The team we have in place at Forces Micronesia Sector Guam makes a conscious effort daily to embody the unit vision of People Fundamentally, Unit Resolutely, and Mission Relentlessly.
For more U.S. Coast Guard Forces Micronesia/Sector Guam news, visit us on DVIDS or subscribe! You can also visit us on Facebook or Instagram at @USCGForcesMicronesia or Twitter @USCGFMSG. 
-USCG-