If you're having trouble viewing this message, please visit my legislative web page at http://www.leg.state.or.us/prozanski/, click on "News" in the lower left-hand column and scroll down.

Dear friends,

    We're now over two months into the 2015 session and it's already been a historic one: With Governor Kitzhaber stepping down and Secretary of State Kate Brown assuming the governorship, we experienced two gubernatorial inaugurations. Governor Brown has hit the ground running and has maintained continuity of the executive branch necessary to move the state forward. The legislature has continued to do its work and has passed major legislation, including bills to dissolve Cover Oregon, implement a low-carbon fuel standard, effect class action lawsuit reform, and simplify voter registration.

    The state continues to receive positive news on the economic front: Oregon's unemployment rate has dropped to 5.8 percent, its lowest level since May 2008. This is great news for Oregon's economic recovery, but we need to continue to make sure hard-working Oregonians can support their families. The state's latest revenue forecast also bodes well for a continued recovery (see below).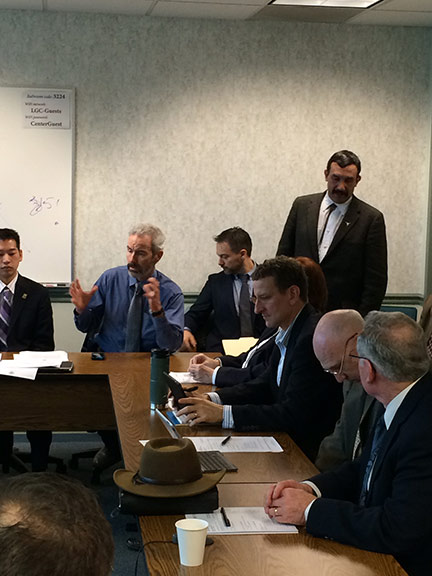 I had the pleasure of speaking to the Oregon Association of Counties Public Safety Committee.

    Below you will find information on:

        - March Revenue Forecast
        - Dissolution of Cover Oregon (SB 1)
        - Clean Fuels (SB 324)
        - Class Action Lawsuit Reform (HB 2700)
        - Motor Voter (HB 2117)
        - My Bill Highlight: Oregon Statehood Day (SB 458)
        - Hwy 58 Salt Creek Tunnel Project Update
        - Lookout Point Dam Spillway Gate Rehabilitation
        - Winter 2015 e-Vet News
        - IRS Free File

    I hope this information is helpful and informative for you or someone you know. As always, feel free to share your comments, questions or concerns with me by phone, mail or e-mail.

                                                              


March Revenue Forecast

Highlights:
2013-15 Revenue: The overall revenue forecast for the 2013-15 biennium increased $100.7 million from the December 2014 forecast ($87.6 million more in projected General Fund resources, $13.1 million increase in Lottery Funds).


Economic Outlook: Oregon's economic recovery continues to be stable and growing in the short term, with job growth expected to continue at its current pace for another two years.


Personal Kicker: A $349.3 million kicker is projected in 2015. Calculations to determine if a kicker is triggered do not occur until July 2015.


Corporate Kicker: A $55.7 million corporate kicker is projected to direct $55.7 million to K-12 funding (per Measure 85, 2012).

    The state's March revenue forecast shows strong signs of economic growth for Oregon. I am relieved to see more Oregonians entering the workforce to find a good-paying job. That said, I know that many other individuals are still struggling to make ends meet, so I'm committed to making sure these Oregon families can keep food on the table and a roof over their heads.
 
    The latest forecast is great news for schools! The upward revisions to the corporate revenue formula mean that more dollars will go directly into classrooms across Oregon. It also means that a personal income kicker of $349.3 million is projected at the end of the 2013-15 biennium. The calculations to determine the kickers do not take place until July 2015, and there is about $4.3 billion in kicker-related revenue to be collected before the end of the biennium, so the personal kicker may not be triggered. If the kicker is triggered, its impact will mostly be felt in reduced projected revenue in the 2015-17 biennium, though these reductions are expected to be offset by significantly higher than expected balances at the start of the biennium.

    Under Oregon's kicker law (Article IX, Section 14, Oregon Constitution), a personal income tax kicker is triggered if personal income tax collections plus all other General Fund revenue is more than 2 percent higher than was forecast at the close of the regular session. The 2011 Legislature changed the return mechanism for the personal income tax kicker from a refund to a credit, so taxpayers would receive their kicker through a credit on their 2015 income tax return rather than a mailed refund check.


Dissolution of Cover Oregon (SB 1)

    The Legislature voted to dissolve Cover Oregon as a public corporation and transfer management of the state's health insurance marketplace to the Department of Business and Consumer Services (DCBS). SB 1 passed the Senate on a bipartisan, 20-10 vote and the House, 42-14.

    As a public corporation, Cover Oregon operated under the state's authority but was exempt from state contracting and accountability laws. It was not subject to strict legislative oversight. As a part of DCBS, the marketplace will be subject to state contracting laws; financial management statutes; personnel laws; and oversight by the Legislature.

    SB 1 has been signed into law by Governor Kate Brown.


Clean Fuels (SB 324)

       The Legislature voted to remove the sunset on provisions related to Oregon's low carbon fuel standard. Commonly referred to as the "Clean Fuels" Program, it requires oil companies to gradually reduce carbon pollution from their gasoline and diesel fuel by 10 percent over 10 years.

    SB 324 makes the adoption of rules by the Environmental Quality Commission surrounding Clean Fuels mandatory. The program is technology-neutral, and fuel importers have flexible options to meet the standard. Oil companies can blend low-carbon biofuels into their fuel mix, and/or purchase credits generated by projects supporting electric vehicles, natural gas, propane, and other clean fuels. Oregonians will have more access to a variety of fuels as a result of the program, creating a more diverse, affordable, healthy, and stable fuel mix.

    Removing the sunset clause will give investors and entrepreneurs the certainty they need to expand production of alternative fuels and build additional facilities. That means new jobs in both rural and urban communities across Oregon. The Clean Fuels industry in Oregon has already generated hundreds of millions of dollars in economic activity and created thousands of jobs. Independent analysis has found that extending the program could save Oregonians more than $1.6 billion in fuel costs, create up to 29,000 jobs, and add $2.6 billion to Oregonians' personal income.

    SB 324 has been signed into law by the Governor.


Class Action Lawsuit Reform (HB 2700)

    This legislation increases corporate accountability and provides funds for legal services for vulnerable Oregonians. It's a major step toward increasing fairness and justice in how our state addresses class action lawsuits. HB 2700 ensures that guilty parties fulfill their obligation to those harmed while having the potential to dramatically increase the number of low-income Oregonians that Legal Aid can help all across the state.

    Currently, Oregon law says that when a defendant is found liable for harming the public and a judge awards a settlement payment to those who were injured and opted into the lawsuit as members of the class, the court then returned the unclaimed money back. Oregon was one of only a handful of states in the country that allowed corporate wrongdoers to keep unclaimed settlement funds. HB 2700 ends that practice by giving the judge in class action cases the discretion to award up to 50 percent of the unclaimed funds to an entity, usually nonprofit organization that provides education and assistance to consumers in similar situations as the plaintiffs in the class action. The remainder of the money would go to Legal Aid Services of Oregon, which provides legal assistance to low-income Oregonians.

    HB 2700 has been signed into law by the Governor.


Motor Voter (HB 2117)

    This historic legislation dramatically expands access to Oregon elections. HB 2177 will make voter registration simpler, more convenient, and more secure by using the data that the Department of Motor Vehicles currently collects for drivers' licenses. The modernized process will provide simple and accurate voter registration to eligible voters and will update address information for people who have already registered.

    Under current election laws, many students, young people, and working parents lose the ability to vote if they move and don't update their voter registration information. HB 2177 ends that practice by automatically updating voter registration information when someone moves or when someone isn't registered. Further, an estimated 300,000 currently unregistered but eligible voters will now get ballots at election time, giving them the opportunity to weigh in on the issues that affect their families and their communities.

    By utilizing the existing DMV system, which requires stringent proof-of-citizenship, it will now be easier to determine whether someone is eligible to register to vote in Oregon, increasing the security of Oregon's voter registration system. Importantly, HB 2177 protects the privacy of minors and others who have privacy protections through the DMV, including victims of domestic violence.

    HB 2177 has been signed into law by the Governor.


My Bill Highlight: Oregon Statehood Day (SB 458)

    Oregon celebrated its 156th birthday on February 14, Valentine's Day. While many Oregonians include celebrating their love of Oregon on Valentine's Day, our "Statehood Day" is not recognized as a state holiday. At the request of some students in  District 4 to provide an impetus for holding fundraisers and other activities, I have again introduced legislation to recognize February 14 as Oregon's Statehood Day. This session, the "Statehood Day" bill is SB 458.

    The full senate passed SB 458 unanimously on February 26. It now heads to the House of Representatives for committee consideration.


Hwy 58 Salt Creek Tunnel Project Update

    As part of the effort complete the Highway 58 Salt Creek Tunnel Phase 2 project, ODOT has selected a seasoned contractor with an impressive record of accomplishments. As you may recall, ODOT determined that the completion of this project was too important to follow a typical low-bid procurement process. Instead, they used a "best value" contracting process that assigns weight to price as well as specified non-price factors that are important to the success of the project, such as schedule, qualifications and technical approach.

    Farline Bridge, Inc., achieved the highest score on ODOT's technical evaluation and had the winning bid. Farline was awarded the contract of $7.89 million. They will soon begin conducting core drilling on the highway and construct temporary widening.  During that work, motorists will encounter intermittent single-lane restrictions.

    As soon as the weather allows, Farline will place a concrete barrier on the roadway and begin excavation at both the east and west side of the tunnel. Once the barrier is set, the roadway will remain in a single-lane configuration until construction season ends in late fall. A pilot car will control travel, creating delays of no more than 20 minutes.

    This project will result in no daytime complete closures. Under the terms of the contract, the Farline will be allowed no more than 20 nighttime complete closures. They've committed to minimizing the actual number of night closures. In addition, Farline has agreed to give the public at least one week's notice before any nighttime closure occurs. Nighttime complete closures will be limited to Monday through Thursday nights from 8 p.m. until 6 a.m.


Lookout Point Dam Spillway Gate Rehabilitation

    The Army Corps of Engineers will be rehabilitating Lookout Point Dam's five spillway gates from July 2015 through November 2018, to improve the dam's ability to reduce flood damage to Willamette River communities. Each gate requires an eight-week rehabilitation sequence. The Corps will rehab two spillway gates from mid July to mid November, 2015. They will rehab one additional gate from mid September through mid November each year after.

    To protect the work area during these times, the Corps will aggressively manage Lookout Point Reservoir's elevation, trying to keep it below 867.5 feet above sea level – about 20 feet below the spillway crest and 58 feet below its usual maximum summer elevation. Keeping the gates dry may result in higher river flows for longer durations following significant rain events.

    The lower reservoir level will also make the Meridian Park, Hampton Landing and Black Canyon boat ramps unusable. The Signal Point boat ramp is usable down to elevation 821 feet.

    The Corps understand the impact of this drawdown on local communities, reservoir users and the environment, but their highest priority is ensuring Lookout Point Dam is fully able to reduce flood damage to Willamette River communities. Lookout Point is the largest of the Corps' Willamette Valley Project flood control reservoirs. They estimate it prevented $55.6 million in flood damages in 2013. Lookout Point and its two sister dams on the Middle Fork Willamette prevented the river from rising more than seven additional feet at the Jasper gauge above Springfield and Eugene during the January 2012 storm event.


Winter 2015 e-Vet News

    The Winter edition of e-Vet News, a publication of the Oregon Department of Veterans' Affairs, is online at: www.oregon.gov/ODVA/INFO/pages/VetsNews.aspx. This latest edition includes a story on an Oregon National Guard soldier, Staff Sgt. Steven Tessitore, who was recently presented both the Bronze Star and Purple Heart medals by the Secretary of Veterans Affairs. It also includes information on free tax assistance.


IRS Free File

    Taxpayers who make $60,000 or less can consider free tax preparation services available through the Free File program at: www.IRS.gov/freefile. Free File provides a list of member companies and their free tax software offerings. About 100 million Americans – or 70 percent of taxpayers – are eligible.

    Free File is made possible through a public-private partnership between the IRS and the Free File Alliance, a non-profit coalition of leading tax software companies. To learn more about the program, visit www.freefilealliance.org or www.freefile.irs.gov.