If you're having trouble viewing this message, please visit my legislative web page at http://www.leg.state.or.us/prozanski/, click on "News" in the lower left-hand column and scroll down.

Dear friends,

    With the new year comes a new legislative session. Organizational days were held January 12-14 (see photo below) the actual session begins full-time on February 2, when committees and both chambers start meeting regularly. As noted last month, my 2015 committee assignments include: the Senate Judiciary Committee (I serve as chair); the Joint Committee on Implementing Measure 91 (I serve as co-vice chair); and the Senate Environment & Natural Resources Committee.

    This year's session is expected to last through June. If you're planning a trip to the Capitol during session, please look me up! Better yet, contact my office in advance so we can schedule a few minutes to chat. I value every opportunity to meet with constituents; it helps guide my work on your behalf.

   Last week, we received more good news on the economic front: Oregon's unemployment rate in December fell to its lowest level of the post-recession era: 6.7 percent (down from 7 percent in November). This is the lowest rate since August 2008. Our state now has more jobs than before the downturn.

    Below you will find information on:

        - OLCC Eugene Community Meeting on Implementation of M91: February 3
        - Scam Alert: Utilities Con
        - CUB Connects: Information for Phone & Internet Consumers
        - Caregiver Training to Improve Care for Aging Oregonians
        - Help Send SEHS Concert Choir to Nationals!
        - Senate Honorary Page Program

    I hope this information is helpful and informative for you or someone you know. As always, feel free to share your comments, questions or concerns with me by phone, mail or e-mail.

                                                              Happy New Year!

                                                              


OLCC Eugene Community Meeting on Implementation of M91: February 3

    Measure 91, the recreational marijuana measure passed by voters last November, directs the Oregon Liquor Control Commission (OLCC) to create a framework for the commercial licensing and regulation of recreational marijuana in 2016. OLCC is committed to a robust and transparent public process to help the agency implement the law in a way that protects children, promotes safety, and brings the recreational marijuana industry into the regulated market.

    To that end, OLCC has developed a series of community meetings statewide. These meetings are an opportunity to learn about Measure 91 and how to get involved as rule making and implementation get underway. Most importantly, they allow OLCC commissioners and staff to hear first-hand from Oregonians about what they believe marijuana regulation should look like in our communities.

    The only meeting scheduled in District 4 will take place on Tuesday, February 3 from 7-9pm at the Lane County Fairgrounds Wheeler Pavilion (796 W 13th Ave., Eugene).



Scam Alert: Utilities Con

    According to the Oregon Department of Justice, criminals posing as utility customer service agents are trying to get money and steal personal information by representing that customers' accounts are overdue and require immediate payment through unusual means. The thieves are using sophisticated technology that makes it appear to Caller ID systems that the call is coming from the utility when it is not. If you receive a questionable call, hang up and contact your utility directly at their published toll-free phone number, not through the number provided by the scammers.

     Pacific Power, Eugene Water & Electric Board, and Portland General Electric have confirmed the calls are fraudulent. (See Pacific Power's statement online at http://tinyurl.com/m3ny3dp, Eugene Water & Electric Board's statement online at http://tinyurl.com/maxn5xu, and Portland General Electric's statement online at http://tinyurl.com/lyv8xef.) Other utilities' customers may be impacted as the scam continues.

    If you lost money to this scam, contact the Oregon Department of Justice online at www.oregonconsumer.gov or call 1-877-877-9392.


CUB Connects: Information for Phone & Internet Consumers

    Have you ever had to sign up for a new internet plan, or considered switching phone providers? If so, you probably know how confusing and difficult it can be to find a plan that meets your budget and your needs.

    CUB Connects is a statewide consumer education project dedicated to helping Oregon consumers navigate the overwhelming options available for phone and internet services. The backbone of the project is www.cubconnects.org, a searchable database that allows consumers to compare pricing and plans available in their area side-by-side. Just select which type of plan you need (home phone, mobile phone, or internet), enter your zip code, and you'll see a listing of plans available in your area. Clicking on plan titles will give you more information, and listings can be sorted by provider name, monthly charge, billing type, and other factors.

    CUB Connects also offers a toll-free helpline for Oregonians who have questions about aspects of their phone & Internet services, or who need assistance navigating the website. The toll-free number is: 1-855-892-4314.

    CUB Connects is a project of the Citizens' Utility Board (CUB) of Oregon, a private membership organization whose mission is to represent the interests of Oregon's residential utility customers before administrative, judicial and legislative bodies, such as the Oregon Public Utility Commission and the legislature. You can learn more about CUB by visiting their website: www.oregoncub.org.


Caregiver Training to Improve Care for Aging Oregonians

    Oregon Care Partners, a quality training consortium funded by the State of Oregon and Oregon Department of Human Services, will be providing high quality, no-cost trainings for caregivers across the state.
Medication management to improve health outcomes and quality of life; 


Best care practices to care for persons with Alzheimer's and related dementias;

Care and support strategies for older adults with challenging behaviors, and;

Specialized training for public safety workers on Alzheimer's and related dementias.

    All caregiver trainings offered by Oregon Care Partners are free and open to the public. Professional and direct care staff, family caregivers, health care administrators, public safety workers, Oregon Department of Human Services workers, social workers, and members of the public are encouraged to visit www.OregonCarePartners.com to register and sign up for no-cost training.


Help Send SEHS Concert Choir to Nationals!

    In January 2014, a scout from Choirs of America was secretly in attendance for the South Eugene High School choir concert. The concert was a huge success and shortly thereafter, SEHS received an invitation to participate in the Choirs of America Nationals for Top Choirs at Carnegie Hall!

    The trip is expected to cost $2,000 per student. A choir needs every voice. In order to ensure that all  the choir members who want to go are able, parents have set up an online campaign to accept donations. Their goal is to raise $50,000 via this avenue. They are also raising money by selling raffle tickets, soliciting donations at concerts, participating in fundraisers at local restaurants, and organizing sing-a-thons, but are still well short of their goal.

    If you'd like to help, please visit: www.southeugenechoir.com. Checks can be sent to SEHS directly. The address is: 400 East 19th Avenue, Eugene, OR 97401. (Be sure to write "SEHS Choir Trip" on the memo line.)

    To see the SEHS choir in action, consider attending one of their upcoming concerts:

"Jazz Cabaret" featuring the Dorians (a "subset" of concert choir members), March 6-7 at 7 p.m. in the SEHS auditorium

Concert featuring the Concert Choir, as well as the wind and string ensembles, March 18 at 7 p.m. in the SEHS auditorium.


Senate Honorary Page Program

    The Honorary Page Program offers young people ages 12 and older an opportunity to spend a day participating in the legislative process. Pages start the day with a tour of the Capitol and then have a chance to be involved with operations of the Senate. If your child, or someone else you know, is interested in being an Honorary Page for a day, please contact me so that my staff can help coordinate that opportunity. I am happy to facilitate youth involvement in the legislative process.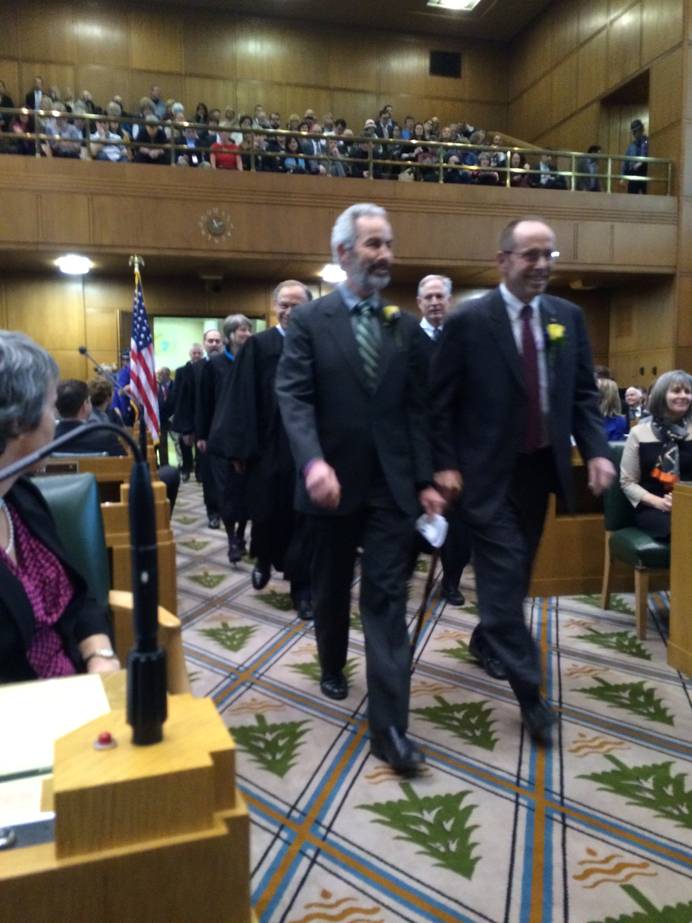 I had the honor of escorting and presenting the justices of Oregon's Supreme Court to the opening day joint session of the legislature. My colleague, Sen Jeff Kruse, joined me in escorting the justices. (Photo courtesy of Rep Alissa Keny-Guyer.)