If you're having trouble viewing this message, please visit my legislative web page at http://www.leg.state.or.us/prozanski/, click on "News" in the lower left-hand column and scroll down.

Dear friends,

    Happy Holidays! I am deeply honored to have been re-elected to serve Senate District 4. In preparation for the 2015 legislative session, my colleagues and I met in Salem from December 8-10 for committee hearings and a meeting of the full Senate.

    I recently received my committee assignments for the upcoming session. I will continue to chair the Senate Judiciary Committee; I will be the vice-chair for the Joint Committee on Implementing Measure 91; I will serve on the Senate Environment & Natural Resources Committee; and I will continue to serve on the Legislative Counsel Committee. (See below for a full listing of committee assignments.) My colleagues and I will next return to Salem from January 12-14 for organizational days before the session begins full-time in February.  

    November was an encouraging month for Oregon's economy, pushing employment totals above the peak reached before the Great Recession. The Employment Department's estimate for November's gain is 11,200, the largest one-month gain since 1990, when comparable records started. As we celebrate the holiday season and Oregon's continued economic recovery (see below for the latest state revenue forecast), it's vital that we strengthen our commitment to ensure a fair shot at opportunity for all Oregonians.

    Below you will find information on:

        - December Revenue Forecast
        - 2015 Legislative Committee Assignments
        - Oregon Veteran Suicide Awareness and Prevention Campaign Launch
        - Holiday Scam Alert
        - Update on Salt Creek Tunnel Project (OR 58)
        - Highway 36 Pesticide Exposure Investigation Update

    I hope this information is helpful and informative for you or someone you know. As always, feel free to share your comments, questions or concerns with me by phone, mail or e-mail. Please stay safe when traveling this season; remember to check ODOT's TripCheck.com for road conditions and traffic information.

                                                              
December Revenue Forecast

    The state December 2014 revenue and economic forecast showed that the overall revenue forecast for the 2013-15 biennium increased $18.9 million from the September 2014 forecast ($9.4 million more in projected General Fund resources, $9.5 million increase in Lottery Funds). The General Fund increase resulted from higher projected corporate tax collections. No personal income tax kicker is projected for the end of the 2013-15 biennium, but the corporate kicker is projected to direct $56 million to K-12 funding. Oregon's economic recovery continues to be stable and is accelerating in the short term, adding jobs faster than most states.
 
    Oregon's employment growth has accelerated sharply over the past year and a half. Bend, Corvallis, Eugene, Medford, and Salem are now growing faster than Portland. Job growth in the state's non-metro counties is currently at 1.1 percent, the strongest since before the "Great Recession." Our current accelerating growth is expected to continue for a few years before slowing due to long-term demographic and labor force trends.

    Despite job growth of 2.5-3.0 percent in the last 18 months, Oregon's unemployment rate has remained near 7 percent over the year because more people are returning to the labor market and looking for work. As has been true throughout the recovery, service industries continue to lead the recovery. Professional and business services, health services, and leisure and hospitality industries have gained 20,200 jobs in the past year and account for nearly half the job gains across the state. Manufacturing continues to add jobs on pace with other industries, and mining, logging and construction are growing as well.

    The risks to Oregon's growth remain the same as in previous forecasts, mainly: uncertain federal fiscal policy and the strength of the housing market recovery. After strong growth in 2012 and 2013, housing construction has slowed because of higher interest rates in recent months, but is expected to adjust and resume significant construction activity over the next three years. Any further slowdown in the housing market recovery would hold back statewide economic growth. Significant changes to federal fiscal policy or a financial crisis in Europe would also threaten Oregon's recovery.


2015 Legislative Committee Assignments

    For a full listing of Senate and House committee assignments for the upcoming session, please see the following press releases:

Senate Committee Assignments

House Committee Assignments


Oregon Veteran Suicide Awareness and Prevention Campaign Launch

    In 2013, the Veteran Suicide Awareness and Prevention Fund was established when the legislature passed SB 762, creating a public information campaign to raise awareness and prevent suicide by veterans in Oregon. Part of the awareness effort partnered the Oregon Department of Veterans' Affairs with the Oregon Department of Motor Vehicles and the Oregon Charitable Checkoff Commission to raise money for this effort. The first campaign paid for by this effort was launched on November 5 and will run through January.  Messaging includes statewide radio ads as well as select billboards across Oregon.

    In Oregon, between 2008 and 2012, suicide rates among veterans were significantly higher compared to non-veterans. According to the Suicide Among Oregon Veterans report published by the Oregon Health Authority in May 2014, more than 150 Oregon veterans or service members took their own lives in 2012. Nationally, it is estimated that there are 22 veteran suicides per day, nearly one every 65 minutes.

    To make a tax deductible donation online to Veteran Suicide Awareness and Prevention Fund, visit: www.oregon.gov/odva.  Donations are also accepted as a charitable-checkoff option on taxes and through online DMV registration and renewals.


Holiday Scam Alert

    In recent articles, USA Today offered helpful warnings about holiday scams:

1. Expect the Grinch to show up again and hack into the computers and card processors of major retailers. In fact, they're probably already there, but we just don't know it yet. Use your credit card exclusively when shopping in stores and online to avoid the more significant problems that come if your debit card information falls into the wrong hands. The law provides you with greater protection if your credit card is used for fraudulent purposes.

2. Many of us will be shopping online for the latest toys and gadgets. It's important to remember that scammers are quite adept at creating phony websites that appear to be selling much-desired items at enticing prices. Merely because a scammer is good at using search engine optimizing techniques to make his website appear high on a Google or Bing search, does not mean that it's legitimate. Remember, if the deal sounds too good to be true, it generally is. A safer route is to limit your online purchases to established companies with which you are familiar.

3. The holiday season is a busy time for delivery companies, such as Federal Express and UPS. One delivery-related scam begins with a notice of attempted delivery left at your door with a telephone number for you to call and arrange for delivery of the package. Once you call, the person answering requires you to provide personal information in order to confirm the order. No delivery service needs any personal information from someone to whom they're delivering a package. If they ask for such information, it's a scam. Think about it. Why would a delivery service need your Social Security number or credit card number if you're receiving a package?

4. Electronic holiday greeting cards are very popular. Many e-cards are free and entertaining. However, they're also fraught with scams and dangers. Clicking on a phony online greeting card sent to you can result in your downloading a keystroke logging program that will steal all of the information from your computer and leave you a victim of identity theft. When a legitimate e-card is sent to you, the e-mail will state the name of the person sending you the card. When the message states that it's from a "friend" or "secret admirer" you should not click on the link because if you do, you'll download keystroke logging malware. As an added precaution, if you get an e-greeting card that appears to be sent by someone you know with a common name, you should contact that person before opening the card to make sure that it's legitimate.

5. Holiday apps for your smartphone promising easy access to coupons or information about sales are abundant and enticing as are holiday-themed game apps. However, apps tainted with keystroke logging malware is a common way that identity thieves steal personal information such as your Social Security number or credit card information. Limit where you get your apps to legitimate sources you can trust, such as the Apple App store or Google Play, where the apps have been vetted.

6. The holidays are also a time to think of those less fortunate and scammers are ready to take advantage of our charitable inclinations. Phony charities abound. Many of the charities have names that sound quite similar to those of legitimate charities, so it's important to check out a charity before you make a donation. A good place to go to in order to find out if a charity is legitimate or not is www.charitynavigator.org. This free website enables you to learn if a charity is a legitimate or a scam. It will also show you how much of the charity's donations go toward its charitable purposes and how much goes to administrative expenses and salaries. Also, remember that you can never be sure who really is contacting you when you get a telephone call, text message or e-mail purporting to be from a legitimate charity. If you are inclined to give, contact the charity directly at a website or telephone number that you know is real in order to make your donation.

Other scams to watch out for include:


Gift card scams. Gift cards are a good way to make sure your gift is something the person receiving it will actually use. Scammers go to racks of gift cards and, using handheld scanners, read the code on the magnetic strip of the card and the number on the front. They put the card back in the display and periodically check with the retailer by calling its 800 number to check whether the card has been activated. Once it is activated, they either create a counterfeit card or order things online without having an actual card in hand.

To avoid this problem, purchase cards from behind the customer service desk, and if the card is pre-loaded, always ask for the card to be scanned to show it is fully valued.

Puppy scams. Puppies are a popular holiday gift. Scammers set up phony websites purporting to be breeders of purebred dogs. The scammers send photographs of the dogs. Often these photographs are taken by the scammers from websites of legitimate breeders. In many cases, after a price is agreed upon, the scammer requires additional payments for shipping, insurance and veterinarian fees. Once the money is sent, the victim is told to go to the airport to pick up the dog. Of course, when the victim gets to the airport, there is no dog.

Even if you make contact with a legitimate breeder over the Internet, do not buy a dog without seeing the dog and the facility selling the dog. Get an independent veterinarian's report on the dog and check out the seller with the American Kennel Club.

Phishing scams. The holiday season is filled with e-mails luring you to websites for discounted merchandise, coupons and myriad other enticements to click on links in tainted websites that download malware that will steal the information from your computer and make you a victim of identity theft.

You can never be sure if an e-mail you receive is legitimate, so if you are tempted to click on a link or provide personal information for what appears to be a legitimate purpose, ignore the e-mail and go to the real website for the company to see whether the e-mail was indeed legitimate.

Vacation home rental scam. There are many legitimate websites that offer wonderful vacation homes. These websites can be an easy way to find a great vacation home. Scammers also will put listings on vacation websites. The listing may look official, and there is a good reason for that. The listing often is a real online listing that has been copied by the scammer who merely puts in his name and contact information.

There are a number of red flags to look for in vacation home rental scams. First, as always, if the price is too good to be true, it usually is just that – not true. Never send your payment by a wire transfer or a cashier's check. Use a credit card, so you can retrieve your funds if the transaction is fraudulent. It is usually best to deal with websites that specialize in vacation homes, but you must remember that they cannot possibly monitor every listing to ensure it is legitimate. You can also go online to the tax assessor's office of the city where the property is located and look up the real owner. If it doesn't match the name of the person attempting to rent you the home, it is probably a scam.

Contest scam. Phony lotteries are one of the most successfully perpetrated scams throughout the year, and they become even more common during the holidays with holiday-related phony lotteries. Victims are told they won a lottery they never entered and they merely have to pay some taxes or fees to claim the prize.

It's hard to win a lottery. It is impossible to win one you haven't even entered. It is important to remember that no legitimate lottery charges you fees to claim your prize, and no legitimate lottery collects income taxes for the IRS. The taxes are either deducted from your prize or you are responsible for paying the taxes directly to the IRS.

Grandparent scam. The grandparent scam is another one done throughout the year; however, it is more prevalent during the holidays when college-age grandchildren may be traveling. The scam starts with a phone call apparently from a grandchild who has encountered a medical or legal emergency and needs money immediately. Often the scammers get personal information to make the call sound legitimate through the child's Facebook page or other social media.

A good way to be proactive is to have a secret word a child should use in an emergency situation. If the caller doesn't know it, it is probably a scam. People traveling abroad should register with the State Department's Smart Traveler Enrollment Program at: https://step.state.gov/step/. This program helps with communication in emergencies.


Update on Salt Creek Tunnel Project (OR 58)
(From ODOT)

    Immediately after negotiating a termination with the former contractor, ODOT expedited a contract with OBEC Engineering for Plans, Specifications and Engineering of a new project to complete the original project. The new project will complete construction of two half viaducts and other remaining items from the original project, along with newly identified items.

    The newly identified items include improvements to preserve and strengthen the historic electrical room located beneath the west half viaduct. They also include the addition of electrical upgrades, since backup power to the tunnel is no longer available from a utility.

    During construction, there will be a limited number of complete nighttime highway closures. A single lane of travel, controlled by flaggers and pilot cars, will be in effect at all other times, 24 hours per day. There will be no 24-hour, complete highway closures.

    A contractor will be selected in late January, 2015. Construction would begin in mid-to-late spring and conclude in mid-to late fall, 2015. Paving would be completed in spring, 2016. While the original contract was low-bid, ODOT proposes to enter into a Best Value contract for construction of the second phase.  

    Funding for the project includes $1.9 million from the original phase construction contract of $9.37 million. That funding will allow for the construction of the two unimproved half viaducts. Last month, the Oregon Transportation Commission approved an additional allocation of $4.8 million for design engineering and the additional construction items.

    For more information, visit ODOT's website for this project: http://www.oregon.gov/ODOT/HWY/REGION2/Pages/OR-58-Salt-Creek-Half-Viaducts-Phase-2.aspx.


Highway 36 Pesticide Exposure Investigation Update
(From the Oregon Health Authority)

    The Oregon Health Authority has released the final Public Health Assessment for the Highway 36 Exposure Investigation. This document, which reports on the EI findings to date, incorporates public comments received on the May 9, 2013 draft PHA. Some changes were made to the draft document, in response to the comments OHA received.


What is new in this final version?

It summarizes public comments and explains how OHA responded to and addressed those comments (Appendix A).


It includes a new analysis for pre- and post-pesticide application (community-collected) urine samples. This new analysis resulted in a new conclusion, which states: "There are additional sources of 2,4-D and atrazine in the investigation area that are not accounted for in the pesticide application records available to the investigation team."


It has clarified language throughout the report, specifically in describing the agency-collected data as an attempt to establish baseline conditions. Agency sampling occurred at a time of year when herbicide use was presumably at its lowest levels, which is reflected in the agency-collected sampling results. The original EI plan was to conduct a complete round of sampling immediately post-application, to assess whether different results would occur. That post-application sampling did not occur, for reasons that were beyond the investigation team's control. Therefore, it is not known what the levels of herbicides may be in times other than the timeframe when samples were collected. This clarification is reflected in a modified conclusion (12), which now states: "Drinking water was eliminated as an exposure pathway for 2,4-D and atrazine in the fall of 2011," and in a new conclusion (15), which states: "Concentrations of pesticides in drinking water, soil and homegrown foods in the spring of 2011 and other seasons and years are unknown."



There is a new recommendation aimed at preventing human exposures to pesticides, recommending that "State agencies continue to collaborate on determining best practices that would protect human populations from pesticide exposures."

This report analyzes the following sets of information:

Community-collected urine sampling data from the spring of 2011;

Urine sampling data collected by the Agency for Toxic Substances and Disease Registry and OHA in August 2011;

Environmental sampling data (soil, water, homegrown foods) collected by the U.S Environmental Protection Agency & the Oregon Department of Environmental Quality in September of 2011;

Air and water data submitted by community members; and

2011 pesticide application record data provided by the Oregon Department of Agriculture and the Oregon Department of Forestry.

The report was focused on answering these original questions:

Are residents in the Highway 36 Corridor being exposed to pesticides from local application practices?

If residents are being exposed:

To what pesticides are they being exposed?

To what levels are they being exposed?

What are potential source(s) of the pesticides to which they are exposed?

What are potential routes (pathways) of residents' exposures?

What health risks are associated with these exposures?

Next steps, OHA will:

Work with state and federal partners, community members and other stakeholders to implement the recommendations in this report;

Continue maintaining the Highway 36 website; and

In coordination with the Pesticide Analytical Response Center, provide updates through the Highway 36 listserv about findings from any future investigation activities.
 
    The EPA has finished the analytical phase of the air monitoring method development and is currently working on ways to estimate air concentrations of pesticides from the amounts found on the monitor filters. More information on the development of air monitoring methods will be available in the spring of 2015.

    For more information on the report, data collection and background, please visit www.healthoregon.org/ehap. If you have trouble viewing the hyperlinks in this e-mail, please contact Karen Bishop: karen.bishop@state.or.us.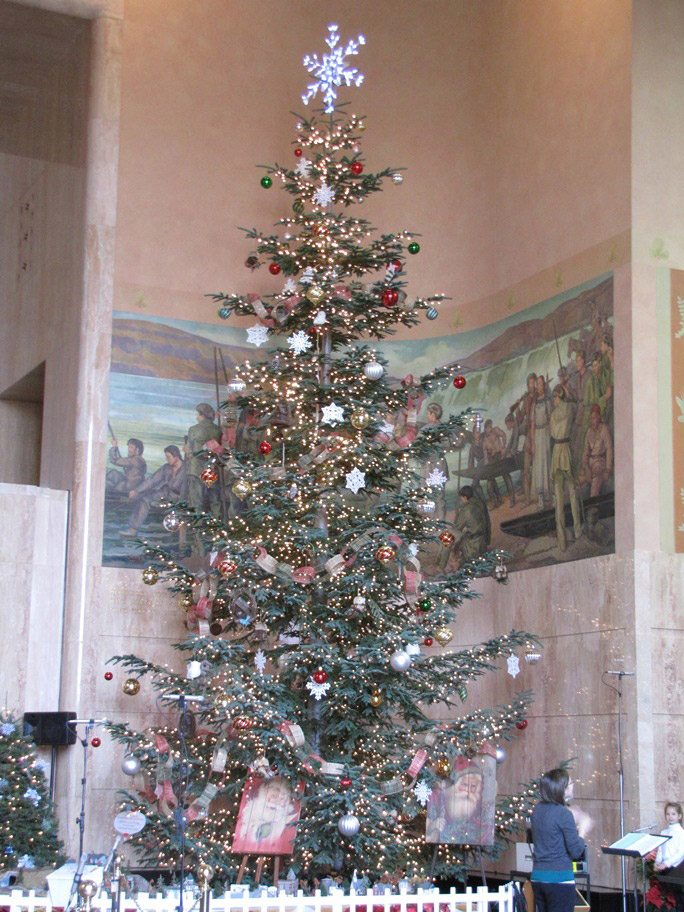 The Capitol tree in Salem
Photo credit: Peggy Guillen