If you're having trouble viewing this message, please visit my legislative web page at http://www.oregonlegislature.gov/prozanski/, click on "News" in the lower left-hand column and scroll down.

Dear friends,

    Although smoke has lifted, the fires continues to burn and residents directly affected are still hurting. Recovery for many will be a long road. You can help by donating to the Oregon Food Bank, the Wildland Firefighter Foundation, and/or the 2020 Community Rebuilding Fund to support mid- and long-term recovery. If you're a medical professional, you can volunteer with the state to provide medical care to people impacted by fires (along with COVID-19) through the State Emergency Registry of Volunteers in Oregon (SERV-OR) program.
    
    While air quality has improved, smoky conditions remain near the wildfires and may ebb and flow into the Willamette Valley with shifts in the wind. Please continue to take precautions, including staying indoors if you're sensitive to unhealthy air and wearing a mask when in public to prevent breathing in contaminants and to help limit the spread of COVID-19.

    The Oregon Department of Transportation has begun clearing debris from Highway 126. This work will aid recovery efforts, including restoration of utility infrastructure. I have been advised that the clearing work may also allow me to travel up the McKenzie soon to personally assess the area and hear from residents directly impacted by the Holiday Farm Fire. Additionally, ODOT reopened Highway 138E (North Umpqua Highway) today after a two-week fire closure. I will continue to work to facilitate state aid for victims of both the Holiday Farm and Archie Creek fires.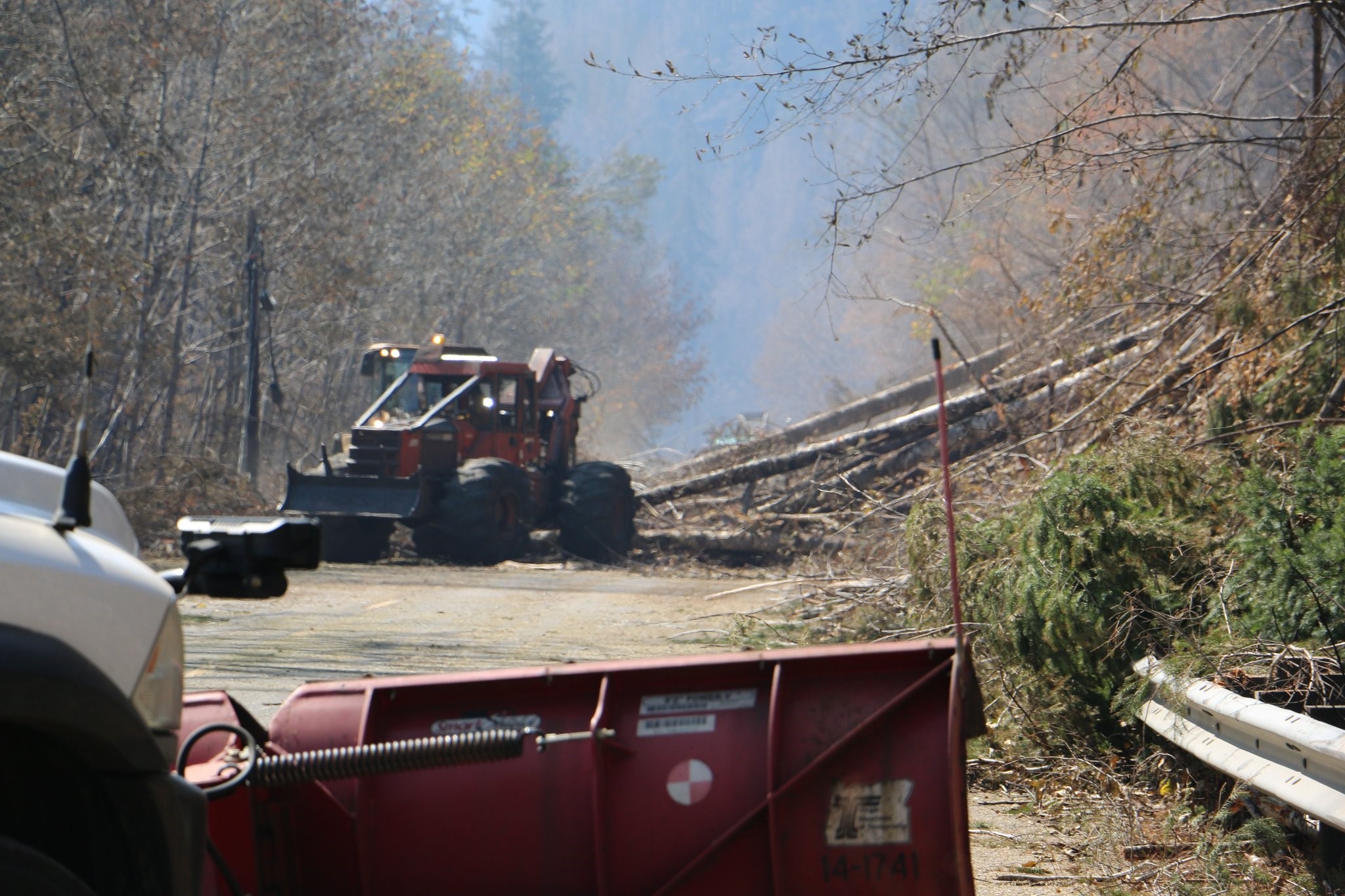 ODOT crews working Monday to clear Highway 126 (McKenzie River Highway)

    Below you will find information on:

        - Oregonians Affected by Fires Can Apply for Federal Disaster Assistance
        - Humane Society Offering Assistance
        - Tips from State Farm Insurance for Oregonians Affected by Fires
        - Information for Oregonians Displaced by Wildfires on How to Vote
        - USPS Change of Address Process for Oregonians Displaced by Fires
        - Additional Brief Updates

    I hope this information is helpful and informative for you or someone you know. In closing, I'd like to extend a sincere thank you to our firefighters.

                                                              

Oregonians Affected by Fires Can Apply for Federal Disaster Assistance

    The U.S. Department of Agriculture (USDA) Rural Development encourages all Oregon residents, businesses, and communities affected by the wildfires to register for disaster assistance with the Federal Emergency Management Agency (FEMA) as soon as possible.

    You can complete the FEMA registration process using any of these methods:
Visit DisasterAssistance.gov
Download the FEMA app.
Call 1-800-621-3362 (TTY 1-800-462-7585) or if you use 711-relay or video relay services, call 1-800-621-3362. The toll-free telephone lines are operated from 7 a.m. - 10 p.m. PDT seven days a week.
FEMA's Individual Assistance Program for survivors has been made available in Clackamas, Douglas, Jackson, Klamath, Lane, Lincoln, Linn, and Marion counties.
    Disaster assistance may include grants for temporary housing and home repairs, low-cost loans to cover uninsured property losses, and other programs to help individuals and business owners recover from the effects of the disaster.

    Low-interest disaster loans from the U.S. Small Business Administration are available to homeowners, renters, and businesses. Call the SBA at 1-800-659-2955 or visit https://disasterloan.sba.gov/ela/Information/Index.

    Public assistance for emergency work and the repair or replacement of disaster-damaged facilities has been made available in 20 Oregon counties: Benton, Clackamas, Columbia, Coos, Deschutes, Douglas, Jackson, Jefferson, Josephine, Klamath, Lake, Lane, Lincoln, Linn, Marion, Multnomah, Tillamook, Wasco, Washington, and Yamhill. All areas statewide are eligible to apply for hazard mitigation assistance.


Humane Society Offering Assistance

    The Humane Society of the United States (HSUS) alerted my office that they are ready and able to provide assistance to Oregonians for companion animals that have been evacuated due to wildfires. This includes: supplies, responding to injured animals in need of medical care, and/or with rescue/trapping/handling efforts in the field. HSUS also has FEMA-certified animal responders and handlers available who are experienced in disaster zones. If you or someone you know is in need of such assistance for their animals, please contact my office.


Tips from State Farm Insurance for Oregonians Affected by Fires

    I understand that State Farm Insurance has deployed a catastrophe response team to assist Oregon policyholders with claims. State Farm offers the following tips to homeowners on how to handle damage or start the claims process:
Walk around outside of your home first. If you notice downed power lines or a gas smell, leave and call for help.

The ground can contain heat pockets that could burn you or spark another fire, so avoid hot ash, charred trees, smoking debris, and live embers.

Turn off the main power breaker if safe to do so.

Wet down debris and wear a dust mask.

Open windows and doors to help air your home out.

Watch for sagging floors and avoid putting weight on them.

Don't drink tap water until authorities say it's safe.

Throw out any medication, food, or drinks that were exposed to heat, ash, smoke or chemicals.

Avoid touching soot 

––

it smears easily.

Take pictures of your home's damage inside and out.

Keep living expenses receipts; they may be reimbursable after meeting your deductible.


Information for Oregonians Displaced by Wildfires on How to Vote

    Oregonians displaced from their homes may be concerned about voting in the General Election this November. The Oregon Secretary of State's office has shared the following Q/A:

USPS Change of Address Process for Oregonians Displaced by Fires
(From Sen. Jeff Merkley's office)

   Below is the process for customers to request an expedited temporary (or permanent) change of address due to the wildfires:
You can go to a post office to request help expediting a change of address request.


You will fill out a change of address card and the post office will scan it then send it via email to the USPS change of address center to expedite processing.


If the post office does not have change of address cards in stock, you can provide your address on record and the address where you want the mail forwarded to. USPS will e-mail that information to the change of address center for processing.



You will need to present ID, which must be current with the address you are requesting your mail be forwarded from.









Additional Brief Updates
(From Sen. Michael Dembrow)

These are stressful times, especially for people experiencing extreme anxiety, depression, and other behavioral/emotional problems. Legislators have been encouraged to recommend a resource that can help: the national Disaster Distress Helpline, which provides 24/7 crisis counseling for those experiencing emotional distress related to natural or human-caused disasters. Anyone can call 1-800-985-5990 or text TalkWithUs to 66746.


One of the challenges that many fire victims face in rebuilding their lives is restoring lost vital records: birth certificates, marriage certificates, etc. The state has issued a special order that will allow them to receive needed records lost to the fires free of charge, here.


The Governor's Wildfire Resources webpage is an all-purpose resource.