If you're having trouble viewing this message, please visit my legislative web page at http://www.oregonlegislature.gov/prozanski/, click on "News" in the lower left-hand column and scroll down.

NEW: I'm sending a revised copy of today's fire update with added information.

As referenced, donations for fire evacuees are no longer being accepted at Silke Field. Donations are now being accepted at the Masonic Lodge (277 Martin Luther King Jr Blvd –– across from Autzen Stadium) but the most helpful way for community members to contribute is to make financial donations to United Way's Wildfire Response Fund online at: http://egiving.unitedwaylane.org/wildfires.

People displaced from their homes can pick up personal and some household items at 2699 Roosevelt Blvd (United Way / St. Vincent DePaul distribution site).
===================================================

Dear friends,

    Fire continues to ravage our region and smoke chokes the sky. Both firefighting conditions and air quality are beginning to see gradual improvement, however, thanks to tireless efforts of first responders and a westerly weather flow coming in off the Pacific Ocean. While that does little to alleviate the suffering of those who have lost loved ones, their homes and animals, our community has really stepped up.

    I'm taken aback –– but not surprised –– by the generosity of Oregonians helping Oregonians. In Lane County, the Red Cross Evacuation Center at Silke Field (at Springfield High School) has reached capacity for donations. In Douglas County, organizations from a pet adoption center to a bowling alley are doing what they can to aid those displaced by the flames.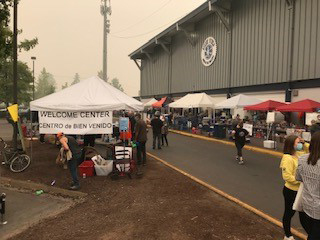 Photo: Red Cross evacuation center at Silke Field

    In addition to helping facilitate state resources in responding to fires in Senate District 4, I've had opportunities to attend in-person command briefings on the Holiday Farm Fire; a cooperator briefing at the Douglas County Fairgrounds on the Archie Creek Fire; and to visit the Red Cross evacuation center at Silke Field. When circumstances allow so that we will not impede firefighting and recovery efforts, Congressman Peter DeFazio and I hope to travel up the McKenzie River Valley later this week to assess the destruction and further facilitate aid.

    The Governor's office has put together a wildfire resources page, here. Below you will find additional information on:

        - 211Info Can Help you Sign up for the Red Cross "Safe & Well Registry"
        - Free Insurance Help available for Oregonians Facing Wildfire Losses
        - ODOT Postpones Northbound Interstate Bridge Closure
        - Fire Resource Links

    I hope this information finds you safe and well and is helpful for you or someone you know. As always, feel free to contact my office by phone, mail or e-mail.

                                                              



211Info Can Help You Sign up for the Red Cross "Safe & Well Registry"

    Community members who need assistance signing up with the Red Cross "Safe & Well Registry" can contact 211Info.
CALL: dial 211 or 1-866-698-6155

TTY: dial 711 or call 1-866-698-6155 (24/7; free language interpreters available by phone)

TEXT: your zip code to 898211 (TXT211) between 9 a.m. - 5 p.m.

EMAIL: help@211info.org (available in English, Spanish, and Mandarin)

Free Insurance Help Available for Oregonians Facing Wildfire Losses

    As Oregonians start assessing the fire damage brought over the last week and look to their insurance coverage for help rebuilding, the Department of Consumer & Business Services (DCBS) is actively sharing resources and remains available to answer questions. DCBS's wildfire page has tips and resources to help with filing and settling insurance claims. Consumer advocates are available by phone at 888-877-4894 (toll-free) or email at dfr.insurancehelp@oregon.gov. The Division of Financial Regulation Advocacy Team has begun to visit evacuation centers around the state to help with insurance questions and concerns.


ODOT Postpones Northbound Interstate Bridge Closure

    ODOT's previously scheduled closure of the northbound I-5 bridge for trunnion replacement has been delayed. While this is critical work, ODOT will work to ensure it is completed as soon as possible, at this time it made little sense to impede anyone's ability to evacuate as orders are imposed. As many of you know, traffic is/will be difficult enough without an additional layer of road closure in the event folks need to head north.


Fire Resource Links