If you're having trouble viewing this message, please visit my legislative web page at http://www.oregonlegislature.gov/prozanski/, click on "News" in the lower left-hand column and scroll down.


Dear friends,

   With August upon us, please find below my latest monthly e-bulletin with updates on Oregon's response to COVID-19 and legislative activity. Moving forward, I'll be sending monthly e-bulletins instead of weekly updates.

    Most first Mondays of each month, I join Cameron Reiten of KNND on-air to discuss state and local political issues. Tune in to 1040AM at 9 a.m. to join the conversation! I also regularly join Kyle Bailey for KQEN's "Inside Douglas County." Click here to listen to my interview with Kyle last Wednesday, summarizing the Legislature's second special session. (A summary of action taken during the second special session is below in this e-bulletin.)

    On a lighter note: With most summer events and festivals cancelled this year due to COVID-19, I thought I'd do a "throwback" to last year's Cottage Grove's Bohemia Mining Days when I served as "pooper scooper" in the parade, as I do each year. I always enjoy showing off my shoveling skills … it's all in the wrist, and I can't wait to get "back on the trail" next year! (The same with the Yoncalla Fourth of July parade!)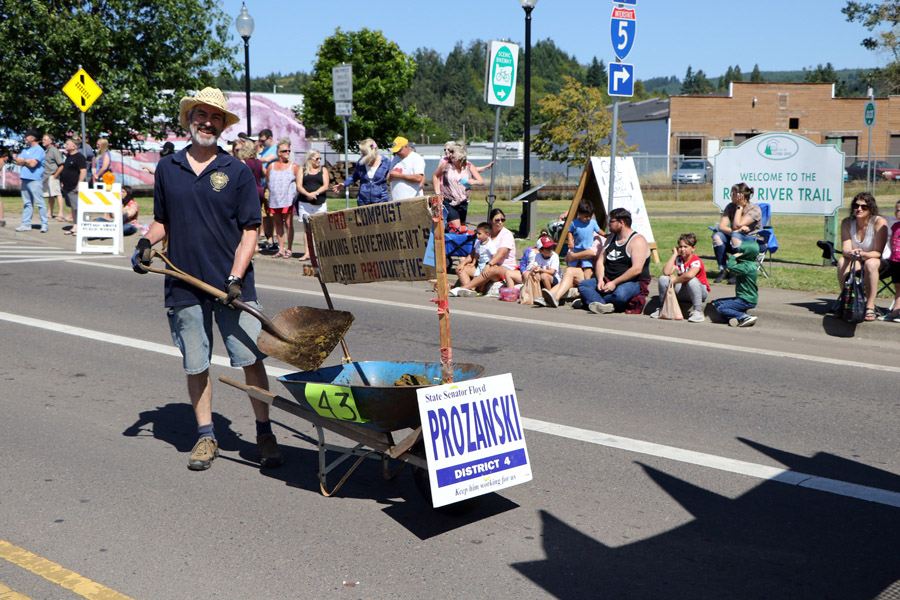 Photo credit: Greg Lee

    Below you will find information on:

        - Recap of the Second Special Session
        - Latest from the Employment Department
        - Reminder: Small Business Navigator
        - Coronavirus Relief Fund Cultural Support Application Now Live
        - Online Database of Public Safety Certification Actions
        - Road Construction Updates
        - Primary Resource Links

    I hope this information is helpful and informative for you or someone you know. As always, feel free to share your comments, questions or concerns with me by phone, mail or e-mail.

                                                              



Recap of the Second Special Session

   The Legislature convened for its second special session of 2020 on Monday. Members wore masks and maintained physical distancing when on the chamber floors and in committee for votes, and otherwise remained in our offices when not on the floor for debate and votes. I was appointed to the Joint Committee on Policies for the Second Special Session ("Policy Committee").

    The Policy Committee took up two bills, HB 4301 and HCR 221. The first bill, HB 4301, was actually two police accountability issues –– chokeholds and use-of-force –– for which we recently held public hearings, along with four additional police accountability bills.

    As previewed in my recent e-bulletins, the COVID-19 pandemic has brought tremendous strain on our state budget. We must protect critical services that families need most: public safety, education and health care. With focus on these principles, the following are key bills passed during last week's special session, by Senate/House bill and in numerical order. (To review more information about each bill, click on its number.)

Senate Bills

    SB 1701 - Clarifies situations in which workers are able to work part-time while receiving benefits. This bill provides that unemployed individuals receiving unemployment insurance benefits who have earnings from less than full-time employment may earn greater of $300 or one-third of their weekly benefit amount before their weekly benefit amount is reduced.

    SB 1703 - Provides that during a statutorily-declared emergency, the Governor may authorize the Director of the Department of Revenue to disclose certain information set forth in tax report or return to any state agency if the director determines that administration of any federal or state law or program, including –– but not limited to –– administration of unemployment insurance laws and programs by the Employment Department. This bill requires disclosure to enable the agency to verify identity or income level of any person for purposes related to emergency or any consequences of emergency.

    SB 5723 - Appropriates moneys from the General Fund to Emergency Board for allocations.

House Bills

    HB 4301 - This bill brings together two policing reform bills considered by the Joint Committee on Transparent Policing & Use of Reform, of which I am a member. This bill clarifies the prohibition on use of "chokeholds" and other police actions that cut off breathing or blood circulation (such as the action that caused the death of George Floyd). It also clarifies when physical force is permissible and set standards in the use of force. HB 4301 further aligns Oregon law in statute with prevailing case law and is supported by both reform advocates and law enforcement agencies and organizations across the state including the Oregon State Police, the Oregon Association Chiefs of Police, and the Oregon Sheriffs' Association.

    HB 4303 - Directs the State Treasurer to transfer moneys from Education Stability Fund to State School Fund.

    HB 5221 - Modifies amounts of lottery funds allocated from Administrative Services Economic Development Fund to state agencies.


Latest from the Employment Department

    I continue to hear from and assist constituents who are facing challenges or delays in dealing with the unemployment benefit process. I share their frustrations. I'm sorry people are not receiving responses or payments in a more timely manner. We've been working with the department to get answers. Here is the latest update from the Oregon Employment Department (OED) to legislators:

    OED reached its goal of processing 70,000 PUA initial claims and did so before its target date of August 8. While OED still faces very real challenges in getting everyone all of their benefits as quickly as they need, it is adjusting more rapidly. The "Benefits While You Wait" program to speed up the adjudication process will still take some time to help people, but will greatly speed up how quickly the department can get them benefits –– at least easing some remaining challenges.

    For applicants receiving messages to restart their claim: Instead of using the weekly spreadsheet to refer these to OED, applicants can use the "contact us" form where their request will be handled.

    OED is receiving additional guidance from the U.S. Department of Labor about how it can define "gross earnings" for the PUA program. Now, when reporting self-employed earnings on the weekly certification, gross earnings is defined as gross receipts received during the week minus 25 percent of the prior months' expenses. The department promised to share more information with legislators to help their constituents.


Reminder: Small Business Navigator

    In April, Business Oregon created the Small Business Navigator (SBN) to function as a clearinghouse for small businesses seeking help accessing resources. In addition to answering questions about state resources, Business Oregon has provided businesses and sole proprietors with information about SBA programs. At Governor Brown's direction, Business Oregon is also responding to questions from Oregonians about reopening guidance and have seen a significant increase in calls to the SBN resource hotline.

    SBN has staff available to respond to calls and e-mails Monday through Friday from 8 a.m. to 5 p.m. via its resource hotline at 833-604-0880 or biz.covid19@oregon.gov.


Coronavirus Relief Fund Cultural Support Application Now Open

    Applications are now open for Oregon's Coronavirus Relief Fund (CRF) Cultural Support program. Funds allocated to the Oregon Cultural Trust will be available to Oregon cultural organizations facing losses due to COVID-19.

    The $25.9 million in funding was made available through a $50 million relief package for Oregon culture recently approved by the Legislature's Emergency Board. All Oregon cultural nonprofits and community venues can apply. Eligible grant recipients include, but are not limited to: cultural institutions, county fairgrounds, cultural entities within federally recognized Indian Tribes based in Oregon, and festivals and community event organizations.

    The online application form can be found at: https://development.oregon4biz.com/acton/media/14786/2020-crf-cultural-support. 


Online Database of Public Safety Certification Actions

    The Oregon Department of Public Safety Standards & Training (DPSST) has created and published a statewide, online database of DPSST professional standards actions in accordance with HB 4207, which passed during the first 2020 special session. The database includes:
Names of all police, corrections and parole & probation officers, OLCC regulatory specialists, telecommunicator (9-1-1) and emergency medical dispatchers whose certifications have been denied, suspended or revoked by DPSST; 

Their employing agency (if applicable); and

A link to the DPSST investigatory report (if applicable) and final order once issued. 
    A listing of all individuals who have been the subject of a final DPSST professional standards action prior to June 2020 has also been published, along with a list of open, pending DPSST professional standards cases.

    The database and these lists can be found at: https://www.oregon.gov/dpsst/cj/pages/professionalStandards.aspx. The website also includes additional information relating to DPSST's professional standards processes, instructions on how to make a public records request, links to previous Board and Policy Committee meeting minutes and information on how to subscribe to receive notifications from DPSST, to include agency updates, meeting minutes and public comment opportunities.


Road Construction Updates
(Latest from ODOT)

    Delta Highway will be paved between I-105 and Goodpasture Island Road. Work begins Sunday, August 16, on the eastbound I-105 ramp to northbound Delta Highway and will continue nightly though the week. Construction hours are 8 p.m. to 5:30 a.m. and work should wrap up on August 21.

    Traffic will be detoured from the I-105 ramp on Sunday night. For the remainder of the week, expect single lane closures in the work zone as the project moves through the area. The section from Goodpasture Island Road to the interchange will be paved next year.

Beltline Paving

    Beltline Highway is scheduled to be paved from just south of Roosevelt Boulevard to West 11th Avenue the week of August 24, at night, 8 p.m. to 5:30 a.m. Expect single-lane traffic and delays up to 20 minutes. The OR 99 and Northwest Expressway interchange ramps will also be paved in September.

Beltline/Delta Interchange Project

    The northbound Delta Highway to eastbound Beltline Highway detour ends in mid-August and the ramp to eastbound Beltline will open. Work continues on the new overpass to westbound Beltline Highway, and begins on the new intersection for traffic coming from eastbound Beltline to Delta Highway. More information on this project can be found at: https://www.oregon.gov/odot/projects/pages/project-details.aspx?project=19490.

I-105 Project
    Construction is on schedule to be complete in fall 2020. Work continues on the eastbound lanes. All traffic remains in the westbound lanes over the Willamette River until mid-September. The southbound Delta Highway/Valley River Center on-ramp to westbound I-105 is open. Watch for merging traffic. The eastbound I-105 exit to northbound Delta Highway is also open. Slow down and exit carefully as you leave I-105. The angle is a little different from the construction lane. More information on this project can be found at: https://www.oregon.gov/odot/projects/pages/project-details.aspx?project=18577.

Highway 58 Paving

    Willamette Highway will be paved between Goshen and Pleasant Hill beginning in mid-August through the end of September. Paving will be Sunday through Thursday nights. Right now, several pedestrian ramps and crossings are being reconstructed to meet current Americans With Disabilities Act standards. New waterproof membranes will be installed on two of the smaller bridges on the west end in late August. Traffic will be controlled by flaggers and a pilot car. Expect delays up to 20 minutes. More information on this project can be found at: https://www.oregon.gov/odot/projects/pages/project-details.aspx?project=18577.



Primary Resource Links

    Here's a list of government resources that you may find useful: