If you're having trouble viewing this message, please visit my legislative web page at http://www.oregonlegislature.gov/prozanski/, click on "News" in the lower left-hand column and scroll down.

Dear friends,

    Greetings from your state capitol! It was a busy and productive session until last week when my Senate Republican colleagues walked out to prevent a vote on the Oregon Greenhouse Gas Initiative (OGGI) SB 1530 . Please click here to view a website authored by the Senate Majority Office with frequently asked questions/answers about OGGI and a comparison to the Clean Energy Jobs bill of 2019, HB 2020.

    This is the third time the Senate Republicans have walked out of the Capitol since May 2019, holding hostage our democratic process by denying a needed two-thirds quorum. To further complicate matters, the House Republicans have walked out twice during this limited 35-day session. In total, the Republicans have now walked out five times in the last 10 months. Besides the OGGI, these walkouts have been over measures concerning vaccine requirements, safe storage of firearms, coyote killing contests and the Corporate Activities Tax. In other words, when the minority party disagrees with the majority party on legislation, they are willing to shut down the legislative branch! This "new normal" is not the answer.

    Perhaps I'm a traditionalist when it comes to public service, but I know there are Republican members who believe as I do. Here's a link to an op-ed authored by one of my former colleagues, Representative Lane Shetterly (Republican - Dallas, OR), published in The Oregonian after the 2019 walkouts by Senate Republicans. As he points out, "for those concerned about protecting a minority from an oppressive majority, there are already protections in place. Tax measures require a three-fifths supermajority. With divided government, each chamber can limit the other and the governor can counter both with the veto. Oregon has the referendum and initiative, by which actions of the Legislature can be put to a vote of the people. There is recourse to the courts. And there is always the ballot box, where voters can throw out a party that has acted against their interest."

    Some constituents have raised the fact that Democrats also used a "walkout" approach in the past. That's true. The last significant walkout by Democrats occurred 19 years ago, in 2001. It lasted for approximately six days over an attempt by Republicans to circumvent the governor's review of a redistricting plan by using a resolution instead of a regular bill. When the Democrats returned, that session continued until business was completed since there was not a prescribed adjournment deadline.

    Today, that is no longer an option. Since 2011, Oregon has had a specific number of days to meet in regular session, unless extended by a two-thirds vote, which has never been done. (160 days in odd-numbered years and 35 days in even-numbered years.) When Oregonians agreed to have annual sessions, voters also set deadlines for those sessions. In other words, the rules of engagement have changed and walkouts are no longer an acceptable means to voice disapproval.

    Let me try to underscore why this tactic of halting legislative business is a direct threat to our democratic process and is making one of our three branches of state government ineffective. Having served in the minority for seven years, I understand the frustration that being in the minority can cause members of that party. Each senator and representative is elected to represent their constituents and to use all the tools and resources available to them by the legislative process in their endeavors to satisfy that representation. Walking out and refusing to honor the responsibility that their positions prescribe is not one of those tools, but rather it's an obstruction of the legislative process and an abandonment of their constitutional duties.

    It's reasonable to ask: What would Democrats do in the same situation today? What if we were in the minority? To answer that question, I can tell you what I did when faced with a Republican super-majority back in 1999. Eight bills attempting to amend the Oregon Constitution came before the House of Representatives. These bills had the potential to fundamentally change our criminal justice system. By standing present on the floor of the House, I exhausted tools available to minority members. I carried eight minority reports, seven in one day, to push back. (A minority report is an alternative measure presented by members of a committee who voted "no" on a bill approved by the majority of committee members.) I learned that I needed to stay engaged to fight for my constituents and beliefs — both in committee meetings and floor sessions — regardless of whether I could ensure an outcome.

    Oregonians are demanding that their state legislators participate in the democratic process, as required under our republican form of government. Having worked hard on various pieces of legislation this session, and as I have shown up for daily scheduled floor sessions that haven't begun due absent senators, I've been eager to finish the people's work that we all came here to do. Numerous other policy and budget bills hang in the balance, including emergency aid for Umatilla flood recovery and HB 4109, which I have summarized below. Enough is enough! It's time for my Republican colleagues to return to Oregon and resume work at the capitol.

    I know many Senate District 4 residents have questions about the walkout. On Thursday, March 31, my Lane County legislative colleagues and I will be co-hosting a town hall at Roosevelt Middle School. Please join us for a review of the short legislative session and to share ideas for moving forward.

        What: Joint Legislative Town Hall
        When: Tuesday, March 31, starting at 6:30 p.m.
        Where: Roosevelt Middle School (500 E 24th Ave., Eugene)

Douglas County residents: Please stay tuned for town halls that I'm organizing in Drain and Sutherlin for early April.

    I always enjoy meeting with constituents who visit their capitol. This short session, that's included a group from Elkton Charter School (picture below). Constituents have also visited with me about combatting climate change, issues facing dairy farmers, higher education funding and a variety of other issues. Thanks to everyone who made the drive to Salem to participate in the legislative process!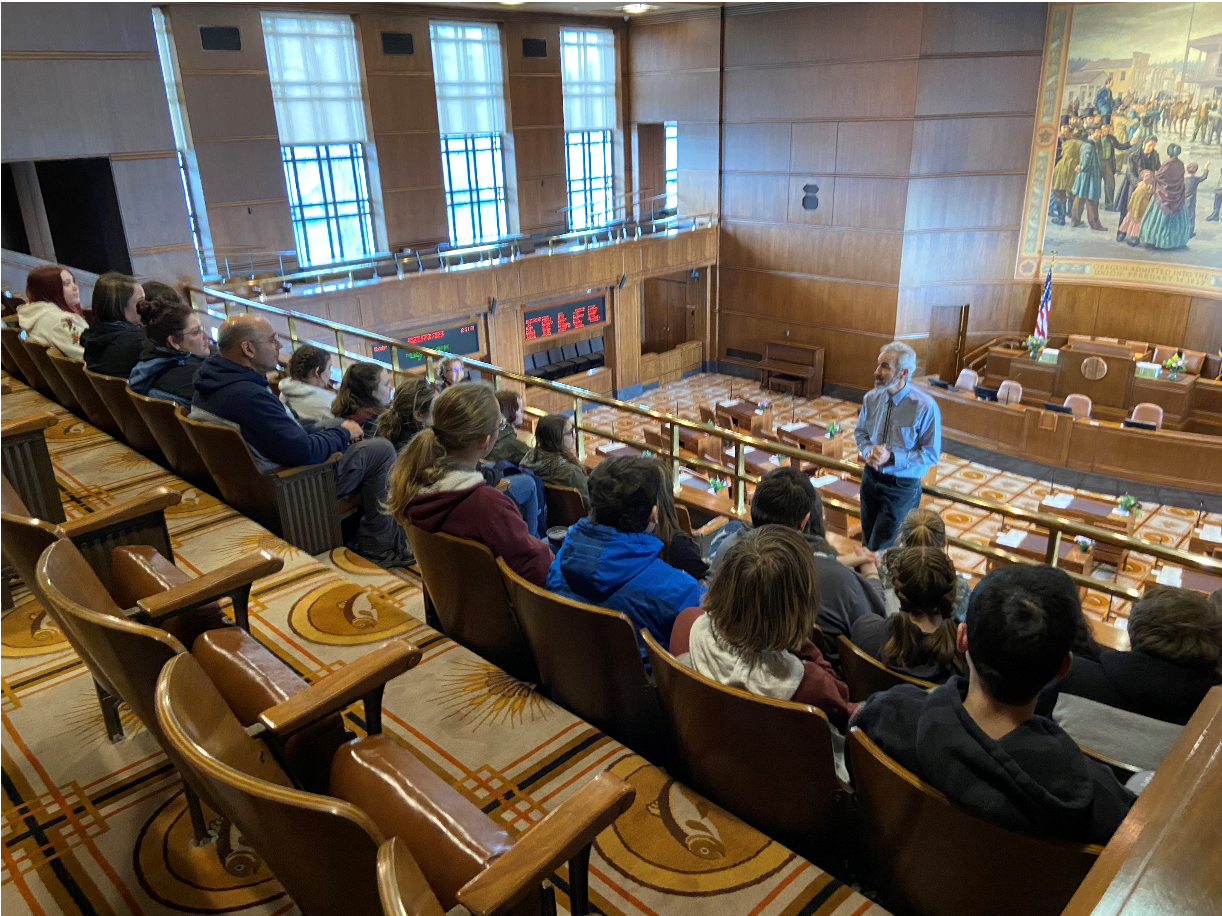 Meeting with a group of engaged students and parents from Elkton Charter School.

    Below you will find information on:

        - COVID-19 Arrives in Oregon
        - Bill Highlight: HB 4109 (Banning Chlorpyrifos)
        - March Revenue Forecast
        - Corporate Activity Tax Statewide Tour
        - Medicare Advantage Open Enrollment
        - Northwest Youth Corps

    I hope this information is helpful and informative for you or someone you know. As always, feel free to share your comments, questions or concerns with me by phone, mail or e-mail.
                                                      

        

COVID-19 Arrives in Oregon
(Information from the Oregon Health Authority)
    At least one case of COVID-19 (or novel coronavirus) has been confirmed in Oregon. Below is information from the Oregon Health Authority (OHA) that may be helpful.
Oregon is taking steps to be prepare and prevent the spread of COVID-19.


State, federal and local officials are working together to prevent the spread of COVID-19 in Oregon.


Health experts are learning more about COVID-19 every day, including steps needed to prevent, treat and contain it, including:



Monitoring people who may have been exposed, making sure they are seen by health care providers and encouraging them to stay isolated from others.

Communicating information about COVID-19 to the public.

Coordinating with local and tribal public health officials, hospitals and health systems to prepare and identify needed supplies, equipment and facilities.



You can reduce your risk of getting COVID-19 by:



Consulting travel advisories if you plan to travel outside of the U.S.

Cover your coughs and sneezes with a tissue and then throw the tissue in the trash.

Wash your hands often with soap and water or an alcohol-based hand sanitizer.

Avoid close contact with people who are sick.

Avoid touching your eyes, nose and mouth with unwashed hands.

Clean and disinfect surfaces people often touch.

Take care of your health overall. Staying current on your vaccinations, including flu vaccine, eating well and exercising all help your body stay resilient.
Please check OHA's COVID-19 webpage for the latest updates.



Bill Highlight: HB 4109 (Banning Chlorpyrifos)

   As Oregonians, we understand the important role that agriculture plays in our economy and equally the importance of protecting the people who work the land and harvest our crops. I co-sponsored HB 4109 this session to prohibit aerial application of pesticides containing Chlorpyrifos.
    Chlorpyrifos are harmful to farm workers and their families. Aerial application near schools endangers students and faculty. HB 4109 does the following:
    As with so many other important bills, HB 4109 is in limbo, awaiting a full Senate vote while the Republican walkout continues.


March Revenue Forecast

    The March 2020 Economic and Revenue Forecast was released at a joint meeting of the Senate and House Revenue Committees. This forecast, summarized below, shows that Oregon's economy is strong and our outlook is stable. We continue to see high employment rates and an increase in employment.

Revenue Outlook

    The projected combined ending balance for the 2019-21 biennium is up $173.7 million from the December 2019 forecast. The projected ending balance is also up $648.8 million from the 2019 close-of-session estimate.

    The Rainy Day Fund is projected to receive $224.1 million following the end of the 2019-21 biennium. Projected 2019-21 Lottery resources are also up $9.7 million since the December 2019 forecast.

    The projected ending balances for the reserve accounts for the 2019-21 biennium are as follows: Education Stability Fund ($861.7 million), Rainy Day Fund ($962.8 million) and General Fund ($1.15 billion). This totals $2.978 billion in reserves.

Kicker Outlook

    Currently, no personal kicker is projected for 2021. The projected corporate kicker of $121.9 million is to be dedicated to K-12 education spending in in the 2021-23 biennium.

Economic Outlook

    Oregon's unemployment rate is currently at its historical low, with records going back at 1976. Large service sector industries have been leading job growth. This growth has been taking place in professional and business services, health services and leisure and hospitality industries. Oregon's median household income is currently at an all-time high, even after adjusting for inflation. It now stands 2.4 percent higher than the U.S. overall. This marks the first time in more than 50 years that Oregonian incomes are higher than the nation.

Forecast Risks

    The Oregon Office of Economic Analysis has identified multiple risks to monitor regarding Oregon's economic and revenue outlook, including housing affordability, federal fiscal policy, global spillover, environmental climate and disasters, commodity price inflation, federal timber policy, ballot measures and the state of the U.S. economy at large.

    More forecast documents can be found at: https://olis.leg.state.or.us/liz/2020R1/Committees/HREV/Overview.


Corporate Activity Tax Statewide Tour

    The Oregon Department of Revenue invites business taxpayers and tax professionals to take part in discussions of the administrative rules for the state's new Corporate Activity Tax (CAT). Traveling across Oregon, the CAT policy team will sit down in a series of meetings in March to provide information and guidance to those affected by the CAT.

    During its fall tour, stakeholders provided critical information that aided in the writing of the initial temporary administrative rules for the CAT. With the temporary rules complete, the CAT policy team will go back to the public, providing important information to help taxpayers comply with the law and seeking input on the temporary rules completed to date.

    The goal of the statewide tour is to make business taxpayers and tax professionals aware of the resources available to them through the department's website and to answer their questions based on the administrative rules filed with the Oregon Secretary of State. The meeting in Senate District 4 will take place on Wednesday, March 11, from 6 to 7:30 p.m. at the Lane Community College Center for Meeting and Learning, Room 102 (4000 E 30th Avenue).

    You can find more information about the Corporate Activity Tax — including an extensive list of frequently asked questions — on the Department of Revenue's website. Those who are unable to attend the meetings but want to provide input can email questions or comments to: cat.help.dor@oregon.gov.


Medicare Advantage Open Enrollment

    The Medicare Advantage open enrollment period is from January 1 to March 31. Beneficiaries who take advantage of this open enrollment period will have coverage that starts the first day of the month after they enroll. Beneficiaries must have an existing Medicare Advantage plan on Jan. 1 to use this enrollment period.

    During this period, beneficiaries who already have a Medicare Advantage plan can:
    Please note: Signing up for Part D prescription drug coverage is not guaranteed unless the beneficiary was already in a Medicare Advantage plan on Jan. 1. Beneficiaries can make only one change during this enrollment period and cannot change from one stand alone Part D prescription drug plan to another standalone Part D prescription drug plan. Beneficiaries who want assistance evaluating their options or making a change can contact Oregon's Senior Health Insurance Benefits Assistance program at 800-722-4134 (toll-free) or online at: shiba.Oregon.gov.


Northwest Youth Corps