If you're having trouble viewing this message, please visit my legislative web page at http://www.oregonlegislature.gov/prozanski/, click on "News" in the lower left-hand column and scroll down.

Dear friends,

    As October brings beautiful fall colors, please slow down with the leaves on the roads and remember that a lot of kids will be out trick-or-treating on Thursday, October 31 (see below for Halloween safety info). If you plan to travel over the mountain passes, don't forget to check www.tripcheck.com for weather alerts and traffic advisories before heading out.

        In preparation for the 2020 legislative session, my colleagues and I met September 16-18 in Salem for committee hearings and a meeting of the full Senate to consider executive appointments. The Senate Judiciary Committee, which I chair, met jointly with the House Judiciary Committee to hear updates about community corrections funding and other topics.

    On September 15, I participated in the SquareOne Villages "Paella in the Vineyard" at King Estate. I was impressed to learn of SquareOne's recent work providing housing for people in need. The event raised over $60,000 for completion of the Emerald Village and Cottage Village tiny home communities and to help share the "village" model of tiny homes across the state and nation. Below, you'll find a photo of me cooking my paella on that rainy Sunday, along with a dozen other cooks.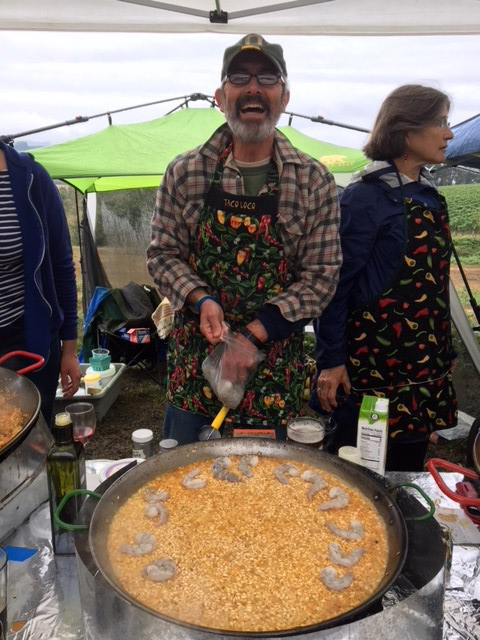 Below you will find information on:

        - 2019 Session Accomplishments: Working Families
        - Medicare Open Enrollment Resources
        - Launch of McKenzieCommunity.org
        - Creswell Oaks Conservation Easement Purchase
        - Halloween Traffic Safety Tips

    I hope this information is helpful and informative for you or someone you know. As always, feel free to share your comments, questions or concerns with me by phone, mail or e-mail.

                                                              



2019 Session Accomplishments: Working Families

    Continuing my in-depth summaries of bills passed during the 2019 session by subject area, here is a comprehensive listing of accomplishments related to working families — by Senate/House bill and in numerical order:

Senate Bills

    SB 69 - Broadband Equity Planning: This legislation requires the Public Utility Commission (PUC) to establish a plan to provide low-income Oregonians assistance for accessing broadband Internet services. Under SB 69, the PUC would include broadband Internet in the mix of services for which it must establish a low-income assistance plan. To qualify, a family must demonstrate income or participate in government assistance programs, such as the Supplemental Nutrition Assistance Program.

    SB 171 - Family First Implementation: Signed into law in early 2018, the Federal Family First Prevention Services Act reformed various funding streams to provide services to families at risk of being separated from their children. To keep children in family settings, this federal legislation also limits the placement of foster youth to foster families and qualified residential treatment programs under specific circumstances. SB 171 allows the Department of Human Services (DHS) to utilize qualified residential treatment programs that provide specialized residential care, to align with program criteria and federal funding requirements of the Family First Prevention Services Act. The measure also requires specified information about out-of-state placement of foster children be published on DHS's website and updated monthly.

    SB 370 - I-9 Audit Notice: Immigration and Customs Enforcement (ICE), a federal agency established in 2003, implements the Immigration Reform and Control Act of 1986. That Act requires employers to verify the identity and employment eligibility of their employees using the Employment Eligibility Verification Form I-9. Employers are also required to maintain for inspection original I-9 forms. This legislation requires an employer to notify employees that an inspection of I-9 forms or other employment records used by the employer to verify the identity and employment eligibility will be conducted by a federal agency. The notice must be provided within three business days of the employer receiving the federal notice of inspection.

    SB 421  Personal Injury Protection Insurance: Current law allows a provider of personal injury protection (PIP) insurance to be one of the first to be reimbursed for payments made by the insurer on behalf of the insured person. The provider amount of recovery is limited to the total amount of benefits paid. A practical impact of reimbursing providers first is that some policy holders may be left with minimal or settlement money afterward. This legislation fixes the problem by prohibiting an insurer from receiving reimbursements unless the injured person receives full compensation for their injuries from an action or settlement, and the reimbursement is paid from the excess amount of the recovery.

    SB 479 - Creating Harassment-Free Work Places: This legislation requires all public jurisdictions to create and maintain a policy against sexual harassment. Each policy must contain certain essential features to allow for a workplace that is free from discrimination, harassment and retaliation.

    SB 494 - Subminimum Wage: Since 1977, the Qualified Rehabilitation Facility (QRF) program administered by the Oregon Department of Administrative Services (DAS), has promoted continuity of employment opportunities for people experiencing disabilities. State and local government agencies are required to purchase products and services from QRFs at prices determined by DAS so long as the goods and services meet the agencies' specifications and timing needs. Currently, QRFs must employ persons experiencing disabilities for no less than 75 percent of their direct labor hours across the organization and for each line of business they provide. This legislation phases in a reduction of direct labor hours to no less than 60 percent employment of persons experiencing disabilities by July 1, 2021. SB 494 then requires employers authorized to pay subminimum wage to individuals with disabilities to annually increase the rate until reaching the state minimum wage rate by July 1, 2023.

    SB 507 - PTSD as Workplace Injury for Workers Comp: This legislation creates a rebuttable presumption, applicable to specified first responders, that certain stress-related disorders are compensable occupational diseases. SB 507 will allow public safety officers who have been employed for at least five years or who experience single traumatic event and who receive a psychological diagnosis to be able to receive worker's compensation for these disorders and the related impacts.

    SB 526 - Voluntary In-Home Nurse Visits for Newborns: This legislation directs the Oregon Health Authority (OHA) to design, implement, and maintain a voluntary statewide program to provide universal newborn nurse home visiting services to all families with newborns residing in Oregon. Health insurance programs will be required to reimburse for these services.

    SB 669 - Long-Term Care Worker Training Requirements: This legislation directs OHA to establish by rule training requirements that must be met before an individual may provide in-home care services. The training standards must require a minimum number of hours of orientation and assessment of competency before a home care worker or personal support worker is permitted to provide home care services to a client. SB 669 requires DHS to develop recommendations for methods to assess and monitor home care services provided by home care workers.

    SB 726 - Removing Barriers to Harassment Reporting: This legislation addresses workplace harassment and reporting barriers. It prohibits employers from requiring employees to sign non-disclosure agreements and no-rehire agreements related to discrimination and provides for model anti-harassment policies and procedures. SB 726 also extends the statute of limitations for filing a complaint regarding harassment.

    SB 889 - Health Care Cost Growth Benchmark Program: This legislation requires OHA, in collaboration with the Department of Consumer and Business Services, to establish the Health Care Cost Growth Benchmark program. The bill also creates the Health Care Cost Growth Benchmark Implementation Committee under the direction of the Oregon Health Policy Board. The program will establish a health care cost growth benchmark for increases in total health care expenditures and will review and modify the benchmark on an annual basis. The committee will design an implementation plan for the benchmark program and is required to report its recommendations to the Oregon Health Policy Board for approval by September 15, 2020, and also report the recommendations to the Legislature.

    SB 933 - Multiple Race Identifiers on Government Forms: Ethnicity indicates a population group with a common national or cultural tradition. Race refers to physical characteristics which typically result from genetic ancestry. This legislation requires a form or document issued by a public body asking a person to identify the person's race or ethnicity which allows respondents to select multiple races or ethnicities.

    SB 962 - U-Visa Certification Consistency: The U non-immigrant visa (U visa) is set aside for victims of certain crimes who have suffered mental or physical abuse and are helpful to law enforcement or government officials in the investigation or prosecution of criminal activity. This legislation codifies procedural requirements for certifications of U visas and provides uniform data collection requirements and centralized analysis to ensure equitable distribution of U visa certifications. It directs certifying agencies to certify to United States Citizenship and Immigration Services, within a specified time,
victim helpfulness in detecting, investigating, or prosecuting qualifying criminal activity in response to U visa requests and creates a rebuttable presumption of victim helpfulness.

    SB 973 - Behavioral Health Justice Reinvestment: This legislation enacts the "Improving People's Access to Community-Based Treatment, Supports and Services Program," aimed at building a stronger and more comprehensive system of community support for individuals with mental health or substance use disorders who are at risk of involvement with the criminal justice system. The program will award grants to counties and recognized tribes to identify frequent users of jails and institutions and to establish services for them such as mental health court, permanent housing support, and improved access to substance abuse treatment, all aimed at reducing recidivism and decreasing jail time and expensive admissions to the State Hospital.

    SB 1041 - Gives OHA More Authority to Regulate Coordinated Care Organizations: In October 2018, the Oregon Health Policy Board (OHPB) released its recommendations for "CCO 2.0." One of the four key areas emphasized by OHPB was that OHP maintain sustainable growth and ensure financial transparency. In this area, OHPB recommended that financial reporting for CCOs be aligned with financial reporting for health insurance carriers endorsed by the National Association of Insurance Commissioners, including moving to a Risk-Based Capital standard for evaluating CCO financial solvency. SB 1041 authorizes OHA to regulate the financial condition of CCOs in alignment with Department of Consumer and Business Services' authority to regulate domestic insurers.

House Bills

    HB 2005 - Paid Family and Medical Leave: This legislation creates a paid family and medical leave program available to all Oregon workers. Employees are eligible to make a claim for benefits after earning at least $1,000 in wages in the base year and have contributed to the fund. The program provides 12 weeks of paid leave for family, medical or safety leave; employees with conditions related to pregnancy and childbirth may take an additional 2 weeks of paid leave for a maximum of 14 weeks of paid leave. (Employees who are eligible for unpaid leave under Oregon Family Leave Act may take no more than 16 weeks or 18 weeks when the condition is related to pregnancy or childbirth). Employers pay 40 percent of the total rate and employees 60 percent through a payroll tax into the fund.

    HB 2010 - Medicaid Funding: Since 2003, Oregon has used provider assessments to help cover the state's share of Medicaid services and certain hospital initiatives provided through the Oregon Health Plan. Diagnostic Related Group (DRG) hospitals have consistently remained part of Oregon's approach to provider assessments. In 2017, HB 2391 expanded Oregon's use of provider assessments to include an assessment on rural type A/B hospitals and a 1.5 percent assessment on health insurance premiums. That bill also created the Oregon Reinsurance Program to stabilize rates and premiums for individual health benefit plans and provide greater financial certainty to health insurance consumers. This legislation extends the sunset dates for the Oregon Reinsurance Program and the assessments on DRG hospitals, rural type A/B hospitals, and insurance premiums. The bill also increases the assessment on insurance premiums to 2 percent and expands this assessment to include stop-loss insurance.

    HB 2016 - Public Worker Protection Act: This legislation updates the Public Employee Collective Bargaining Act. It requires public employers to grant reasonable paid time off to designated representatives during work hours to conduct collective bargaining activities and prohibits loss in compensation, seniority, leave accrual, or related benefits. HB 2016 also requires public employers to provide unions with reasonable access to employees and authorizes public employers to deduct dues and related fees from the wages of a public employee who enters into an agreement with a union authorizing that deduction.

    HB 2024 - Accessing Infant and Toddler Care: A 2018 study by the Oregon Child Care Research Partnership at Oregon State University found that 12 percent of infants and toddlers in Oregon have access to a regulated child care slot. The measure directs the Early Learning Division to administer a program to improve access to high quality infant and toddler care for families with income at or below 200 percent of the federal poverty guidelines.

    HB 2089 - Payday Loans: This legislation prohibits payday loan lenders and title loan lenders from making loans to consumers who have not fully repaid outstanding payday loans or title loans. It also requires a period of at least seven days between the time a consumer fully repays a previous payday loan or title loan and issuance of a new payday loan or title loan.

    HB 2184 - Universal Service Fund: The Oregon Universal Service Fund (OUSF) is used to ensure the availability and affordability of basic telephone service and encourage broadband service availability throughout Oregon, especially in rural and remote areas. Historically, the OUSF has been funded through a surcharge imposed on wireline telecommunications services. This legislation expands the categories of telecommunications services that are subject to the surcharge and reduces the surcharge cap from 8.5 percent to 6 percent. The measure also establishes the Broadband Fund which will be used to assist applicants with the deployment of broadband infrastructure, giving preference to schools and public libraries.

    HB 2266 - Restoring Double Coverage for Multiple PEBB Families: In 2017, the Oregon Legislature passed a "cost containment" measure to cut state spending. Starting in 2019, one of the provisions of that law would have eliminated the benefits of "double coverage" for employees who are PEBB/OEBB members and are also a beneficiary of a family member's PEBB/OEBB membership. This legislation repeals the double-coverage restriction.

    HB 2395 - Internet of Things Personal Protection: Hackers actively search for and compromise vulnerable Internet of Things (IoT) devices for use as proxies to route malicious traffic for cyber-attacks and computer network exploitation. IoT devices, sometimes referred to as "smart devices," communicate with the Internet to send or receive data. This legislation requires manufacturers of smart devices sold in Oregon to equip the devices with reasonable security features. Failure to build in reasonable security would be a violation of Oregon's consumer protection law.

    HB 2508 - Helping Resettlement Agencies: The Refugee Case Services Project (RCSP) is a public/private partnership between DHS and Refugee Resettlement Agencies. The RCSP assists refugees in the Portland metropolitan area for up to eight months after they arrive in the United States, since most refugees in Oregon initially resettle in that area. This legislation requires DHS to award grants to refugee resettlement agencies to provide specified services.

    HB 2658 - Notice Before Raising Prescription Drug Prices: In 2018, HB 4005 created the Oregon Prescription Drug Price Transparency program in the Department of Consumer and Business Services (DCBS). The program provides notice and disclosure of information from manufacturers relating to the cost and pricing of prescription drugs in the state. This legislation requires manufacturers of prescription drugs to report to DCBS the planned increase in the price of a prescription drug at least 60 days before the date of the increase. The report shall include the date the increase will become effective, the current price, the dollar amount of the planned price increase, a statement of whether the price increase is necessitated by a change or improvement to the drug and the year the drug became available for sale in the United States. Exemptions exist such as for generic drugs manufactured by four or more companies from required reporting.

    HB 3076 - Charity Care Standards for Hospitals: This legislation directs the Oregon Health Authority (OHA) to establish a minimum amount of community benefit services applicable to nonprofit hospitals. It also requires nonprofit hospitals to maintain financial assistance policies that include specified reductions based on the patient's household income. Community benefits include hospitals absorbing costs that exceed Medicare or Medicaid reimbursements; charity care for individuals who are unable to pay; health research activities; and supporting local activities or programs that improve community health.

    HB 3193 - Wage Theft: The Bureau of Labor and Industries (BOLI) received approximately 1,200 employee wage claims in 2017, of which a disproportionately large share involved the construction industry. This legislation requires BOLI to notify the Construction Contractors Board (CCB) when a contractor or business subject to licensing has a valid wage claim filed against them, when final order of determination is issued, and when contractor fails to pay wage claim within 60 days. HB 3193 also authorizes the CCB to revoke, suspend or refuse to issue a license to the owner, officer, or responsible managing individual who fails to pay the amount due.


Medicare Open Enrollment

    The annual Medicare Open Enrollment for 2020 coverage is just around the corner, taking place October 15 until December 7, 2019. During the annual enrollment period, Oregonians who are 65 years or older, younger people with disabilities and individuals with end stage renal disease may be eligible to sign up and find health insurance that meets their needs, or make changes to their current Medicare coverage.

    Oregon's Senior Health Insurance Benefits Assistance (SHIBA) program provides year-round free, objective, and local counseling to people with Medicare and their families. Examples of SHIBA services include explaining how the Medicare program works, assisting with Medicare appeals and complaints, and helping people make informed decisions about their health insurance coverage. SHIBA staff members and active volunteers/certified counselors serve many of Oregon's 857,000 Medicare beneficiaries.

    To learn more about SHIPA and to engage its services, visit: https://healthcare.oregon.gov/shiba/get-help/Pages/who-we-are.aspx.


Launch of McKenzieCommunity.org

    A website intended for the entire McKenzie Valley was recently launched: https://mckenziecommunity.org. Businesses can claim their directory listing and organizations can list themselves. The website is intended as a resource for locals and visitors alike.
    Hosting an event and need volunteers? You can list it on the website! (And be sure to place the event on the calendar also.) Have news to share? Submit it! All "how to information" is on the website. Any questions can be directed to: contact@mckenziecommunity.org.
    To register, create an account here: https://mckenziecommunity.org/register/.


Creswell Oaks Conservation Easement Purchase
(Information from the U.S. Department of Energy)

    The Bonneville Power Administration (Bonneville) intends to fund the purchase of a conservation easement by the Center for Natural Lands Management on approximately 1,610 acres of prairie and oak habitats in Lane County. When the purchase is complete, the Center for Natural Lands Management will monitor the property for wildlife conservation purposes and Bonneville will receive third party rights of enforcement of this conservation easement to ensure that the habitat values on the property are always protected. Bonneville is sending this letter to inform nearby residents and other interested parties of this land purchase.

    Funding for this conservation easement partially fulfills commitments made by Bonneville in the 2010 "Willamette River Basin Memorandum of Agreement Regarding Wildlife Habitat Protection and Enhancement between the State of Oregon and the Bonneville Power Administration." This is part of ongoing efforts to mitigate impacts to fish and wildlife from the construction and operation of federal flood control and hydroelectric facilities in the Willamette River Basin. When the transaction is complete, this property will become one of a growing network of conservation lands in the Willamette Valley providing important and long-lasting fish and wildlife habitat benefits.

   Bonneville has prepared a categorical exclusion and environmental checklist documenting that no further environmental review of this funding action is required under the National Environmental Policy Act (NEPA). This documentation, known as a categorical exclusion, was approved on August 20, 2019, and is posted on Bonneville's website at: https://www.bpa.gov/efw/Analysis/CategoricalExclusions/Pages/2019.aspx.

    Upon completion of the conservation easement, Bonneville intends to establish secure, permanent funding for Center for Natural Lands Management's stewardship of the property. Stewardship management actions may include, but are not limited to site monitoring, habitat mapping and encroachment monitoring.

    The Center for Natural Lands Management has developed a management plan to guide the protection and enhancement of habitat on the property. Bonneville and the Oregon Department of Fish and Wildlife have reviewed the plan for consistency with the purposes of the conservation easement. If Bonneville proposes to fund any additional activities on the property, an additional environmental review will be conducted under NEPA and other statutes as appropriate.

   Questions regarding this land purchase can be directed to the project manager, Hannah Dondy-Kaplan, at 503-230-4071 or hadondy-kaplan@bpa.gov. Please refer to the "Creswell Oaks" project.


Halloween Traffic Safety Tips

    The Oregon State Police (OSP) reminds you to watch for trick-or-treaters when driving in neighborhoods or going to a party on Halloween night, October 31. OSP encourages parents to:

Dress children in bright costumes. Use reflective tape or stickers on dark costumes.

Apply face paint or cosmetics appropriate for children directly to the face. It is safer than a loose-fitting mask that can obstruct a child's vision.

If a mask is worn, cut the eyeholes large enough for full vision.

Have children carry flashlights or glow sticks to improve their visibility.

Secure hats so they will not slip over children's eyes.

Remind children to cross streets only at intersections.

Teach children to stop and look for cars, looking to the left, right and left again before crossing, and then to keep looking both ways for cars while they cross.

Teach children to never dart into a street or cross a street from between parked cars.