If you're having trouble viewing this message, please visit my legislative web page at http://www.oregonlegislature.gov/prozanski/, click on "News" in the lower left-hand column and scroll down.

Dear friends,

   I hope everyone had a wonderful Thanksgiving with family and friends. As we move into the holiday season, I want to provide a final e-newsletter for the year.

    From December 12-14, the Legislature will hold its final set of "legislative days" before the 2019 legislative session kicks off with "organizational days" on Monday, January 14, and the start of the regular session on Tuesday, January 22.

    Committee assignments for session will be made by the Senate President, Peter Courtney, before the end of December. I hope to continue to serve as chair of the Senate Judiciary Committee and as a member of the Environment and Natural Resources Committee. You can review committee assignments and agendas (once posted) and watch live/recorded hearings using the Legislature's online information system.

    Until December 21, the sounds of the season will be heard in your state capitol rotunda daily from 10 a.m. to 2 p.m. Please click here to download a detailed performance schedule.

    Below you will find information on:

        - December Revenue Forecast
        - Oakridge & Westfir Community Firewood Sale
        - Holiday Shopping Tips to Protect Your Money and Information
        - Giving Thanks: Cultural Trust Impact in Senate District 4

    I hope this information is helpful and informative for you or someone you know. As always, feel free to share your comments, questions or concerns with me by phone, mail or e-mail. Please stay safe when traveling this holiday season; remember to check ODOT's TripCheck.com for road conditions and traffic information.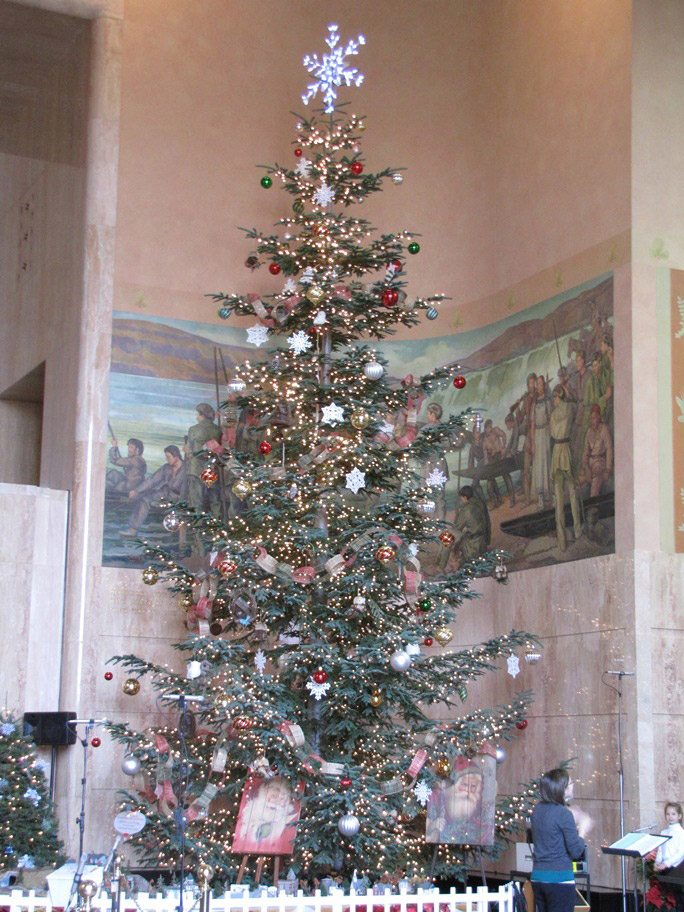 The Capitol Tree in Salem


December Revenue Forecast

    The December 2018 Economic and Revenue Forecast was released at a joint meeting of the Senate and House Revenue Committees. Oregon's economic growth has slowed, as projected employment is slightly down compared to the September forecast. This is the time to seriously look at our state's revenue structure. Income taxes are highly volatile, ebbing and flowing with the economy. The good times are when we need to be planning so that public services aren't hit hard during an economic downturn, when they are most needed.

Revenue Outlook
    The projected ending balance is up $59.5 million from the September revenue forecast. The projected ending balance is also up $1,111.0 million from the 2017 close-of-session estimate.

Kicker Outlook
    Data indicate that both the personal and corporate kickers will be triggered. A personal kicker of $724.4 million is projected for 2019-21. The corporate kicker of $229.6 million is projected to be dedicated to K-12 education spending in in the 2019-21 biennium.

Economic Outlook
    Oregon added 4,600 jobs during October and has maintained a record low unemployment rate of 3.6 percent for the last three months. Professional and business service as well as "whole trade" were two sectors that experienced growth. The median income for Oregonians is also above the national average.

Forecast Risks
    The Oregon Office of Economic Analysis (OOEA) anticipates risk factors causing instability in future biennia, including issues such as trade, "oil shock," house affordability, climate change and natural disasters. The OOEA analysis recommends preparation for future recessions, given these variabilities.

Other Notable Items
    Further changes in federal monetary policy and international relations are issues that could impact the economy dramatically in the future. OOEA will monitor these changes closely, paying attention to how they impact costs of goods, such as oil prices.


Oakridge & Westfir Community Firewood Sale

    The Oakridge & Westfir Community Firewood Program is holding a seasoned firewood sale on December 7 and 8. Please see the below flyer for details. This program and sale is part of a collaborative effort, that I'm proud to be involved with, to reduce unhealthy woodsmoke pollution in the area.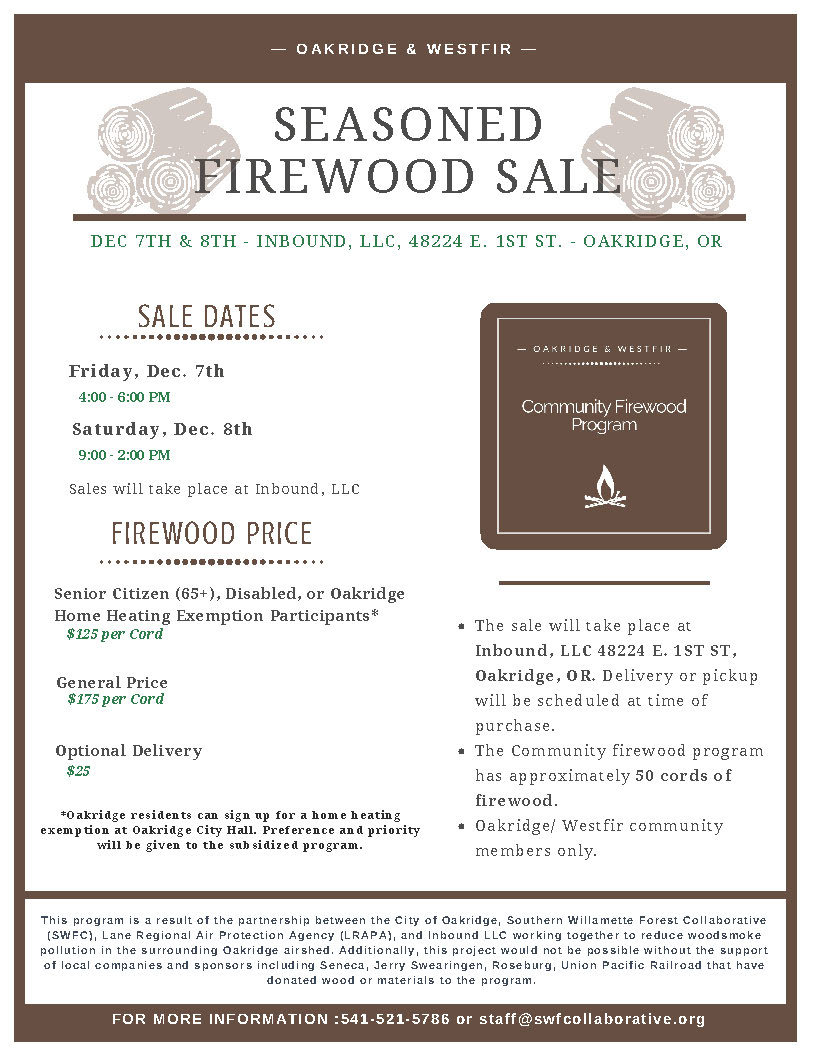 Holiday Shopping Tips to Protect Your Money and Information

    The Oregon Department of Justice offers these 10 practical tips to help you watch your wallet, shop wisely, and protect your personal information online:
Protect your personal information. Take time to read privacy policies and understand what personal information is being requested and how it will be used. If there isn't a policy posted, assume that your personal information may be sold to others without your permission.


Know the seller. Anyone can set up an online store or create an app. Before you make a purchase from a seller you don't know, visit www.beinformed.com/, the Department of Justice's online database of consumer complaints. The database will show if other Oregonians have filed complaints about a seller and how the seller responded. Also, confirm the seller's physical address and phone number in case you have any problems or questions.


Stay away from pop-up ads and e-mail deals. Phishing pop-up ads and emails can look similar to those sent by top retailers. Many of these unleash viruses or spyware on your computer when you click on them. Ignore or delete these emails, no matter how good a deal seems, and make sure you have the latest firewall and antivirus software installed on your computer to protect against online attacks.


Review shipping, return and exchange policies. Also, confirm that the seller does not charge a restocking fee on a returned item or charge excessive shipping and handling fees in an effort to recoup some of the cost on sale items.


Keep a paper trail. Print and save records of every online transaction you make, including the product description, price, copy of your receipt, and any correspondence with the seller. These records will be important if you have a problem with the seller, product or service.


Be skeptical of offers that sound too good to be true. Scam artists often lure shoppers to their websites or apps with outrageously low prices or offers of free products. Before you buy, shop around to get an idea of how much other retailers are asking for the same or similar items. Even at steep discounts, retailers tend to price similar items within a general price range. Remember: "If it sounds too good to be true, it usually is."


Stick to secure websites. If you shop online, always verify that the website you are purchasing from is secure. You are especially vulnerable when shopping on a smartphone. Mobile browsers have a much shorter address field, and as a result, you may not see the full URL on your phone. This makes it harder to spot a scam. Make sure that the website has a valid "HTTPS" connection with a lock symbol, not "HTTP," which is vulnerable to attacks.


Use plastic wisely. Consider using a credit card instead of a debit card. Credit cards make fraud easier to discover because they give shoppers more time to notice unauthorized charges, notify their credit card company and promptly report any unauthorized transactions. If you notice unauthorized charges, notify your credit card company of the issue, and have them removed from your bill.


Be careful when downloading apps. Bogus holiday deal apps made by scammers can fool you into typing in your credit card information, while other apps may feature malware that can steal your personal data or lock your smartphone until you pay a ransom fee. To stay safe, research who developed the app, and only download apps from official app stores like Apple and Google.


Report fraud. If you have a problem with an online purchase or charge, try to work it out with the seller first. If you cannot resolve the problem, contact the Oregon Department of Justice online at www.oregonconsumer.gov or by phone at 1-877-877-9392.


Giving Thanks: Cultural Trust Impact in Senate District 4

    The Oregon Cultural Trust (OCT) works to enhance the lives of all Oregonians, including those in rural communities. Generous donors have lifted OCT fundraising to a new high, resulting in a record $3.02 million in grants to 137 cultural nonprofits for fiscal year 2018-19.

    Grant awards include a total of $755,369 to the Cultural Trust's five statewide partners: the Oregon Arts Commission, Oregon Heritage Commission, Oregon Humanities, the Oregon Historical Society and the State Historic Preservation Office. A total of $755,369 went to 45 County and Tribal Cultural Coalitions while $1,510,110 in competitive Cultural Development Grants went to 87 cultural organizations across the state.
 
    In Senate District 4, I'm proud to share that OTC awarded 2017-18 grants to:

        - Cottage Theatre ($40,075)
        - Elkton Community Education Center ($8,877)
        - Applegate Regional Theatre ($5,667)
        - Eugene-Springfield Youth Orchestras ($10,937)
        - Lane County Historical Society ($10,044)
        - Douglas County Cultural Coalitio ($18,881)
        - Lane County Cultural Coalition ($48,236)
        - Cow Creek Band of Umpqua Indians ($6,503)
 
    OCT envisions an Oregon that champions and invests in creative expression and cultural exchange, driving innovation and opportunity for all. It aims to lead Oregon in cultivating, growing and valuing culture as an integral part of communities.