If you're having trouble viewing this message, please visit my legislative web page at http://www.oregonlegislature.gov/prozanski/, click on "News" in the lower left-hand column and scroll down.

Dear friends,

    I don't need to tell you that it's another hot and dry summer in Oregon. For the latest information on fires burning around our state, visit the Oregon Department of Forestry's Wildfire Blog. The Douglas Forest Protective Association's website provides localized conditions. Please also be mindful of smoky air's effect on your health and take appropriate precautions, such as exercising inside instead of outside during smoke incursions.

    On July 21, I once again served as "pooper scooper" in the Bohemia Mining Days Parade. I always enjoy showing off my shoveling skills… it's all in the wrist!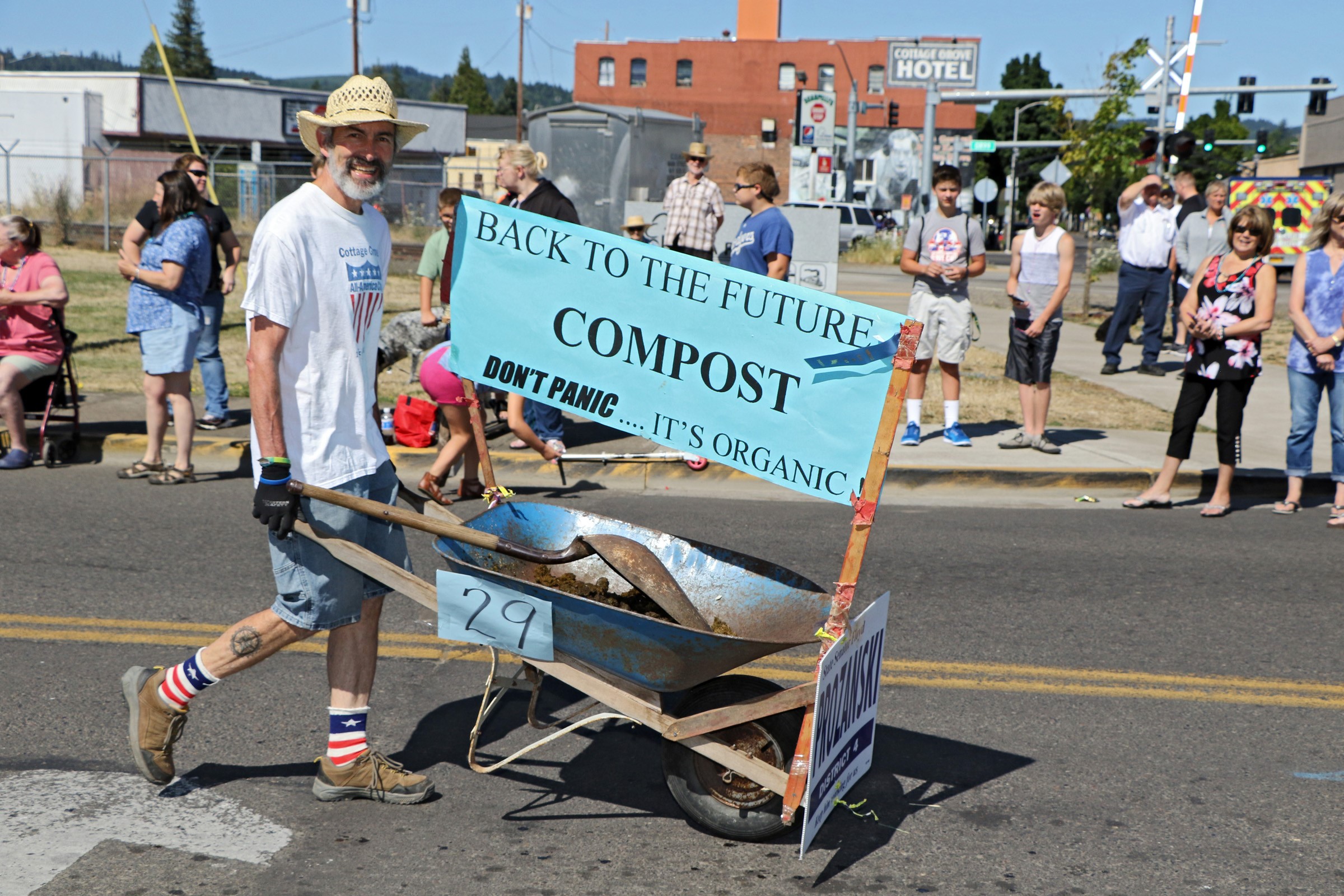 Photo credit: Greg Lee

    This past Sunday, I participated in the Eugene Summer Parade, which was one of the events at this year's Eugene Sunday Streets Fair. Streets are closed to motor traffic to allow families and individuals to walk and bicycle along a designated area within the city.

    Below you will find information on:

        - Wildfire Damage Housing Relief Program
        - 529 College Savings Plan Program Updates
        - Oregon State Fair: August 24 - September 3
        - Ways to Conserve Water in the Garden

    As Labor Day approaches, I want to take a moment to recognize workers for the many contributions they have made to the strength, prosperity, and well-being of Oregon and our country. Oregon was the first state to make Labor Day a holiday on February 21, 1887. For a listing of Labor Day (and other) events in Lane County, click here. For a listing of events in Douglas County, click here.

    I hope this information is helpful and informative for you or someone you know. As always, feel free to share your comments, questions or concerns with me by phone, mail or e-mail.

     I also hope you and your family get an opportunity to explore in areas of the state during the remaining days of summer. Lastly, as we transition into September, please remember that students will be returning to schools all across our state, so use extra caution in and around school zones.

                                                                                  

Wildfire Damage Housing Relief Program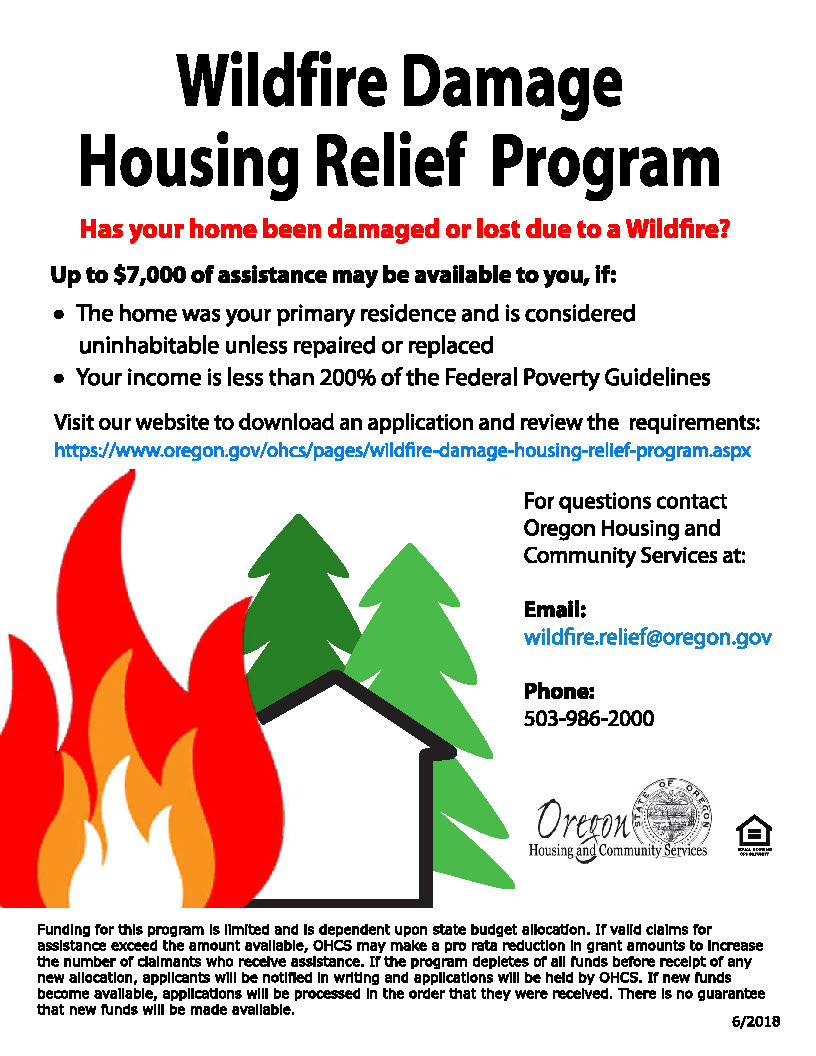 529 College Savings Plan Program Updates

    I received the following information from the State Treasury. Current or prospective 529 account holders, please take note:

    For the past 18 years, the Oregon College Savings Plan has been dedicated to helping Oregon families achieve their college savings goals. We take the trust you have placed in us very seriously and work hard to make the Oregon College Savings Plan the best and easiest way for you to save for higher education expenses. With that in mind, we are thrilled to inform you about the enhancements we are making in the next several months. These improvements are designed to enrich and streamline your online experience and improve the plan's investment options. They include:

Broader use of Vanguard Index Mutual Funds,
Introduction of new college enrollment date portfolios tied to the year the student is expected to enroll in college,
A new cash option that is FDIC-insured,
Completely redesigned website that will make it easier to manage your account,
Full access to your account on all your mobile devices, and
A new gifting platform that will make it easier for friends and family to contribute.
    Some things will not change: fees will remain low, your account number will stay the same, and our website address and phone number will not change.

     In order to successfully implement these updates, there will be a few days in early September where you will not have access to your account. We will keep this downtime to an absolute minimum. Also, please be aware that when you log in for the first time after the update, you may see that some transactions are still pending. Rest assured that this is a normal and expected part of the process.

    Most of the work will happen seamlessly behind the scenes, but there are a few small things you can do now:

Log in to your account and make sure all of your information is correct.
If you need immediate access to account statements and tax forms prior to 2016, please log in and download them. (We will have your older statements and tax forms archived, but only the current year and the previous two years will be online.)
    We are committed to caring for you and keeping your funds and information secure throughout this process. Additional information will be posted at www.oregon529network.com/enhancements. Keep your eyes on your email, mailbox and our social media pages — @OregonCSP on Twitter and www.facebook.com/oregoncollegesavings — for updates and more information. If you have questions, feel free to call us at 503-373-1903.


Oregon State Fair: August 24 - September 3

    The Oregon State Fair is going on now until Labor Day, September 4, at the State Fairgrounds in Salem. For general information and details on this year's attractions, visit: https://oregonstatefair.org/.

       



Ways to Conserve Water in the Garden

     The Oregon State University Extension Service offers the following tips to conserve water in gardens and yards during dry summer months:

Water your lawn more deeply and less frequently. If you typically water three to four times per week, it's okay to cut that to one to two times per week.
Plant drought-tolerant turf grass. Tall fescue is hardy, wide-bladed and deep-rooted. Perennial ryegrass and creeping fescue can also tolerate some dryness.
Choose drought-tolerant plants such as creeping zinnia and sea poppy for your landscape. Native plants such as the Oregon iris and Pacific wax myrtle tolerate dry summers well.

For most plants, watering deeply and close to the roots is more important than frequency. Study each plant's watering requirements. For vegetables, soak soil about six inches deep. Water to a depth of about a foot and a half for shrubs. Trees need water about two feet deep.
Mulching is critical because it improves soil structure, helps retain water in the ground and reduces weeds. Use compost-based mulches for vegetables and woody mulches for ornamental plants. Spread the mulch about two to three inches thick on the soil around your garden.
Water early in the morning before the day heats up.
Use an efficient irrigation system, such as soaker hoses or drip irrigation. If you choose a sprinkler system, select a low-pressure, in-ground system that does not shoot up in the air.