If you're having trouble viewing this message, please visit my legislative web page at http://www.oregonlegislature.gov/prozanski/, click on "News" in the lower left-hand column and scroll down.

Dear friends,

    Thank you to everyone who turned out for my legislative town hall events in Veneta, Roseburg, Cottage Grove and Vida during May and June. Special thanks to Veneta City Manager Ric Ingham, the President's Office at Umpqua Community College, Cottage Grove City Manager Richard Meyers, and Gerry Aster for facilitating these community conversations, and to Children First for Oregon for participating in the Cottage Grove town hall. (You can learn more about Children First's work, here: https://www.cffo.org/.) If you weren't able to attend, I discussed many of the same topics as at the town halls during a radio interview with Kyle Bailey on KQEN's Morning Conversations. A recording of that interview is available here.

    It was great to once again participate in Yoncalla's Fourth of July parade as the "pooper scooper" -- a fitting task given the world of politics. I look forward to cleaning up after the horses in the Bohemia Mining Days parade, as well!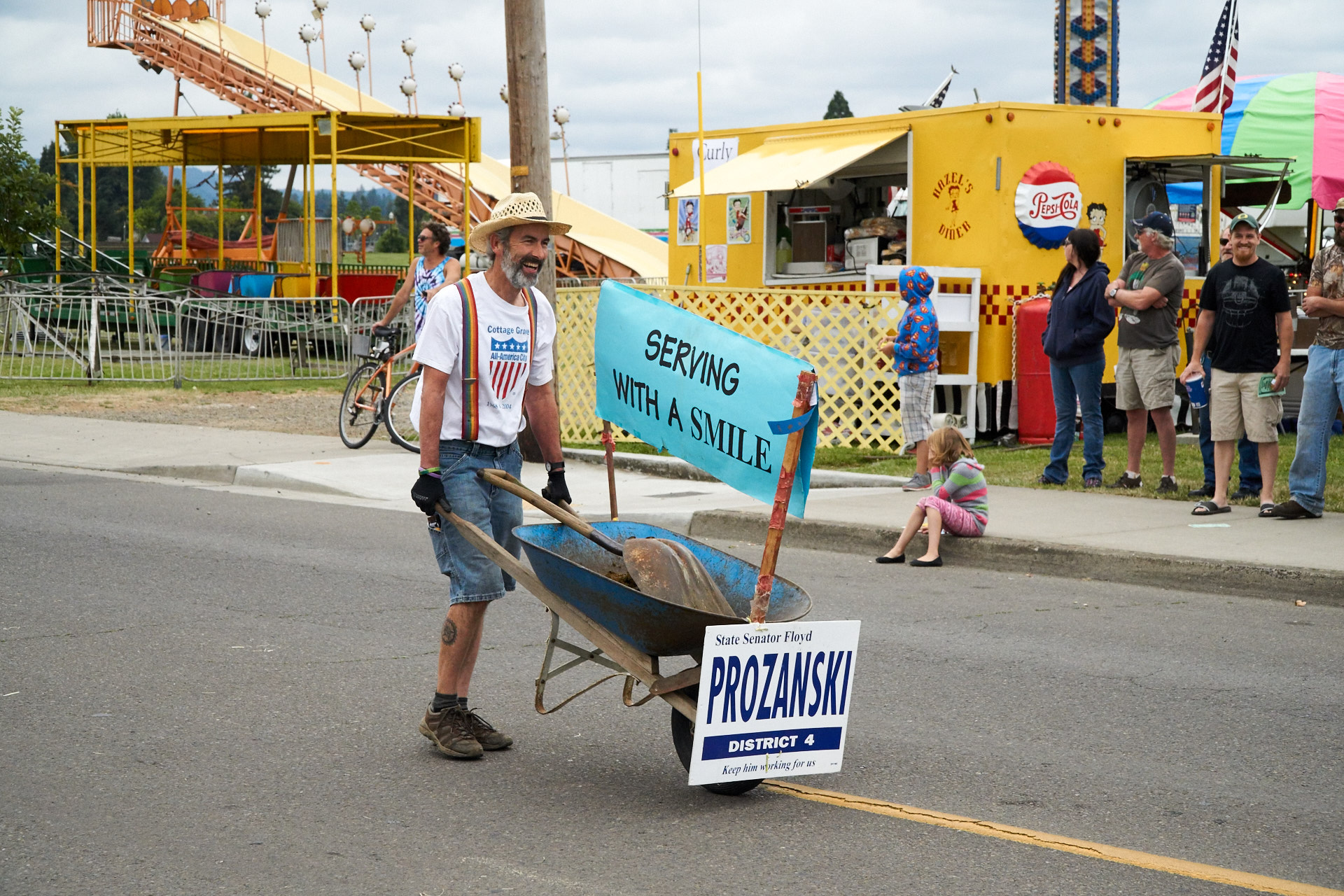 (Photo from a previous year.)

    It's another busy season for construction crews on Oregon's roads. Remember to check ODOT's TripCheck.com to "know before you go." Please use caution when driving through work zones. There may be traffic restrictions, lane closures, detours and delays. Watch for signs, flaggers and pilot cars for guidance through these zones. Above all, please drive carefully!

    Below you will find information on:

        - Latest Revenue Forecast
        - Lane County Fair: July 18-22
        - Bohemia Mining Days: July 19-21
        - Blackberry Jam Festival: July 27-29
        - Douglas County Fair: August 7-11

    I hope this information is helpful and informative for you or someone you know. As always, feel free to share your comments, questions or concerns with me by phone, mail or e-mail. Please also remember: Kids are now out of school, so use extra care on the roads.

                                                                Happy Fourth of July!

                                                              



Latest Revenue Forecast

    The June 2018 Economic and Revenue Forecast was released at a joint meeting of the Senate and House Revenue Committees. As the forecast shows, Oregon's economy continues to grow, although the pace slowing. Our state continues to be a great place for growing small businesses. I am committed to working with my colleagues to make our government run efficiently and also reform Oregon's structural revenue problems so that we can adequately fund K-12 schools, child welfare, health care and public safety.

Revenue Outlook
    The projected General Fund ending balance is up $763.2 million from the March 2018 Forecast. The projected ending balance is also up $911.2 million from the 2017 Close-of-Session estimate. Additionally, the Rainy Day Fund is projected to receive an additional $199.3 million following the end of the 2017-19 Biennium.

    Further, the 2017-19 Net General Fund resources are projected to increase by $833.1 million, representing a 4.1 percent estimated increase from the March 2018 Forecast. Projected 2017-19 Lottery resources are also up $9 million (0.6%).

    The projected ending balances for the reserve accounts for the 2017-2019 biennium are as follows: Education Stability Fund — $610.4 million, Rainy Day Fund — $595.4 Million, and General Fund — $1.108 billion. This totals $2.313 billion in reserves.

Kicker Outlook
    This data indicates that both the personal and corporate kickers will be triggered. A personal kicker of $555.3 million is projected for 2019-21. The corporate tax revenue of $196.7 million is projected to be dedicated to K-12 education spending in the 2019-21 biennium.

Economic Outlook
    Top economic indicators — including jobs, income and gross domestic product (GDP) — all are improving, indicating that the current probability of a recession is low. However, Oregon is close to reaching full employment. This means that skilled worker shortages may be a factor in future biennia. Further, the ongoing retirement of baby-boomers will leave vacancies in high-skilled positions that are not easily filled by young workers entering the workforce.

Forecast Risks
    Housing affordability and barriers to economic mobility pose risks to Oregon's economic future. In many parts of the state, a child born into the bottom quintile for income has less than a 10 percent chance of rising to the highest quintile as an adult. When upward mobility is low, cities face greater residential segregation and a smaller middle class. These factors also are affecting Oregon's birth rate, which is projected to be outpaced by the death rate within the next two decades.   

Other Notable Items
    Changes in federal monetary policy and international relations are issues that could impact the economy dramatically in the future. The Oregon Office of Economic Analysis will monitor these changes closely, paying attention to how they impact costs of goods such as oil prices.
 
    Forecast documents can be downloaded here.


Lane County Fair: July 18-22

    The Lane County Fair features entertainment, food vendors with many different types of fare, rides, games and more. Purchase tickets or get concert information and ride lists along with all the information needed to enter contests and competitions at: http://www.atthefair.com/.

       



Bohemia Mining Days: July 19-21

    Bohemia Mining Days celebrates Cottage Grove's colorful history. The family-friendly festival is organized by a board of community-minded volunteers who work closely with the festival coordinator throughout the year to ensure this annual summer tradition lives on for future generations to enjoy. It features a carnival, pony rides and much more. More information can be found on Bohemia Mining Days' website: http://bohemiaminingdays.org/.

       



Blackberry Jam Festival: July 27-29

    The Blackberry Jam Festival in Lowell is a wholesome, free community event featuring plenty of great music, unique crafts and delicious food. Located in the heart of the Willamette Valley, the festival is a great event to plan for a summer weekend trip. More information can be found on the Jam's website: http://www.blackberryjamfestival.com/.

Note: I was honored to sponsor a bill in 2015 at the request of the Jam to allow the fishing derby to continue. The derby, which raises funds for programs at Lowell High School through catching and selling pikeminnow fish, was at risk of being cancelled after the Department of Fish & Wildlife determined that a commercial fishing license would be required for it to continue.

       



Douglas County Fair: August 7-11

        The Douglas County Fair features entertainment, a carnival, food court, livestock and much more for all ages. Visit the official Douglas County Fair website at: http://www.co.douglas.or.us/dcfair/fair/.