If you're having trouble viewing this message, please visit my legislative web page at http://www.oregonlegislature.gov/prozanski/, click on "News" in the lower left-hand column and scroll down.

Dear friends,

    With the 60-day primary election legislative "blackout" period — mandated by Senate rules for candidates seeking re-election — now over, I'm resuming my regular communications with this combined e-bulletin for May and June.

    On Monday, May 21, the Legislature will meet for a special session called by Governor Brown to vote on a proposal to expand an existing tax break to owners of sole proprietorships. The existing tax break was passed by the Legislature in 2013, allowing people with pass-through businesses such as partnerships and S corporations that have at least one employee to pay lower tax rates. You can review the Governor's proclamation calling the special session, here.

    The Legislature will concurrently meet for pre-scheduled "legislative days" next week. Committees will hold informational hearings and the Senate will meet to consider executive appointments. You can review committee agendas and watch live hearings using the Legislature's online information system.

    It's been a busy couple of months since the Legislature's 2018 "short" session adjourned on March 3. On March 21, I enjoyed taking part in Cottage Grove High School's career fair (pictured below). It was wonderful to meet students interested in public service as well as their teachers and administrators working tirelessly to help them achieve their goals. I also enjoyed attending the groundbreaking ceremony for Umpqua Community College's new Taphòytha Hall on March 23; the Emerald Empire Chapter of the Association of NW Steelheaders meeting on April 3; Douglas Electric Co-op's annual meeting on April 7; the McKenzie ClearWater Coalition annual members meeting on April 8; and the Douglas Forest Protection Association annual meeting on April 23. On May 5, I participated in Oakridge/Westfir's Tree Planting Parade.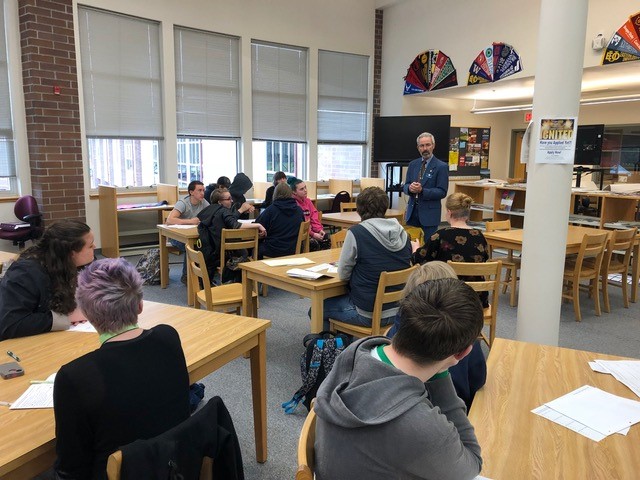 Below you will find information on:

        - Upcoming Town Halls
        - Scam Alert: Medicare
        - Free Dental Care for Veterans: June 9
        - New Grants to Fund Key Veteran Service Projects
        - The Oregon College Savings Plan

    I hope this information is helpful and informative for you or someone you know. As always, feel free to share your comments, questions or concerns with me by phone, mail or e-mail.

                                                              



Upcoming Town Halls

    During May and June, I am hosting a series of legislative updates and community conversations in Senate District 4. Please join me for an upcoming  town hall nearest you:

            Veneta
            Tuesday, May 30, 6:30pm @ Veneta City Hall
            88184 8th Street
            Co-hosted with Rep. Paul Holvey

            Roseburg
            Saturday, June 2, 9:30am @ Umpqua Community College, TAP Room 14
            Click here for directions and a virtual map
            Opening remarks by UCC President Debra Thatcher

            Cottage Grove
            Saturday, June 2, 1pm @ Cottage Grove Council Chambers
            400 E. Main Street
            With special guest Children First for Oregon

            Vida
            Wednesday, June 13, 6:30pm @ Vida McKenzie Community Center
            90377 Thomson Lane


Scam Alert: Medicare

    In an effort to protect older adults from identity theft, the federal government started mailing out new Medicare cards that come with a new 11-digit identification number instead of your Social Security number. While this effort is designed to help minimize fraud, it has already sparked a series of scams. Please know that as long as your address on file is correct, you don't have to do anything to receive your new card. There is no activation process or fee, and Medicare will never initiate calls and ask to verify information over the phone.

    Medicare will not call members and Medicare will never ask for Social Security or bank information. For more information on the new Medicare cards, visit: https://www.medicare.gov/forms-help-and-resources/your-medicare-card.html. If you think you have been contacted by a scammer, please let Oregon's Attorney General know by calling the Department of Justice's Consumer Protection Hotline at 1-877-877-9392 or by visiting: www.oregonconsumer.gov.


Free Dental Care for Veterans: June 9

    Veterans will receive free dental care on Saturday, June 9, when dentists and teams from Aspen Dental-branded practices open their doors for a National Day of Service. Interested veterans should call 1-844-AspenHMM to find a participating practice in their community and to schedule an appointment in advance. Participating practices include Aspen Dental locations in Eugene and Roseburg.


New Grants to Fund Key Veteran Service Projects

    The Oregon Department of Veterans' Affairs recently awarded grants totaling more than half a million dollars to fund key projects that will improve veterans' access to transportation, housing, health care and other vital services across the state. Lane Council of Governments,  Seniors and Disability Division is one of the awardees, receiving $46,933.

    Grants are funded through the Veteran Services Grant Fund, a program established by the Legislature during its 2017 session. Based on the funding available, the evaluation committee selected 10 outstanding proposals from nonprofit, governmental and community organizations that are already providing significant and much-needed services to Oregon veterans and their families.

    The Veteran Services Grant Fund receives funding from Lottery revenues, as authorized by Measure 96, which Oregon voters approved overwhelmingly in 2016. The complete list of grant awardees and their projects may be found, here.


The Oregon College Savings Plan

    The Oregon College Savings Plan (OCSP) is offered by the Oregon Savings Network through the State Treasury. OCSP allows families to save for education in a tax-advantaged account. Earnings on investments in both plans are tax free if used for higher education and during 2018, any account opened on behalf of an Oregon baby will automatically receive a $25 contribution from OCSP. Anyone contributing to the Oregon College Savings Plan can also receive a state income tax deduction up to $4,750 for joint filers and $2,375 for single filers for the 2018 tax year.

    Funds can be used at trade schools, community colleges, or universities throughout the country. Money can be used for tuition, books, room and board, fees, computers and other required supplies. It can also be used for studying abroad in many cases.

    To help promote the benefits of the OCSP with Oregon families, the Oregon Savings Network has created two statewide community awareness programs:

"Be College Ready" is a program where the Network partners with elementary schools to share information with parents about OCSP. Students at each of the schools receive free homework tools while the schools receive informational brochures and posters to display at the school. Parents are also eligible to win $100 for an Oregon OCSP account. For a county-by-county breakdown of how OCSP is being used in your county, as well as a map of Be College Ready schools, please visit: http://navigator.state.or.us/apps/becollegeready/.



The Baby Grad program makes new parents eligible to receive a $25 contribution from OCSP for their new baby. To learn more about the program, please visit: https://www.oregoncollegesavings.com/buzz/baby-grad-2018.shtml.




    In addition to OCSP, the Network launched the Oregon ABLE Savings Plan in December 2016 to allow people with disabilities to save money without losing their critical government benefits. Money can be used to pay for anything that helps improve the health, independence or quality of life of a person with a disability. Learn more about the program and opening an account at: http://oregonablesavings.com/.

    Finally, the Network implements "OregonSaves," which launched in July 2017 and is a simple and convenient way for workers to save their own money into a retirement account. To learn more about this program, visit: https://www.oregonsaves.com/.

    The Oregon Savings Network can be contacted directly at: 503-373-1903.