If you're having trouble viewing this message, please visit my legislative web page at http://www.oregonlegislature.gov/prozanski/, click on "News" in the lower left-hand column and scroll down.

Dear friends,

    The legislative "short" session, while fast-paced, has been productive for the people of Senate District 4 and Oregon. My colleagues and I are in session today (Saturday) in an effort to conclude our business as soon as possible.

    I'm happy to report that my priority bill to strengthen and modernize Oregon's Consumer Identify Theft Protection Act (SB 1551) passed both the Senate and House and will soon be signed by the Governor. HB 4145, which prevents more ­domestic abusers and stalkers from possessing guns and which I carried in the Senate, also passed both chambers. Additionally, HB 4155, which aims to embed net neutrality in Oregon, also passed. You will find other notable bills that have passed the Senate summarized below.

    During the short session, I made two important "asks" for funding from the co-chairs of the Legislature's Joint Committee on Ways & Means. The first is to keep open the Leaburg Fish Hatchery, which the U.S. Army Corps of Engineers has stopped funding. The Hatchery provides jobs — three full-time and two seasonal — and "insurance" for other hatcheries in Oregon when fish need to be moved due to fire, drought or other circumstance. I'm happy to report that the Ways & Means Committee has decided to satisfy this funding need.

    Unfortunately, we weren't as lucky with a second "ask" I supported: to meet the remaining funding needs for six statewide cultural construction projects that received 50 percent funding last year. One of those projects is a remodel of the Cottage Theater to increase the number of seats, upgrade features and in turn, bolster Cottage Grove's economy. I will renew this ask for these various cultural construction projects in 2019.

    During session, I hosted a conference call in my office to hear from members of the Roseburg Area Chamber of Commerce. Other Douglas County legislators joined me to discuss bills this session that may affect the business community in the greater Roseburg area.

    On March 1, I joined Kyle Bailey on News Radio KQEN to provide an update on the legislative session. You can listen to the recorded interview, here: http://kqennewsradio.com/2018/03/01/morning-conversation-3-1-18/.

    Several constituent groups have visited the Capitol during this short session to take part in "lobby days," when various organizations, such as the National Association of Social Workers (pictured below), advocate to legislators on a variety of issues. It's always a pleasure to meet with constituents at the Capitol. Please let me know if you have plans to visit!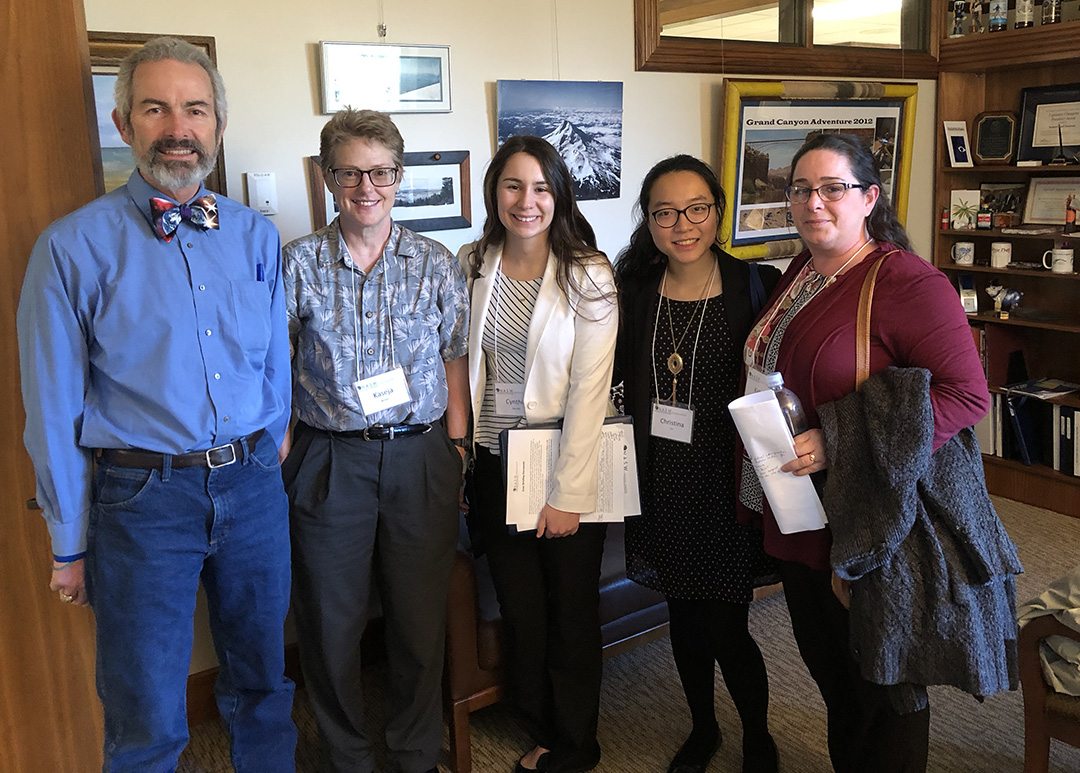 Below you will find information on:

        - Latest Revenue Forecast
        - Other Notable Bills that Passed the Senate
        - Support Oregon Veterans this Tax Season

    I hope this information is helpful and informative for you or someone you know. As always, feel free to share your comments, questions or concerns with me by phone, mail or e-mail.

                                                              



Latest Revenue Forecast

    The March 2018 revenue forecast was released on February 16 at a joint meeting of the Senate and House Revenue Committees. Below, please find details provided by the Senate Majority Office.

Revenue Outlook
    The projected 2017-2019 Net General Fund resources are up $69.8 million or 0.3 percent from the December 2017 forecast. Projected Lottery resources are up $29.3 million or 2.1 percent. Therefore, combined net resources are up $99.1 million.  

    Personal income is down $0.5 billion (-0.2 percent) from the last forecast. Currently, both kickers are not likely to be triggered. However, corporate income collections were up $10.4 million (7.9 percent) from last projected in December.  

    At the close of the 2017-2019 biennium, reserve funds expected to be available are $608.5 million in the Education Stability Fund, $632.7 million in the Rainy Day Fund, and $342 million in the General Fund.

Economic Outlook
    Employment in Oregon is down slightly in the fourth quarter from the December Forecast. Approximately 9,324 jobs that were anticipated never materialized. This represents a 0.5 percent decline in employment. It is worth noting that Oregon remains close to full employment.

Forecast Risks
    The Office of Economic Analysis (OEA) is exploring how the federal "Tax Cuts and Jobs Act of 2017" (TCJA) will affect Oregon. OEA projects that state revenue could be down as much as $217 million for net revenue once the TCJA takes effect. Personal and corporate income taxes are expected to stay down through 2019-2021, but would begin to even out the following biennium.

    The TCJA gives preference to certain taxpayers and activities while increasing the burden on others. As such, there will be a considerable amount of tax planning as taxpayers adapt to the provisions of the bill. OEA will continue to watch the following dynamics:

Shifting Across Tax Years: OEA will watch how businesses take advantage of expiring 2017 tax deductions.

Changing Filing Status:  With the creation of the federal pass-through, OEA will be watching if businesses change their filing statuses to take advantage of passive income deductions.

Distributing Repatriated Income: OEA will monitor how repatriated income is utilized.  Corporations may choose to hold it, reinvest, or distribute it to shareholders.






    Forecast documents can be downloaded, here.


Other Notable Bills that Passed the Senate

SB 1550 - Establishes Sea-to-sale Tracking for Oregon Seafood
    SB 1550 passed on a 27-0 vote in the Senate. This legislation authorizes the Oregon Fish & Wildlife Commission to adopt record-keeping requirements for the seafood industry.

    Biotoxin outbreaks — such as domoic acid algae blooms along the Oregon Coast — can contaminate seafood, causing public health concerns. Since there is no tracking currently in place, harvest seasons for fisheries all over the state are delayed and even shut down in response to these events. A tracking system will allow the industry and government agencies to locate the specific areas where there are biotoxins. Then, those specific areas can be closed to fishing, instead of the entire Oregon coastline.

    The bill gained support from the fishing industry, state agencies and other advocacy groups. The Oregon Department of Fish & Wildlife Marine Resources Program Manager provided testimony on the bill.

SB 1534 - Training Programs for Workers who Provide In-home Care
     SB 1534 passed the Senate on a 27-0 vote. This legislation directs the Oregon Department of Human Services to work with the Home Care Commission to establish minimum training standards for home care and personal support workers.

    The training that will be required by the bill must be geographically accessible in all areas of the state, culturally appropriate for workers of all language abilities and considerate of the unique needs of each worker type. Training providers must strive to align training requirements with those required for care providers in other long-term care settings.

    AARP of Oregon provided testimony on the bill, highlighting the importance of people being able to live independently in their homes. Training home-care workers will help people stay in their homes longer.

    Home care workers provide services for seniors or adults with disabilities, while personal support workers provide services to individuals with intellectual or developmental disabilities, as well as those who are experiencing mental health issues. The only requirements to work in these fields are that an individual is 18 years old or older and passes a background check.

    There is no licensing or training requirement for either job, but the Oregon Home Care Commission currently offers an orientation program and free training opportunities to home care workers and personal support workers, even though the training is not mandatory. SB 1534 requires training to make these workers more effective in their jobs, supporting seniors and Oregonians with disabilities. Disability Rights Oregon provided written testimony in favor of the bill during the hearing process.


Supporting Oregon Veterans this Tax Season

    The Charitable Checkoff program lets you designate all or part of your Oregon refund to support veterans. Your tax refund can be donated to support Oregon veterans' homes and/or veteran suicide prevention.

    Nearly $400 million has been raised for these funds since 2007. With your help, this year could see us hit the billion-dollar mark!

    Donating through the charitable tax checkoff program is easy. Click here for step-by-step instructions from the Oregon Department of Veterans' Affairs.