If you're having trouble viewing this message, please visit my legislative web page at http://www.oregonlegislature.gov/prozanski/, click on "News" in the lower left-hand column and scroll down.

Dear friends,

    As the second month of the 2017 Legislative Session winds down, I want to provide an update on happenings at the Capitol. After meeting twice per week during February, the Senate has met daily, Monday through Thursday, during March. High-profile legislation, such as a transportation package, have yet to emerge from committee. Many constituent groups have been visiting the Capitol to take part in "lobby days," when different organizations, such as the American Heart Association (pictured below), advocate to legislators on a variety of issues. I also enjoy welcoming groups of schoolchildren to their Capitol (also pictured below: a group of "Young Eagles" from Latham Elementary in Cottage Grove).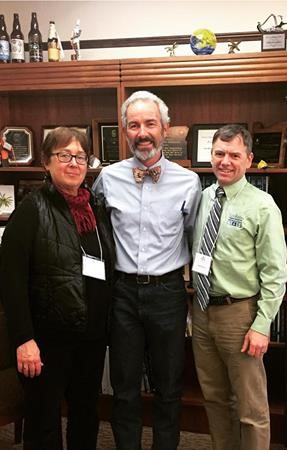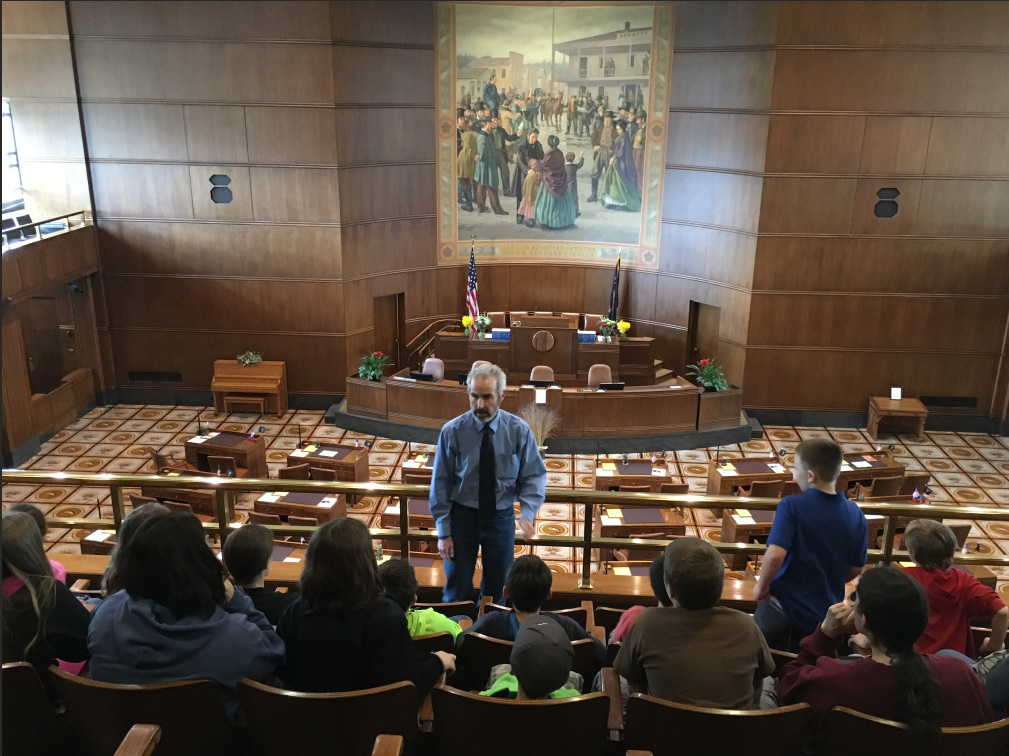 I have enjoyed the opportunity so far this session to spend Fridays in district to meet locally with constituents and attend community events. Last Thursday afternoon, I attended the groundbreaking ceremony for Cottage Grove's new Harrison Elementary School. Tomorrow, I look forward to participating in an assembly at Oakridge Elementary before speaking to an AP Government class at the Junior High. The assembly will promote "Strive for Five," an initiative by Oakridge School District to improve student attendance.

    We received news early in the month that Oregon's unemployment rate for January dropped to 4.3 percent. That's the lowest the rate has been since the state began tracking employment data in 1976. It's also lower than the national rate of 4.8 percent. This is good news, of course, but Oregon faces uncertainty due to the $1.7 billion budget shortfall in light of Measure 97's failure last November.

    Below you will find information on:

        - My Session Bills: SCRs 8, 9 and 10 (Honoring Fallen Officers)
        - Scam Alert: "Fake News"
        - Oregon Public Safety Career Fair
        - I-5 Reduced Speed
        - Free Book Distribution Event: April 22 in Eugene

    I hope this information is helpful and informative for you or someone you know. As always, feel free to share your comments, questions or concerns with me by phone, mail or e-mail.

                                                              




My Session Bills: SCRs 8, 9 and 10 (Honoring Fallen Officers)

    On March 9, I carried to passage three resolutions honoring law enforcement officers who gave their lives to make their communities, and our state, safer. The senate concurrent resolutions passed unanimously and friends and family members of the four law enforcement professionals were in attendance. The following three law enforcement officers from Lane and Douglas Counties were honored:

SCR 8: Deputy Roy Hugo Dirks was born in 1936 and was killed in the line of duty on April 1, 1975. A Roseburg native, Dirks graduated from Brookings-Harbor High School and joined the United States Army, serving as a boxer and military officer in Germany. In 1958, he went to work for the Eugene Police Department. In 1965, he joined the Lane County Sheriff's Office as a motorcycle deputy in Cottage Grove. Dirks joined the LCSO Detectives Unit in 1967 and, during that time, educated local youth about the dangers of drugs.


SCR 9: Deputy Carlton Edmund Smith was born in 1932 in Salem and was killed in the line of duty on July 6, 1965. He graduated from Reedsport High School and served with the Springfield Police Department for two years. Later, he joined the Lane County Sheriff's Office and on his first day, lost his life in the line of duty one hour before the conclusion of his first shift. He was passionate and dedicated to his job, and passed those attributes down to his children, two of whom pursued careers in law enforcement.


SCR 10: Deputy Robert Milton Riley was born in 1922 and killed in the line of duty on Aug. 17, 1958. A native of Elkton, Riley attended Elkton High School. He was a member of Merrill's Marauders during World War II and joined the Eugene Police Department after returning from the war. Law enforcement became engrained in the family, as Riley's son went on to join the Eugene Police Department and currently serves as chief of the Latgawa Tribal Police.


    Many young men and women who serve in uniform also serve their communities in other ways, helping people to get off on the right foot. With these resolutions, the Senate honored individuals who put their lives on the line at the call of duty, and gave the greatest sacrifice a person can give, to keep their communities safe.


Scam Alert: "Fake News"

    "Fake news" and "alternative facts" have gotten a lot of attention lately. They show how prevalent news hoaxes have become in today's media landscape and how dangerous it can be to rely on bogus information.

    This Scam Alert, courtesy of the Oregon Department of Justice, includes tips to help distinguish between what's real and what's not in daily news consumption:


If the author of an article or post is not given - or if the author is not properly identified - be skeptical.


The same is true if there are not references or links to legitimate source material.



If there are spelling or grammar errors, this should be an immediate tip-off to doubt what you're reading.


If the report seems hard to believe, it's probably not true.



The same is true if only one side of the story is reported.



If the headline is not consistent with the story, don't trust either.



Doubt overly emotional stories.



Give the website's domain name (URL) a careful look.



Similarly, check the "About Us" section of the website. Again, if it's sketchy, the website likely is, too.



Have quotations been altered? You can check this easily. Just cut and paste into Google's search engine.



You can verify stories that make you doubt them. FactCheck.org and Politifact.com monitor U.S. political stories. Snopes.com fact checks internet rumors.



Facebook is now providing warning labels on questionable news reports. You can also report news hoaxes to Facebook.



 
    Remember: People who post fake news make money from clicks on the bad information they provide. You can do your part to stop this.


Oregon Public Safety Career Fair: March 31 - April 1

    The Oregon Department of Public Safety Standards and Training (DPSST) will host the 2017 Oregon Public Safety Career Fair at the Oregon Public Safety Academy in Salem (4190 Aumsville Hwy SE) this Friday, March 31 and Saturday, April 1, 2017 in partnership with the Oregon Association of Chiefs of Police, the Oregon State Sheriffs Association, and the Oregon Peace Officers Association. More than four dozen police agencies are participating.

    This will be opportunities to:
Meet recruiters from city, state, county, tribal and federal public safety agencies, recruiting to fill more than 500 positions statewide


Discover job opportunities in public safety for both sworn and non-sworn positions


Tour the Oregon Public Safety Academy


Engage in daily panel discussions with law enforcement professionals

11:15 a.m. -veterans in public safety
12:30 p.m. - women in public safety
1

:45 p.m. - non-sworn positions matter






   Agencies around the state are looking to hire more than 500 qualified employees to fill both sworn (police, corrections, parole and probation, fire-rescue, emergency communications) and non-sworn (analysts, chemists, nurses, CSI, etc.) positions at city, county, state, tribal, university and federal law enforcement agencies. Retirement data shows that many more seasoned public safety professionals are getting ready to retire and over the next two years agencies will be looking to fill approximately 1,000 positions statewide.


I-5 Reduced Speed
(Courtesy of ODOT)

    Interstate 5 motorists are advised to reduce speed and drive with caution south of the Drain interchange (Exit 162) due to potholes and uneven pavement. The speed limit has been reduced to 55 mph in both directions through the construction zone. Due to the condition of pavement, ODOT recommends motorists slow to 45 mph in the southbound direction between mileposts 162 and 160.

    Motorists should watch for lane closures and congestion. Traffic delays up to 20 minutes may occur the next several weeks due to pothole repairs. The I-5 Anlauf-to-Elkhead Road Paving project will resurface eight miles of I-5 (from milepost 154 to 162), replacing the asphalt road surface with concrete.

    Potholes in the old asphalt have been a persistent problem during construction, particularly in the southbound direction. Frequent repairs are necessary since the temporary asphalt used to fill potholes often crumbles in cold and wet conditions. Construction will require intermittent lane closures, delays and traffic control changes until late May. The project is scheduled to be completed this summer.


Free Book Distribution Event: April 22 in Eugene

   The Oregon School Employees Association (OSEA) and First Book are teaming up to put 40,000 new, high-quality books in the hands of Eugene-area students. The distribution event will be from 10 a.m - 1 p.m. on Saturday, April 22, at the Cesar Chavez Elementary School cafeteria, 1510 W. 14th Ave., Eugene. The public is welcome to this event and can register on-site for free books. For more information, contact OSEA at 800-252-6732.