If you're having trouble viewing this message, please visit my legislative web page at http://www.oregonlegislature.gov/prozanski/, click on "News" in the lower left-hand column and scroll down.

Dear friends,

    The 2017 Legislative Session kicked into full gear on February 1. As discussed in previous bulletins, the big challenge this session is our state's $1.8 billion budget shortfall in light of Measure 97's failure. Thank you to everyone who attended my various pre-session town halls and who took the time to complete the questionnaire sent last month. The vast majority of respondents favored a refined version of Measure 97 to raise needed revenue. You told me that if cuts need to occur, those should be to public safety and corrections, not to education or health and human services.

    The Legislature's Joint Committee on Ways & Means Committee is currently holding a series of public hearings across the state. The town hall events are opportunities for Oregonians to provide input on the 2017-19 state budget. In Senate District 4, the committee will hold a hearing TODAY, Saturday, February 25, from 2-4 p.m. at Lane Community College - Main Campus (Rooms 308-309, i.e., "The Forum"). Please note that the 2 p.m. start time is an hour later than previously announced.

    As a co-chief sponsor, I was proud to testify before the House Rules Committee on February 16 in favor of HB 2590 to help Roseburg and other Douglas County communities with their continued recovery from the Umpqua Community College shooting. The bill requests $500,000 in the balancing of 2015-17's budget. We should know by the end of March whether the Legislature approves this request. HB 2590 also includes an additional $1,350,000 for the 2017-19 budget. Some of the money will be used to hire an additional mental health and health care workers as well as to provide counseling services for emergency workers and other community members. The bill also provides economic assistance. While there's no way to make everyone whole, as a state we have the obligation and ability to assist. Next step: the Joint Committee on Ways & Means, where I will continue to advocate for the bill.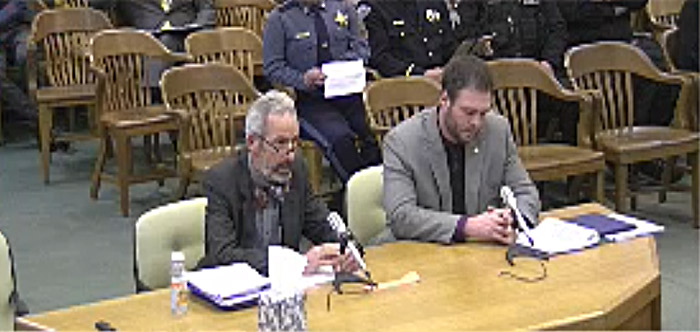 Below you will find information on:

        - March Revenue Forecast
        - How to Access and Use the Legislative Information System
        - My Session Bills: SB 483 (GPS Tracking of Cars)
        - Free Insurance and Financial Advocacy
        - Northwest Youth Corps Accepting 2017 Program Applications

    I hope this information is helpful and informative for you or someone you know. As always, feel free to share your comments, questions or concerns with me by phone, mail or e-mail.

                                                              



March Revenue Forecast

    According to the state Office of Economic Analysis, the 2017-2019 biennium is projected to see a modest increase in revenue. Revenue has slowed in recent months, but is still in a period of growth. General Fund revenues are projected to increase by $87 million and Lottery revenues are anticipated to notch up slightly to $6.7 million. The overall projected net revenue increase is $195.3 million. This helps, but it doesn't substantially change the structural deficit that we anticipated in the beginning of the budgeting process for next biennium.

    So far, projections are below the threshold for triggering a personal kicker, but the corporate kicker is likely to be triggered. This should provide an estimated $36.2 million for K-12 education during the 2017-2019 biennium.

    On the economic front, job growth in Oregon continues to be strong. National job growth has begun to increase as well. After months of significant gains, the unemployment rate is now below five percent, providing an average gain of 4,500 jobs per month. However, this rate indicates that Oregon is at or near full employment, so skilled worker shortages may be a factor in the future. As the expansion rate continues to slow, we can expect an average of 2,000 or fewer new jobs per month moving into 2018 and 2019.


How to Access and Use the Legislative Information System

    The Oregon Legislative Information System (OLIS) is a great tool for following bills being considered by the Legislature. Bills can be searched by number, keyword or sponsor. Using the tabs at the top, you can review the bill text itself, any submitted amendments, staff summaries (if available), and testimony that has been submitted to the committee. If you wish to enter written testimony while a bill is before a committee, please don't hesitate to send it to my office so that my staff may submit it on your behalf. Using "e-Subscribe" in the upper-right corner, you can subscribe to receive alerts about bills (upcoming hearings or votes). Committee and chamber (Senate, House) agendas are also available for review on OLIS.


My Session Bills: SB 483 (GPS Tracking of Cars)

    Starting with this e-bulletin and continuing with each during the 2017 session, I'm highlighting one bill that I'm chief sponsoring. SB 483 creates the crime of unlawful use  of a global positioning system device. The bill punishes the new crime with a maximum of one year's imprisonment, $6,250 fine, or both, or, if the person has certain previous convictions or is the subject of certain court orders, with five years' imprisonment, $125,000 fine, or both. I submitted this bill after learning about a local woman who discovered that an alleged stalker had placed a GPS tracking device underneath her car. You can review the bill in full and track its progress, here: https://olis.leg.state.or.us/liz/2017R1/Measures/Overview/SB483.


Free Insurance and Financial Advocacy

    Protecting your financial life can be complicated and getting answers or resolution can be frustrating. Within the Department of Consumer & Business Services is a dedicated team of consumer advocates who are here to help answer questions and resolve complaints with financial service professionals, loan originators and most lines of insurance. While the advocates are not attorneys and cannot act as a legal representative, they can determine whether a company or individual licensee is following all Oregon laws and rules. For free assistance, contact 1-888-877-4894 (insurance help) or 1-866-814-9710 (financial services help), or visit http://dfr.oregon.gov/gethelp.


Northwest Youth Corps Accepting 2017 Program Applications

    Northwest Youth Corps (NYC) is now accepting applications for its 2017 programs. While programs vary in location and duration, they all provide opportunity for youth and young adults to deepen their connection with the environment and each other through productive service work while gaining valuable vocational training.

    NYC's three youth programs offer introductions to service and conservation work while building outdoor leadership skills. Northwest Adventures is a week-long summer camp style program that uses fun and adventure to foster a positive, responsible relationship between youth ages 12 to15 and their natural surroundings. In the Youth Corps Community five-week program, teens 15 to18 years old complete outdoor service projects in their communities, go on local trips and hikes, and receive an educational component during the day and return home at night. The Youth Corps Camping program crews camp in the field for their entire 5- to 6-week session while gaining a stipend, high school credit, character development and lasting friendships. Applications for youth programs can be found at: http://www.nwyouthcorps.org/joinNYC/
 
   NYC is also hiring for young adult programs and crew leader positions. Young adult programs maintain the service and conservation values of the youth programs while emphasizing skills transferable to careers in natural resource management. Northwest Service Corps is a five-month AmeriCorps term aimed at meeting the Pacific Northwest's highest priority conservation needs, including wildfire reduction and invasive species removal. Through this program, people 19 to 24 years old earn professional certifications as well as a living allowance and an AmeriCorps education award. The Seasonal Stewardship Program is a related AmeriCorps program in which 19 to 26 years old receive hands-on training and experience. Lastly, NYC's Conservation Internship program places young adults (20+) directly with conservation and community organizations where they accomplish critical projects defined by the host agency. Applications for young adult programs can be found at: http://www.nwyouthcorps.org/joinNYC/.