If you're having trouble viewing this message, please visit my legislative web page at http://www.oregonlegislature.gov/prozanski/, click on "News" in the lower left-hand column and scroll down.

Dear friends,

    From September 21-23, the Legislature held its second set of "legislative days" for the 2016 interim. The Senate Judiciary Committee, which I chair, and the House Judiciary Committee met jointly for updates on various topics, including Oregon's Sex Offender Registration Program. The Joint Committee on Marijuana Legalization, which I co-vice chair, met to receive updates on implementation from the various involved agencies and a research report. The Senate Committee on Environment & Natural Resources, of which I'm a member, met to receive an update on the Bottle Bill and discuss carbon offsets, among other topics. Audio recordings of these and other committee meetings held during September's legislative days can be found using the Oregon Legislative Information System: https://www.oregonlegislature.gov/citizen_engagement/Pages/Legislative-Video.aspx.

    October 18 is the final day for Oregonians to register to vote or update their registration before November 8. It's quick and easy using www.beregistered.org. Make sure your voice is heard in November's election!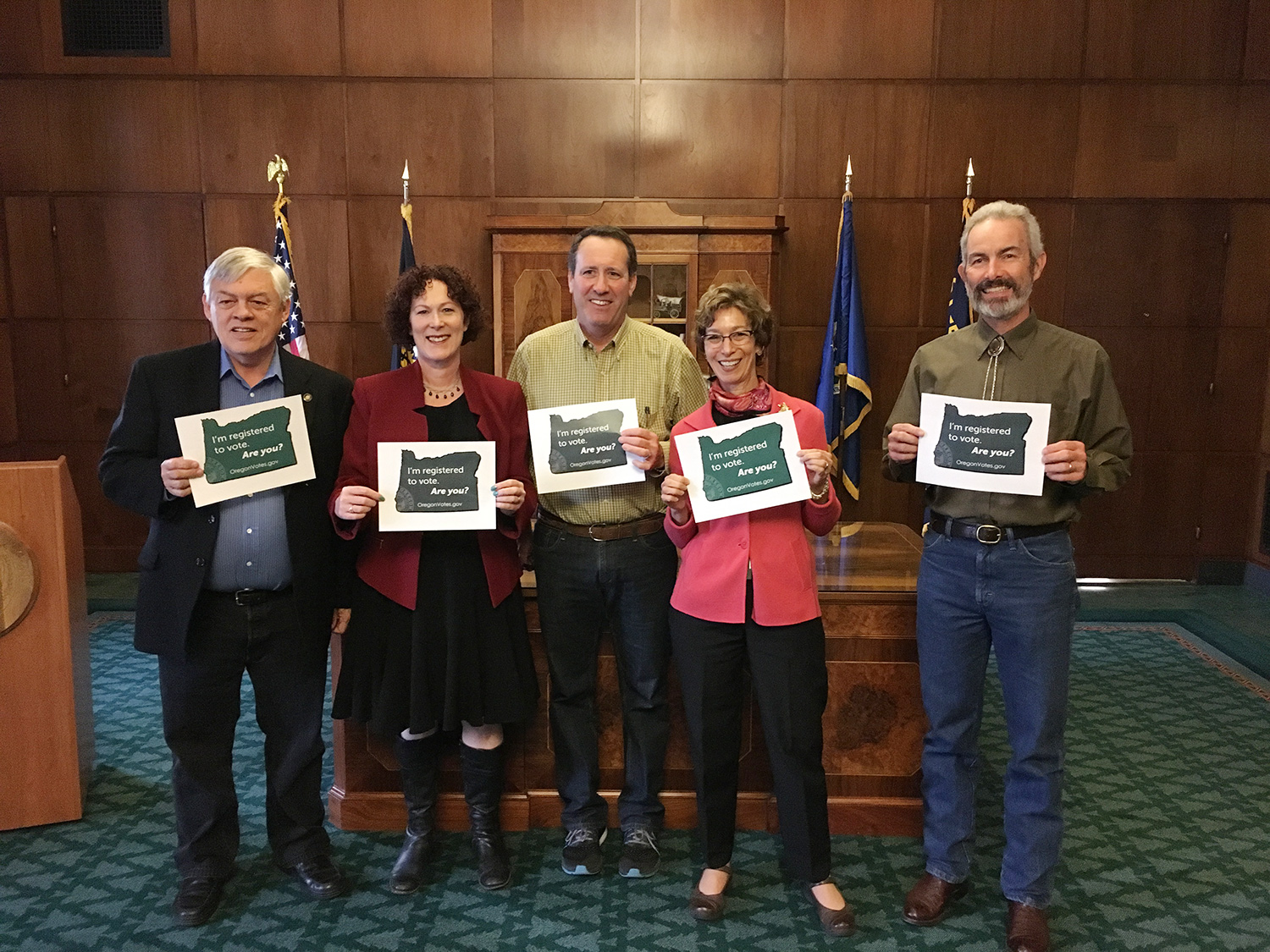 Below you will find information on:

        - September Revenue Forecast
        - 2016 Session: Education & Kids
        - Scam Alert: Yahoo Data Breach
        - Emergency Preparedness

    I hope this information is helpful and informative for you or someone you know. As always, feel free to share your comments, questions or concerns with me by phone, mail or e-mail.

                                                              



September Revenue Forecast

    On September 14, the latest state revenue forecast was presented to the Legislature. Oregon's overall economic expansion continues, outpacing most states in both job growth and income gains. Oregon's economy has added 208,200 jobs since June 2012 – that's an average of about 4,200 new jobs per month – at a rate nearly twice the national one. Our state hasn't experienced such a long string of monthly job gains (50 months) since comparable records began in 1990. Most of these gains were made in the private sector.

    The General Fund remains stable, with personal income tax collections expanding. For the current biennium (2015-17), projected net General Fund and Lottery revenues are expected to be up $5 million over previous projections, compared to the June forecast. This is on top of a $54 million General Fund and Lottery projection increase in June.


2016 Session: Education & Kids

    Continuing with this e-bulletin, I'm providing in-depth summaries of bills passed during the 2016 session by subject area. A comprehensive listing of accomplishments from the 2016 session related to education and kids — by Senate/House bill and in numerical order — follows:

Senate Bills

    SB 1515 - Children's Safety and Dignity Act of 2016: This legislation — the 2016 Children's Safety and Dignity Act — takes steps to improve the safety of kids in state-licensed residential foster care. SB 1515 makes statutory changes to improve the accountability of the Department of Human Services and licensed child‐caring agencies. The bill sets forth clear criteria and standards for licensed providers and specifies actions DHS can and must take if a program is not in compliance. It also expands the definition of a child to include those who are 18 to 20 years old — who are often included among youth in care — and specifies that a failure to investigate or take other action when concerns arise may constitute official misconduct. SB 1515 backs these commitments with an allocation of nearly $900,000 for the 2015-17 biennium to support new licensing, investigatory and enforcement staff within DHS and the Department of Justice.

    SB 1537 - Promoting Higher Education Access: This legislation allows school districts to receive and spend some State School Fund dollars to support "Post-Graduate Scholar" programs that allow certain students who have already earned a high school diploma to earn community college credits while staying connected to important support systems and resources within their school district. SB 1537 allows successful local programs to continue, supports new statewide higher education programs — like the Oregon Promise tuition assistance program — and ensures accountability by requiring stakeholders to return to the Legislature with alternative proposals for funding Post-Graduate Scholar programs with a source outside of the K-12 budget.

    SB 1540 - Encouraging Math Studies in Oregon: Mathematics education has been associated with higher earning potential and valuable applied skills across disciplines. This legislation directs the Higher Education Coordinating Commission (HECC) to conduct a study to evaluate effective methods for increasing the number mathematics-related majors studying at Oregon universities. HECC may consider a tuition waiver program for math majors and will report back to the Legislature in 2017 on the study's conclusions.

    SB 1541 - Study on School District Spending and Student Outcomes: This legislation directs the Oregon Department of Education to conduct a study on expenditure variations among school districts. The study will review how K-12 dollars are spent (instruction, transportation, support services, etc.) what factors shape this spending (class sizes, staffing levels, compensation, student demographics, etc.) and how this relates to student outcomes (attendance, absenteeism and graduation rates). The study report required by SB 1541 can provide useful data to lawmakers, districts and the public about best practices — contributing to sound investments based on what works for students.

    SB 1544 - Extending Unemployment Insurance Eligibility for Apprentices: Apprenticeship programs are a key way for many to gain middle-class financial security. For some apprenticeship programs in Oregon, like sheetmetal workers, the unpaid classroom training program lasts longer than the amount of time an individual is eligible for unemployment insurance. To ensure apprentices across trades are able to receive wages or unemployment benefits for the full duration of their training, this legislation extends the window of eligibility from five to ten weeks.

    SB 1558 - Protecting Student Confidentiality: This legislation limits when and how a college or university can disclose student health and mental health records. SB 1558 will help ensure that when a college student accesses health care or counseling on their campus, they can do so with confidence that their records and information will be protected. Though this safeguard is critical to any student, it is particularly meaningful for students experiencing violence, abuse or trauma, who depend on trusted campus services to protect their privacy.

    SB 1566 - Extending "Open Enrollment" Option in Public Schools: In 2011, the Legislature enacted an "open enrollment" system, giving public school students the option to attend a school outside of their own district — including online schools — so long as the receiving school permits it. Open enrollment was scheduled to sunset in 2017. This legislation extends the open enrollment option for another two years, until 2019.

    SB 1586 - Improving Student Access to Voting: This legislation directs public universities and community colleges to increase voter registration access and information for their students. These higher education institutions will provide more information to student groups that provide nonpartisan registration services and voter education presentations. SB 1586 requires the Secretary of State to ensure there is at least one designated official ballot drop site location within 4 miles of each public university and community college campus.

House Bills

    HB 4002 - Addressing Chronic Absenteeism in Oregon's Schools: This legislation directs the creation of a statewide strategy for addressing chronic absenteeism in Oregon. Recognizing the barrier that childhood trauma can present to attending and succeeding in school, the bill also allocates $500,000 for a pilot program to decrease rates of absenteeism using coordinated, trauma-informed approaches to education, health services and intervention strategies in several schools. This three-year pilot project will focus on communities with high need and will capitalize on Oregon's strong system of school-based health centers as an anchor for participating schools.

    HB 4021 - Student Loan Debt Study: Since 2004, total student loan debt has ballooned from $350 billion to approximately $1.2 trillion, and outstanding student debt has surpassed the amount that American households owe on auto loans, home equity loans and credit cards. This legislation directs the State Treasurer and Higher Education Coordinating Commission to conduct a study and explore approaches for lowering interest rates on student loans in Oregon.

    SB 4022 - Addressing the Shortage of Speech-Language Pathology Services in Oregon Schools: Responding to a shortage of providers, in 2007 the Legislature passed a bill to allow retired public employees to work an unlimited number of hours as a speech-language pathologist (SLP) or SLP assistant for a school district without any loss of retirement benefits. That exemption expired on January 2, 2016. This legislation reinstates the exemption, allowing it to continue until 2026 to address the long-term shortage of SLP services in Oregon's public schools, particularly in rural areas.

    HB 4023 - Protecting School Stability for Students: Under current law, when a school district boundary changes there is no clear right for a student to remain in the school they attended prior to the boundary change. This legislation protects students from this kind of disruption by allowing them to stay in the school they were enrolled in prior to a boundary change, so long as they remain enrolled in that school and their residential address doesn't change.

    HB 4033 - Equity in Education: Culturally Competent Teaching: In 2015, the Legislature passed the "Educators Equity Act" which updated the Minority Teacher Act of 1991, reflecting our state's commitment to equity in opportunity and cultural competence in Oregon's schools. HB 4033 makes it clear that funding currently distributed under the Network of Quality Teaching and Learning can be directed toward advancing the Educators Equity Act, with the aim of improving cultural competence of educators and ensuring educators are trained in culturally relevant educational practices.

    HB 4057 - Improving Outcomes for Students Experiencing Poverty: This legislation requires the Oregon Department of Education to study and report on how school districts spend additional funds received to support children in poverty. The report will identify what best practices, programs and services are used across the state to increase achievement and improve outcomes for students from families experiencing poverty.

    HB 4072 - Catalyzing University Research into Successful Business Enterprises: Since 2007, the University Venture Development Fund tax credit has helped to convert the research conducted at Oregon's public universities into new businesses. In addition to income tax revenue generated by new jobs, universities repay the state with revenue earned by UVDF-sponsored companies. This legislation extends the tax credit for University Venture Development Fund contributions through 2021 and increases the annual taxpayer credit cap from $50,000 to $600,000.

    HB 4075 - Statewide Student Safety Tip Line: This legislation allocates $1 million to establish a statewide student safety tip line, operated by the Oregon State Police. The tip line will field confidential reports on threats — which can include harassment, intimidation, bullying, cyberbullying and threats of violence or self-harm — from any student or community member, and OSP will work with behavioral health service providers to determine best practices for responding to these reports.

    HB 4076 - Supporting Student Success in the Oregon Promise Program: In 2015, the Legislature established the Oregon Promise program, a tuition assistance program to help students cover the cost of a community college education. This legislation strengthens the Oregon Promise program and improves the likelihood of student success by requiring all Oregon Promise students to complete an approved first-year experience and requiring community colleges to provide support services for Oregon Promise students. HB 4076 allocates nearly $1.7 million to support these aims in an effort to maximize the success and effectiveness of the Oregon Promise program.

    HB 4080 - Child Foster Care Advisory Commission: This legislation establishes the Child Foster Care Advisory Commission to advise, study and report to the Governor and the Department of Human Services on Oregon's foster care system, and to recommend legislation. The Commission will include foster parents and children, advocates, juvenile dependency attorneys and other stakeholders who work on foster care issues.

    HB 4082 - Preventing Commercial Sexual Exploitation of Children: This legislation closes a loophole in Oregon's laws to better protect victims of sex trafficking. HB 4082 expands the crime of promoting prostitution to include bartering goods, services or anything of value in exchange for prostitution services, rather than strictly an exchange of money, as previously stipulated. The bill comes at the recommendation of the Commercial Sexual Exploitation of Children Work Group, which meets regularly with stakeholders to address the needs of sex trafficking victims, many of whom are minors.


Scam Alert: Yahoo Data Breach

    Yahoo confirmed that data "associated with at least 500 million user accounts" was been stolen in what may be one of the largest cybersecurity breaches ever. The stolen data may include names, e-mail addresses, telephone numbers, dates of birth, passwords, as well as security questions and answers.

    Yahoo users should take the following actions as soon as possible:

Change your Yahoo password, as well as your Yahoo secret questions and answers; and



If you reused any passwords, secret questions and answers from your Yahoo account to any other account (Gmail, Hotmail, etc.), change that information in those accounts, as well.



   In addition, Oregonians who have shopped and used a debit or credit card on a Yahoo account, or on a Yahoo web service, should:

Monitor their credit report. Visit www.annualcreditreport.com or call 1-877-322-8228 to order a free credit report and review it for errors.



Avoid clicking on links or downloading attachments from suspicious e-mails. Yahoo will be contacting affected users about this issue, but these e-mails will not ask you to click on any links or contain attachments and Yahoo will not ask for your personal information.

Beware of "phishing" (the activity of posing as a legitimate company to gain access to financial accounts) attempts and unsolicited calls or e-mails offering credit monitoring or identity theft services. These offers are attempts to steal personal information.






    Oregonians who find unexplained activity on their credit report or who believe they are the victim of a phishing scam should contact the Attorney General's consumer hotline at 1-877-877-9392, review the Attorney General's website for information on identity theft, or view the Federal Trade Commission's identity theft resource: www.consumer.gov/idtheft/.

Emergency Preparedness
(Source: Sen. Brian Boquist September 8, 2016, Legislative Update)

    In a recent e-newsletter, State Sen. Brian Boquist included helpful tips on emergency preparedness. Whether an earthquake or other disaster, this advice can help us all prepare:

"Stay dry and warm. Even in an earthquake, portions of your residence many still be waterproof. You may already have a camping tent. If you have a tent then you likely have a sleeping bag. If not, you have bedding and blankets already. An extra blanket is $12.29 from Walmart online today. Remember you have extra cloths and blankets that can be used both for warmth, and sanitation. If you decide to leave your damaged home make sure you take items to stay warm and dry. Also remember, the neighboring town may be worse off than yours.


"Drink water. Medical professionals claim you need 9 to 15 cups of water per day. There are 16 cups in a gallon. Most people drink nowhere near even nine cups per day. On $5 Friday at Safeway it is .89 cents per gallon of bottled water. In most of the above emergencies you may have running water for a few minutes or hours or better. THINK WATER immediately after the first trauma. Fill the bathtub. Fill empty containers. Fill extra bottles, buckets or cooking pans immediately if you do not have a cache of water. It rains in Oregon. Put out a $2.97 Homer bucket from Home Depot.


"Eat food. The biggest excuse for not preparing I hear is "I cannot afford any extra food." Usually, the person telling me this excuse is standing next to their SUV with their $199, $299 or $399 iPhone in their hand. Sometimes with manicured nails or wearing a $300 hunting jacket. Many preppers buy expensive long term storage items. Oddly, some people will starve to death, in a couple weeks simply because they do not like the taste of the food. Yes, you should rotate food if at all possible. I think some of you may detest places like the Dollar Tree, Family Dollar, Dollar General, Waremart etc. while many of you are regular shoppers. My walk through Dollar Tree last week was enlightening. Even on SSI there are food items that can be bought, eaten and rotated very inexpensively. Likewise, I saw 25 lbs of rice at places like Costco, Walmart, United Grocers, and Waremart for around $15.00 in the past two weeks. Add 24 bouillon cubes I saw online for $1.58 gives you a start since both items have long shelf lives. At this time a year, United Grocers (Cash & Carry) has 50 lbs of potatoes for less than ten bucks. Likewise, 50 lbs of onions is less than ten bucks too. I list onions as the British Navy, and modern Third World armies, have stayed in the field living on onions due to its characteristics. All for ten bucks. Chances are you already have salt and pepper in your cupboard. Worse case, a 24 pack of Cup'O'Noddles is $8.29 at Costco, or $9.95 online, plus Walmart etc. Western Family has case sales every fall. Many canned goods can be eaten straight from the can like pre-cooked corn, beans, ravioli, etc. Yes, buy healthy if you can according to doctors, but do not starve to death if you have to buy what you will eat and can afford to store.


"Food & water heating. Yes, you should boil unpure water if possible. Yes, at least some hot food is the best plan for a month menu. Again, cost is always raised. Amazon lists a one burner propane stove for $17.88 from Coleman. Target is $16.99. Webstaurant Store is $10.99. Fuel canisters average $3.47 for a canister or two for $6.24. Your existing pots and pans will work just fine. Walmart, Target (whom I dislike) or any sporting goods store has these items. Your BBQ might be the answer too. Also, you already have at least a few pots and pans already along with silverware most likley.  If 'expense' is the problem buy one item a month until prepared. Again, plan for a month.


"Stay sanitary. Few talk about this issue oddly. In a Cascadia event this failure will likely lead to disease and death much larger than initial casualties. In non-modern Armies, this was the leading case of death. Over 400,000 deaths in the Civil War were disease related. Tens of millions died in World War II of disease. Think about it, there will be no running water, no flush toilets, no bathing water, and how will you stay clean. You may have toilet paper but where are you going to defecate. If the sewer is still connected it may be the bucket of rain water if you have enough. Or you may need to dig a hole in the ground away from your water source then designate it the place everyone in the family uses to defecate. Use a bucket worse case. If not, disease is likely to start, which, quickly leads to deaths later. Clorox Handi Whips are $2.29 online at Jet.com. Staples has a four packs of wipes for $6.00. Likewise, a bar of soap with a wet towel can be used. Bleach is a must have on my list.  Buck a gallon at Dollar Tree.  Bleach can be a miracle drug in stopping disease in a disaster. In the Army, we said "if you take care of your feet, your feet will take care of you."  In a long term power outage, you will need to stay clean by washing even if by wet cloth.  You will need to change clothes. In the old days, people used the same set of work clothes for many days then changed to cleaner non-work clothes at the end of the day. You at least will need to be prepared to wash under garments such as socks by hand. Let me remind you most the world population is still washing clothes by hand. Note I did not talk about brushing teeth and other routine items since you will have plenty of time to dig through the potential rubble to find the tube of Crest along with your tooth brush.


"Get away bags. Emergency management professionals all recommend having a small bag in your car or office for an emergency. This bag is not a 'live all save all' bag in any manner.  It is meant as a bag to get you 'home' or to safety.  The place you go will depend upon where you are at the time of the event but you likely will be walking so you are not going very far fast. And most roads will be closed in any major catastrophic natural disaster. My wife has a ten dollar backpack in her car. It is simple. Walking shoes, jacket, sweat pants in case she was wearing a dress, large water bottle, flashlight, and a few walking items. She keeps a few snack bars and extra water in the car too. Her plan is simple. Call home before the cell tower batteries or generators die. Leave a message or tell whomever where she is at, and she is walking home. The reasoning is simple too. Likely she would be in Salem if a Cascadia earthquake happened. It is a 100 miles to anyplace in Eastern Oregon, which will be overwhelmed with starving refugees after the four day walk, but it is 22 miles home to a month supply of everything. If it is a power grid failure as outlined in Ted Koppels' book, it would be 500 to 800 miles to anything called civilization.


"Safety and security. After nearly four decades as a Special Forces Officer, my experience tells me it is going to be very uncivilized in a long term catastrophic event to say the least. If this issue is concerning, my recommendation is to find a combat veteran you might know to discuss this topic with you at length. With no due disrespect, law enforcement is not the right place to seek answers as they will be overwhelmed. Therefore, suggest to reach out to one of Oregon's 325,000 veterans for suggestions on how to prepare for safety and security in a catastrophic event."