If you're having trouble viewing this message, please visit my legislative web page at http://www.oregonlegislature.gov/prozanski/ and click on "News" in the left-hand column.

Dear friends,

    It's a busy season for construction crews on Oregon's roads. Updates on four projects affecting Senate District 4 residents are listed below. Remember to check ODOT's revamped TripCheck.com to "know before you go." In addition to more available camera views, TripCheck features updated maps. Please use caution when driving through work zones. There may be traffic restrictions, lane closures, detours and delays. Watch for signs, flaggers and pilot cars for guidance through these zones. Above all, please drive carefully!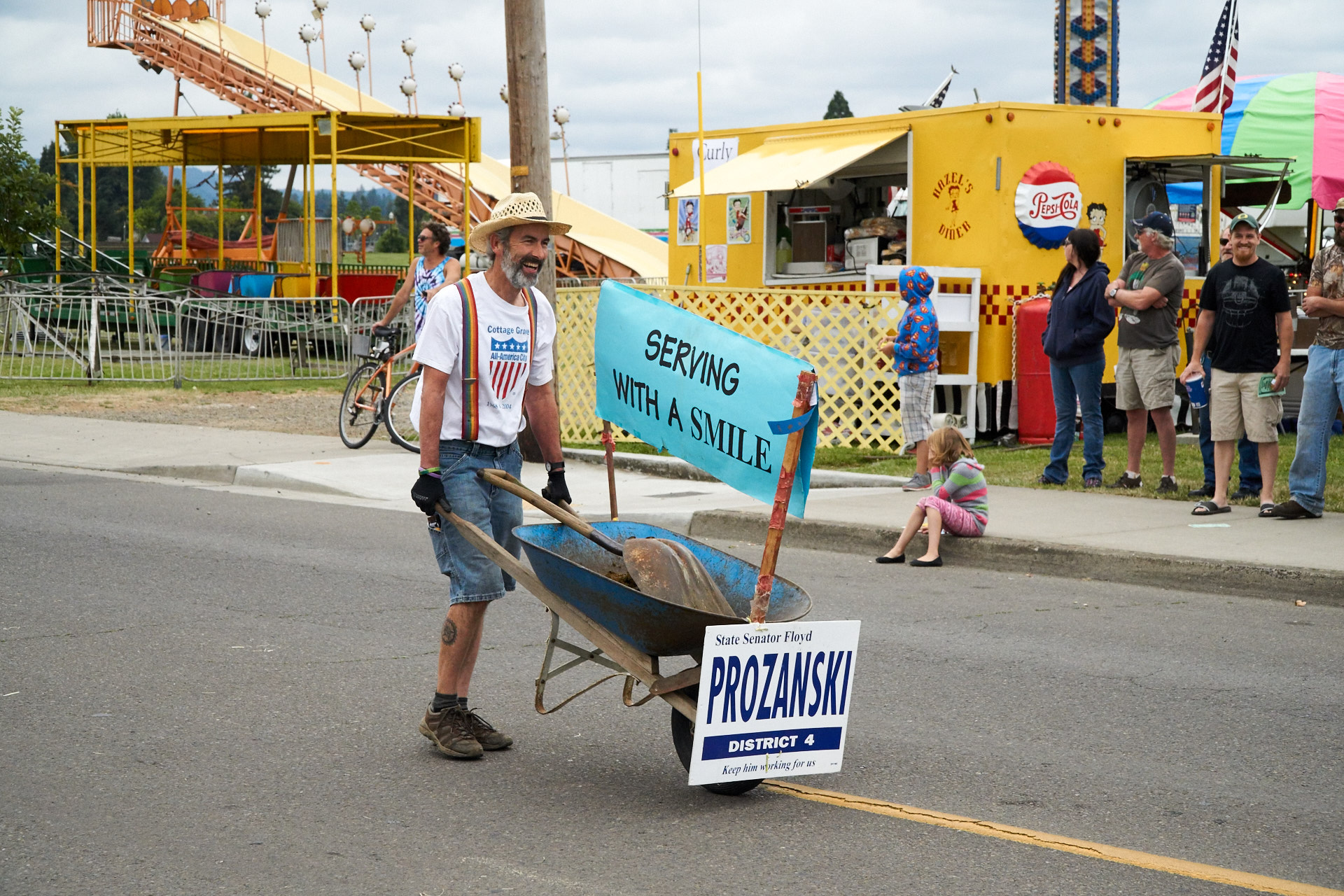 I had a great time at the Bohemia Mining Days parade on July 16!

    Below you will find information on:

        - ODOT Update: I-5 Nighttime Lane Closures Near Drain
        - ODOT Update: OR 58 Between Dexter and Oakridge
        - ODOT Update: OR 126 Between Veneta and Noti
        - ODOT Update: OR 58 at Salt Creek Tunnel
        - 2016 Session: Working Families, Consumer Protection & Housing
        - Western Oregon Exposition: August 19-21
        - Special Film Screening: "The General"
        - Ways to Conserve Water in the Garden

    I hope this information is helpful and informative for you or someone you know. As always, feel free to share your comments, questions or concerns with me by phone, mail or e-mail.

                                                              



ODOT Update: I-5 Nighttime Lane Closures Near Drain

    The Oregon Department of Transportation advises that motorists should expect nighttime lane closures in both directions on Interstate 5 near the Drain interchange (Exit 162). ODOT and prime contractor, K&E Excavating, have entered the construction phase that will resurface a one-mile section of I-5 between milepost 161 and 162.

    Paving work for the current construction phase is scheduled to continue until the end of August. Two lanes of travel will be maintained in each direction during daylight hours in July and August. The southbound on-ramp at Exit 162 (Drain/Oregon 38 junction) will remain closed until October. A two-mile detour is in place. Oregon 38 motorists are advised to take I-5 north to Exit 163 (Curtin) and turn around.

    The I-5 Anlauf to Elkhead Road Paving project will resurface eight miles of Interstate 5 between milepost 154 and 162 and construct a southbound climbing lane at milepost 161. Construction is scheduled to be completed in 2017.


ODOT Update: OR 58 Between Dexter and Oakridge

     Beginning in August, OR 58 (Willamette Highway) will be repaved between Dexter and Black Creek Canyon Campground (mileposts 11 through 27).  This asphalt concrete pavement will replace the chip seal pavement preservation project that was applied last summer that has not performed as needed or expected. The chip seal will be ground off as part of the paving process.

    The contractor will be able to pave at night, seven days a week, to complete the project before the end of seasonal weather and minimize further impact on travelers. No work will be done over the Labor Day weekend, September 1 - September 5. While projects of this size typically require an 18-month process to design and get to contract, this was fast-tracked as an expedited competitive contract when the need to replace the entire section was identified.

    In the meantime, ODOT Maintenance crews will continue to sand and sweep the roadway as needed. Variable message signs will remain, advising travelers to be cautious and slow down due to the rough road surface.

    The paving project previously planned for OR 58 this summer between Black Creek Canyon Campground and Middle Fork Willamette River (mileposts 27 through 33) will be delayed until next summer.


ODOT Update: OR 126 Between Veneta and Noti

    The section of the Florence-Eugene Highway from mileposts 40 through 48 will be repaved while signage, guardrails and bridge rails are replaced. Night Paving is expected to begin on July 25, with lane closures Sunday through Thursday nights, 7 p.m. to 7 a.m. Watch for truck traffic, workers and equipment entering and exiting the work area. The project is scheduled to be completed by the end of October.


ODOT Update: OR 58 at Salt Creek Tunnel

    As work continues in this area (mileposts 56 through 70), motorists can expect up to 20 minute delays as guardrail replacement is completed. Traffic will be controlled by flaggers and pilot cars. This project is scheduled to be completed in September.


2016 Session: Working Families, Consumer Protection & Housing

    Continuing with this e-bulletin, I'm providing in-depth summaries of bills passed during the 2016 session by subject area. A comprehensive listing of accomplishments from the 2016 session related to working families, consumer protection and housing — by Senate/House bill and in numerical order — follows:

Senate Bills

    SB 1513 - Supporting Surviving Spouses of Oregon's Emergency Responders and Public Safety Officers: This legislation authorizes counties to exempt property taxes for up to $250,000 of assessed property value for homes owned and occupied by a surviving spouse of a firefighter, police officer or reserve officer killed in the line of duty

    SB 1533 - Local Affordable Housing Tools: In response to Oregon's mounting housing crisis, this legislation provides two useful tools that local jurisdictions can use to address housing stock and affordability. The bill partially lifts Oregon's ban on inclusionary zoning, allowing cities and counties to require developers to set aside a portion of new multifamily developments as affordable housing in exchange for substantive incentives. SB 1533 also allows cities and counties to establish new local construction excise taxes, with revenues directed to support affordable housing -- including the costs of providing developer incentives in jurisdictions that implement inclusionary zoning.

    SB 1573 - Streamlining Local Annexation Processes: This legislation streamlines certain annexation processes by requiring a city to annex certain territory without a vote of the people when all land owners in the territory to be annexed agree and submit a completed petition. Territory to be annexed also must be within the existing UGB and subject to the current comprehensive plan of the city.

    SB 1582 - Implementing the Local Innovation and Fast Track (LIFT) Housing Program: In 2015, the Oregon Legislature authorized $40 million in general obligation bonds to fund affordable housing development projects statewide through the Local Innovation and Fast-track (LIFT) Housing program, but did not establish program parameters. With bonds scheduled to be issued in the spring of 2017, Senate Bill 1582 sets forth clear guidelines for implementing the LIFT program, ensuring that these bonding dollars are invested wisely.

    SB 1587 - Giving Workers Access to Wage and Pay Information: This legislation ensures all workers have timely and accurate information about their wages and withholdings. It requires employers to provide certain information on all pay stubs and timely response to requests for additional records; it also provides additional funding to the Bureau of Labor and Industries for enforcement and investigation.

    SB 1591 - Insurance Transparency for Consumers and Regulators: This legislation authorizes the Department of Consumer and Business Services to provide information about complaints received against an insurer for an unlawful trade practice. This authorization protects consumers by removing any personally identifying information prior to release, but provides an additional tool for consumers and regulators when choosing an insurance policy.

House Bills

    HB 4079 - Growth Boundary Expansion Pilot Projects for Affordable Housing: This legislation requires the Land Conservation and Development Commission (LCDC) to establish and implement an affordable housing pilot program, under which two communities may apply to expand their Urban Growth Boundary (UGB) modestly to develop affordable housing. The bill sets forth a number of strict eligibility criteria for LCDC in approving pilot projects, as well as parameters for the two communities that are selected to participate.

    HB 4081 - Preserving Existing Low-Income Housing: This legislation extends the sunset on an existing property tax exemption that allows certain nonprofit providers of affordable housing to continue operating low-income housing properties at a sustainable cost. It extends the sunset through 2022 — maintaining the status quo for owners, residents and local jurisdictions — to allow nearly 2,000 low-income housing units to remain affordable while the Legislature determines how best to approach this current exemption.

    HB 4086 - Extended Unemployment Support for Workers in a Lockout: This legislation provides an additional 26 weeks of unemployment insurance benefits for workers who have been shut out of their jobs as part of a lockout by their employer. The bill originated from a lockout at a steel factory in Albany where the employer shut workers out of their jobs as part of a bargaining strategy. The bill applies to the group of workers affected in the Albany situation as well as future workers who are affected by an extended lockout.

    HB 4021 - Student Loan Debt Study: Since 2004, total student loan debt has ballooned from $350 billion to approximately $1.2 trillion, and outstanding student debt has surpassed the amount that American households owe on auto loans, home equity loans and credit cards. This legislation directs the State Treasurer and Higher Education Coordinating Commission to conduct a study and explore approaches for lowering interest rates on student loans in Oregon.

    HB 4105 - Patient Safety: Informing Patients About Biosimilar Substitutes: Biosimilars are FDA-approved treatments that are sometimes substituted for biological products used to treat conditions like rheumatoid arthritis, anemia, psoriasis, and various forms of cancer. This legislation requires pharmacists to notify a patient's physician when a biosimilar is dispensed, through simple means, such as notation in an electronic medical record, or by phone or email. This communication between prescriber and pharmacist will help protect patient safety, without discouraging the use of biosimilars, which are often less expensive to patients and insurers than brand biologics.

    HB 4110 - Making Work Pay for Low-Income Families with Young Children: This legislation expands the Earned Income Tax Credit (EITC) from 8 to 11 percent for families with a child between the ages of zero and three. The EITC helps families work their way out of poverty, and expanding it for those families with the youngest children will have a big impact on helping them afford child care and other rising expenses.

    HB 4128 - Preventing "Notario" Fraud: In Oregon, only attorneys and federally authorized individuals can provide legal advice on immigration matters. However, some unqualified individuals advertising their services as a "notario" — a misleading term because, in many countries, "notario" refers to someone with the same training and authority as an attorney — deceive consumers and provide illegitimate services. This legislation cracks down on notario fraud by strengthening penalties, tightening standards for becoming a notary public and providing law enforcement and other agencies with more effective tools to protect consumers and hold fraudulent practitioners accountable.

    HB 4142 - Clear Identification for Private Security Professionals: This legislation prohibits private security companies from using a name that implies that the company is affiliated with an existing law enforcement, public safety or Armed Forces agency — an important provision to prevent confusion among consumers or the public at large. The regulation won't force existing companies to change their names.

    HB 4143 - Predictability and Stability for Oregon Renters: This legislation provides more predictability for Oregon renters with month-to-month tenancies by prohibiting landlords from increasing rent during the first year and requiring a 90-day notification for any rent increases after that. By stabilizing rent within the first year of a tenancy and providing more notice for tenants in month-to-month rental agreements prior to rent increases, HB 4143 will allow individuals and families reasonable time to plan around their housing expenses.


Western Oregon Exposition: August 19-21

    This year's Western Oregon Exposition in Cottage Grove runs from Friday, August 19, through Sunday, August 21. With a mission to be of service to the community and to carry on the American tradition of old-fashioned fun, entertainment and education in a safe, family-friendly environment, this year's WOE will feature livestock, a pinewood derby, music, wood carvings, a lumberjack show, and more. Additional information can be found on the exposition's website: www.woeheritagefair.com/.


Special Film Screening: "The General"

    This year marks the 90th anniversary of the release of Buster Keaton's classic film, "The General," which was shot in Cottage Grove. Together with The Hollywood Theater, Travel Oregon, Pacific Power and the City of Cottage Grove, Oregon Film has commissioned a new score for this silent film from Oscar-nominated, Oregon composer Mark Orton. Mark will perform that new score with a live band during a small tour in August. The tour will include an outdoor showing at Bohemia Park in Cottage Grove on Saturday, August 13! For more information, click here: http://hollywoodtheatre.org/the-general-with-live-score/.


Ways to Conserve Water in the Garden

     The Oregon State University Extension Service offers the following tips to conserve water in gardens and yards this summer:

Water your lawn more deeply and less frequently. If you typically water three to four times per week, it's okay to cut that to one to two times per week.
Plant drought-tolerant turf grass. Tall fescue is hardy, wide-bladed and deep-rooted. Perennial ryegrass and creeping fescue can also tolerate some dryness.
Choose drought-tolerant plants such as creeping zinnia and sea poppy for your landscape. Native plants such as the Oregon iris and Pacific wax myrtle tolerate dry summers well.

For most plants, watering deeply and close to the roots is more important than frequency. Study each plant's watering requirements. For vegetables, soak soil about six inches deep. Water to a depth of about a foot and a half for shrubs. Trees need water about two feet deep.
Mulching is critical because it improves soil structure, helps retain water in the ground and reduces weeds. Use compost-based mulches for vegetables and woody mulches for ornamental plants. Spread the mulch about two to three inches thick on the soil around your garden.
Water early in the morning before the day heats up.
Use an efficient irrigation system, such as soaker hoses or drip irrigation. If you choose a sprinkler system, select a low-pressure, in-ground system that does not shoot up in the air.