If you're having trouble viewing this message, please visit my legislative web page at http://www.oregonlegislature.gov/prozanski/, click on "News" in the lower left-hand column and scroll down.

Dear friends,

    I hope everyone had a wonderful Memorial Day weekend spending time with family and friends. I also hope you took some time to remember the men and women who served our country and gave their lives to help protect America.

    May's legislative days were busy and productive. The Senate Judiciary Committee, which I chair, and the House Judiciary Committee met jointly to review various topics. The Joint Committee on Marijuana Legalization, which I co-vice chair, met for to receive an implementation update. Finally, the Senate Committee on Environment & Natural Resources, of which I'm a member, met to receive overviews about air quality in Oregon and an update on the Cleaner Air Oregon Initiative. Audio recordings of these and other committee meetings held during September's legislative days can be found using the Oregon Legislative Information System: https://www.oregonlegislature.gov/citizen_engagement/Pages/Legislative-Video.aspx.

    Earlier this month, I was honored to be named a "Friend of Nursing" by the Oregon Nurses Association (ONA) for work to improve nursing practices, patient care and public health outcomes. Thank you, ONA, for your commitment to the same!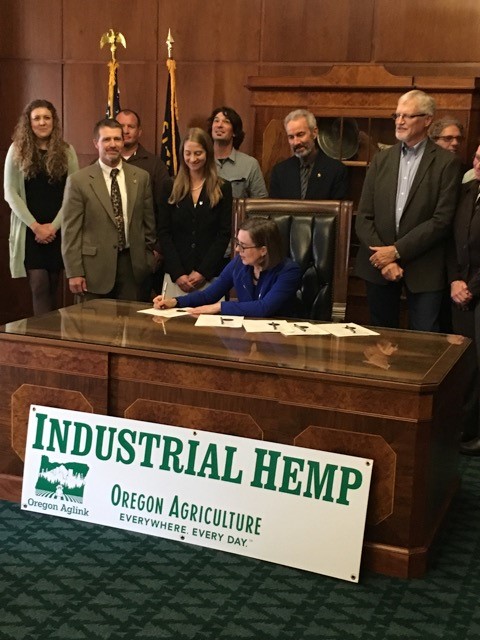 Signing ceremony for SB 4060 (2016), updating and clarifying regulations related to industrial hemp

    Below you will find information on:

        - Free Dental Care for Veterans
        - Mental Health Month
        - DHS Town Hall: June 22
        - Community Meeting about Family Caregiver Respite: June 14
        - Oregon Hospitals Now Offer Price Estimates
        - 2016 Session Accomplishments: Jobs, Economy & Workforce
        - Nominations for Governor's Volunteer Awards

    I hope this information is helpful and informative for you or someone you know. As always, feel free to share your comments, questions or concerns with me by phone, mail or e-mail.

                                                              



Free Dental Care for Veterans

    Veterans will receive free dental care on Saturday, June 25, when dentists and their teams from Aspen Dental-branded practices open their doors for a National Day of Service. Interested veterans should call 1-844-AspenHMM to find a participating practice in their community and schedule an appointment in advance — space is limited. Participating practices include Aspen Dental locations in Springfield and Albany.


Mental Health Month

    In observance of Mental Health Month, I would like to draw attention to an issue that affects Oregon families and communities every day. Let's focus on the importance of mental healthcare, and how individuals, communities, and leaders can take action to provide support to Oregonians affected by mental illness.

    Mental illness can impact the lives of people all around us: friends, family and neighbors. Many bills passed during the 2016 Legislative Session serve to support individuals affected by mental illness. From new funding to improve corrections-based mental health care, to ongoing support of our state's addictions and mental health infrastructure for low-income Oregonians, we continued to deliver on our commitment to addressing mental health issues.

    Bills passed in the 2016 Legislative Session that support individuals with mental illness include:

    SB 1503 - Access to Affordable Primary and Mental Health Care: Oregon's Nurse Practitioners and Physician Assistants fill critical roles in our state's delivery of primary care and mental health services, especially in rural Oregon. In 2013, the Legislature enacted a law to ensure that these providers are reimbursed at the same rate as physicians for providing the same services. This legislation ensures that these essential providers can continue to deliver quality, cost-effective care in underserved areas by making this law permanent.

   SB 1558 - Protecting Student Confidentiality: This legislation limits when and how a college or university can disclose student health and mental health records. It helps ensure that when a college student accesses health care or counseling on their campus, they can do so with confidence that their records and information will be protected. Though this safeguard is critical to any student, it is particularly meaningful for students experiencing violence, abuse or trauma, who depend on trusted campus services to protect their privacy.

    HB 4017 - A Basic Health Program for Oregon: This legislation continues the work Oregon has undertaken over the past several years to explore the possibility of operating a "Basic Health Program," an option under the Affordable Care Act to provide health coverage to certain consumers who don't qualify for Medicaid, but don't quite make enough for commercial plans to be affordable. In 2015, the Legislature passed a bill to convene a workgroup to make recommendations to the Legislature on how a BHP should operate in Oregon. HB 4017 directs the Department of Consumer and Business Services to develop a "blueprint" for BHP and apply for a state innovation waiver — the next formal step in advancing a proposal — and allocates $415,000 to DCBS to pay for the planning and actuarial work.

    I'm proud of the investments that Oregon continues to make in mental health care and services, but we still have a long way to go to improve health care in our communities. Here are a few ways to take action:

Volunteer. Across Oregon, there are many great organizations providing help to people who are affected by mental illness, such as the National Alliance on Mental Illness (NAMI). Click here for information on NAMI Lane County and here for information on NAMI Douglas County.



Spread awareness and fight stigma. Although many Oregonians are affected by mental illness, damaging stigmas continue to hurt those affected. Often, individuals can feel isolated or shamed due to their condition, and never seek adequate treatment as a result.





DHS Town Hall: June 22

    On Wednesday, June 22, the Department of Human Services (DHS) will hold a town hall in Eugene from 1-3 p.m. at Lane Community College (Ctr. for Meeting & Learning, #104). This meeting, part of a statewide tour, is meant to provide Oregonians an opportunity to provide input and feedback to DHS on its programs, services and priorities for the 2017 budget and legislative session.

    The town hall will cover programs and services in the following areas:

Child Welfare

Aging and People with Disabilities

Intellectual/Developmental Disability Services

Self-sufficiency Programs

Vocational Rehabilitation

DHS Director's Office and other Central Services





Community Meeting about Family Caregiver Respite: June 14

    Oregon has more than 460,000 people who provide unpaid care for adults or loved ones. This care could be providing transportation or help with meals and yard work. Or it could be more intense like medication management, bathing, dressing, or other personal care. While caregiving can be personally rewarding, it can also lead to mental, financial and physical stress that can impact the health of the caregiver.

    Caregivers need short breaks now and then. AARP calls this "respite." It helps caregivers take care of themselves, and also leads to being able to provide better care for their loved one.

    AARP Oregon wants to hear your thoughts on how access to and effective usage of respite can be improved in Oregon. They are holding a community meeting in Eugene on June 14 from 4-6 p.m. at the Hilyard Community Center. AARP will share some ideas and invite attendees to share theirs with the aim to ensure that Oregon families can stay together and in their own homes as long as they wish, and enjoy the independence, choice, and dignity they deserve.

    For more information and to RSVP, please visit: http://aarp.cvent.com/events/aarp-or-family-caregiver-respite-meeting-eugene-or-06-14-16/event-summary-7fbc9bb461a349bc86b1623306607f31.aspx.


Oregon Hospitals Now Offer Price Estimates

    Every hospital in the state can now offer a good-faith estimate for scheduled hospital services within three business days. This means that consumers looking out-of-network or without insurance can understand their potential expenses in advance. To facilitate contacting hospitals for estimates, the Oregon Association of Hospitals and Health Systems has added a "cost estimates" tab to each hospital profile on www.oregonhospitalguide.org. Searching by zip code or hospital name on the site, consumers can find direct links to the hospitals cost estimates line, as well as their financial assistance policies.


2016 Session Accomplishments: Jobs, Economy & Workforce

    Continuing with this e-bulletin, I'm providing in-depth summaries of bills passed during the 2016 session by subject area. A comprehensive listing of accomplishments from the 2016 session related to jobs, economy and workforce — by Senate/House bill and in numerical order — follows:

Senate Bills

    SB 1544 - Extending Unemployment Insurance Eligibility for Apprentices: Apprenticeship programs are a key way for many to gain middle-class financial security. For some apprenticeship programs in Oregon, like sheetmetal workers, the unpaid classroom training program lasts longer than the amount of time an individual is eligible for unemployment insurance. To ensure apprentices across trades are able to receive wages or unemployment benefits for the full duration of their training, this legislation extends their window of eligibility from five to ten weeks.

    SB 1565 - Encouraging Small Business Growth and Expansion: This legislation allows cities and counties to provide a property tax exemption, subject to specific conditions, for growing businesses making real property upgrades. Eligible companies must demonstrate job growth.

    SB 1583 - Providing Support to Oregon's Small Businesses: The Office of Small Business Assistance within the Oregon Secretary of State's Office provides technical and regulatory assistance to Oregon's small businesses. This legislation expands the functions of the office to include coordination with, and assistance to, county and municipal governments. This will help small businesses interact more effectively with their local governments and remove barriers.

    SB 1589 - Expanding Access to Capital for Small Businesses: This legislation expands access to capital for small businesses to grow, hire new employees and retain existing staff. It modifies certain eligibility criteria for loans administered from Business Oregon's Credit Enhancement Fund. The Fund, which provides loan insurance to assist businesses in obtaining access to working capital or fixed-asset financing, will provide much-needed assistance to small businesses through Oregon, mostly in smaller and rural communities.

House Bills

    HB 4037 - Building High-Production Solar Power Plants: This legislation directs the Oregon Business Development Department to establish a program to provide incentives for the construction of high-production solar power plants in Oregon. Building more solar energy facilities in Oregon will lead to a broader base of clean, renewable power and construction of the plants will provide hundreds of jobs in rural Oregon.

    SB 4044 - Modernizing Record-keeping Regulations for Pawnbrokers: Currently, pawnbrokers must keep a log of every transaction made in a pawn shop — in electronic or paper form — and transmit these records to local law enforcement. For firearms transactions specifically, a hard copy of the record must be hand-delivered or mailed to local law enforcement on the same day as the purchase. This legislation reduces this regulatory burden on pawnbrokers by allowing any registers — including firearms transaction records — to be kept and delivered to law enforcement in electronic form.

    HB 4084 - Local Government Tax Incentive for Brownfield Cleanup: This legislation authorizes local governments to provide a property tax incentive program to clean up brownfield sites, which are contaminated parcels of property that are hazardous for humans and environmental health. It gives local governments the ability to create and shape their own tax incentive program to help communities overcome the high costs of brownfield cleanup and enable economic development, as well as improved property values and a better standard of living.

    HB 4086 - Extended Unemployment Support for Workers in a Lockout: This legislation provides an additional 26 weeks of Unemployment Insurance benefits for workers who have been shut out of their jobs as part of a lockout by their employer. The bill originated from a lockout at a steel factory in Albany where the employer shut workers out of their jobs as part of a bargaining strategy. The bill applies to the group of workers affected in the Albany situation as well as future workers who are affected by an extended lockout.


Nominations for Governor's Volunteer Awards

    Reports show that there are over one million volunteers in Oregon, meaning that 32.7 percent of our residents volunteer, and that over 137 million hours of service are performed in Oregon each year! What better way to celebrate this great achievement in our state than to recognize the volunteers themselves? That's why the Oregon Commission for Voluntary Action & Service (also known as "Oregon Volunteers") is seeking nomination of individuals and organizations for the 2016 Oregon Governor's Volunteer Awards.

   Oregon Volunteers has officially launched the nomination process for the 2016 Governor's Volunteer Awards. Each year these Awards recognize individuals and organizations for their dedication and determination in promoting volunteerism in Oregon. Awards are given in both regional and statewide categories. Nomination information can be found at: www.oregonvolunteers.org/events/gva. Please help by nominating individuals or organizations.