If you're having trouble viewing this message, please visit my legislative web page at http://www.leg.state.or.us/prozanski/, click on "News" in the lower left-hand column and scroll down.

Dear friends,

    The 2015 legislative session adjourned on July 6, and I am proud of what we accomplished in five months. For the first time in nearly a decade, the Legislature delivered a state budget that reinvested in essential services and funded innovative programs. We passed an early and robust K-12 school budget and expanded grants for students at Oregon's colleges and universities. We bolstered our support for seniors, victims of domestic violence, and vulnerable Oregonians. We expanded critical state programs like Employment Related Day Care and made a significant investment in affordable housing for those Oregonians who have been left behind in this economic recovery. We continued to make investments in strategic economic development tools and workforce training.

    The Legislature passed bills that dramatically increased voter access, protected consumers against unfair business practices, and expanded background checks to all gun sales. We doubled the statute of limitations for rape and other first-degree sex crimes, put in place regulations for recreational marijuana, and implemented a clean fuels standard to reduce carbon emissions and provide new economic opportunities for Oregon.

    As always, I want to extend my deepest gratitude to you, the residents of Senate District 4, for allowing me to serve and represent you in the Oregon Legislature. The first set of "legislative days" for the 2015 interim will be September 28–30. This is when the various committees will hold informational hearings and discuss legislative concepts for the 2016 short session in February. You can review committee agendas (once posted) and watch live hearings using the Legislature's online information system.

        On August 6, I had the opportunity to visit operations at the Cable Crossing Fire near Glide, including the fire camp and helibase. Fellow community leaders and I learned about Oregon's coordinated fire-suppression system. We discussed initial attack successes and community outreach for the Cable Crossing Fire, as well as the unified command, Conflagration Act declaration and FEMA funding for the Stouts Creek Fire. Please see below for a fire protection update. While they deserve our constant gratitude, I'd like to particularly thank the Oregon Army National Guard for assisting with ongoing fire suppression efforts at the Stouts Creek Fire. Two HH-60M Blackhawk helicopters with crew members and support personnel were dispatched to the Roseburg Municipal Airport (photo). I also want to thank all of the community members from the district who have assisted the many fire crews who are fighting fires around the state.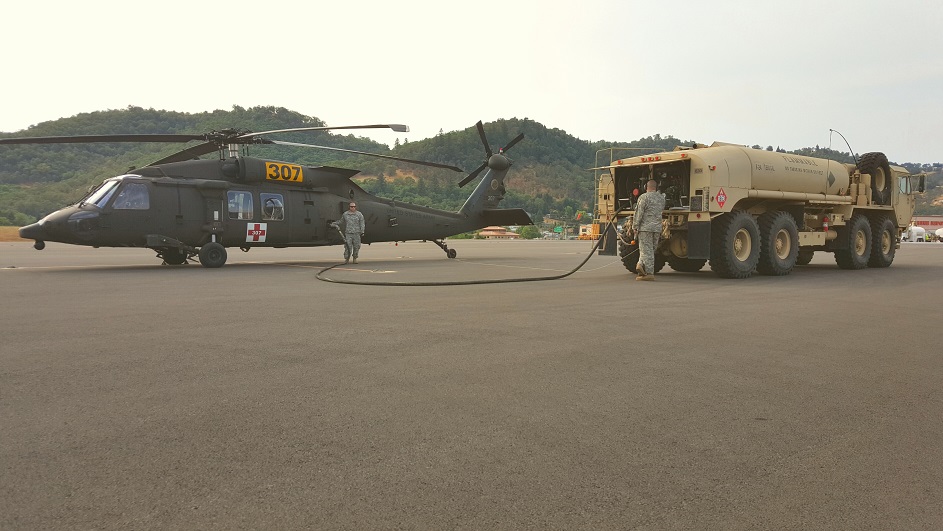 Below you will find a list of highlights from the 2015 legislative session. In future editions of this e-bulletin, I will provide more in-depth summaries by subject area. In this edition, you will also find information on:

        - Successes for Senate District 4
        - SB 941: Closing the Final Loophole in Oregon's Background Check Law
        - Other Session Accomplishments
        - Latest Revenue Forecast
        - Scam Alert: Hackers Target IRS Website
        - 2015 eVets News
        - Fire Protection Update
        - Roseburg Angel Investor Network (RAIN) Applications Now Open
        - Roseburg Area Chamber Project Leadership Program
        - ODFW Emergency Fishing Restrictions to Protect Native Fish
        - Summer Road Construction
        - Be Prepared for the "Big One"
        - From the Extension Service: Ways to Conserve Water in the Garden

    I hope this information is helpful and informative for you or someone you know. As always, I welcome your ideas for legislation, comments, questions or concerns by phone, mail or e-mail.

                                                              


Successes for Senate District 4

    Before and during the 2015 legislative session, I met with and heard from many of you about what issues and bills you cared about, and did my best to reflect our district's priorities. I am proud to have helped deliver the following successes for our communities:

Small School District Support - I sponsored extending the Small High School Grant Fund until 2020. SB 667 provides $2.5 million in grants each year to small and rural high schools, which traditionally have higher costs per student than larger schools. With these funds, high schools in Glide, Pleasant Hill, Oakland, and many other schools in rural Oregon will be able to continue to provide the best education they can for their students.

Blackberry Jam Fishing Derby - I sponsored a bill to help the Blackberry Jam Festival in Lowell, whose annual fishing derby was at risk of being cancelled due to Oregon's fishing laws. The Jam's derby raises funds for programs at Lowell High School by selling pikeminnow fish. SB 958 makes changes to Oregon law by allowing a new type of license for hosting fundraising fishing derbies like the Jam's.

Amtrak Cascades Rail Service - To keep our communities connected to our regional economy, I prioritized funding to maintain the Amtrak Cascades Rail Service, which includes two daily round trips between Eugene and Portland.


SB 941: Closing the Final Loophole in Oregon's Background Check Law

    I am proud to be the author and one of four chief co-sponsors of SB 941. As a prosecutor for the past 28 years and as a gun owner for more than 45 years, I saw the need to extend Oregon's successful 25-year-old background check law to private transfers of guns that occur outside of gun shows. Since 2001, Oregon law has required all gun transfers at gun shows – including private transfers – to have a criminal background check on the buyer before the transfer can take place. SB 941 extended background checks to private transfers that do not occur at a gun show.

    I think it's important that SB 941 closed a loophole that allowed felons to buy guns, particularly on the internet. In online ads, some internet sites boldly state, "No background check required." Felons have no trouble finding people willing to sell them weapons online. A 2013 survey of state prison inmates in 13 states who were convicted of gun offenses found that nearly 96 percent of the inmates who were prohibited from possessing a gun at the time of the crime obtained the firearm through an unlicensed private seller.

    According to the state police, approximately 2,000 gun transfers are denied every year because the buyers' criminal history prohibits them from possessing guns. This is why it was important to extend Oregon's background-check law to all private sales, not just gun shows.
SB 941 also included reasonable exceptions to the background-check requirement. Family members may transfer a gun to another family member without a background check. Gun owners also may temporarily loan their gun without a background check to another individual for specifically listed reasons including hunting, repairs and safety training.

    SB 941 will provide the general public and police greater safety. States that have enacted universal background check laws have reported 48 percent fewer law enforcement officers killed with handguns that are not their own, 46 percent fewer women shot by intimate partners, and 48 percent less gun trafficking. SB 941 provides a reasonable, logical and appropriate means of limiting access to guns by felons and people suffering a mental illness crisis.


Other Session Accomplishments

    The following is a general listing by subject area of important legislation that passed during the 2015 session. In future editions of this e-bulletin, I will provide in-depth summaries by area. In the meantime, more information can be found using the Legislature's online information system.

The 2015 legislative session:

Invested in Education and Workforce Development

Put kids first by protecting school funding and prioritizing early childhood education (HB 5016, HB 5017, SB 213)


Helped more Oregon students afford higher education by supporting colleges, universities, and financial aid (SB 81, HB 5024, HB 3063, SB 932)


Promoted career training by connecting students with apprenticeships, community colleges, and opportunities they need to get family wage jobs (HB 5016, HB 3072, HB 2728, SB 418)
Strengthened Oregon Businesses and Created Family Wage Jobs
Ensured Oregon-grown businesses have the resources they need to expand and create jobs (SB 5525, HB 2734, SB 482, HB 3239, HB 2280)


Invested in roads, transit, aviation and rail to keep our economy on track (HB 5005, HB 5030, HB 5040, HB 2274)


Promoted innovation in clean energy to support Oregon companies and power our economy (SB 324, SB 5510)

Stood up for Rural Oregon Communities

Kept our forests healthy and productive to support rural economies and natural habitats (HB 5024, HB 5019, HB 2997, HB 2998)


Prioritized critical infrastructure improvements to keep rural communities moving (SB 306)


Supported Oregon farmers by more efficiently using and storing water for agriculture (SB 266, HB 2400, HB 5030, HB 5005)

Fought for Working Families and Struggling Oregonians

Made sure hard-working Oregonians can support their families and save for retirement (SB 454, HB 2960, HB 2007, HB 2015)


Ensured Oregonians can access mental health services where and when they need them (SB 832, SB 226, SB 5526, SB 5506, SB 144)


Held insurance companies accountable for dealing with consumers and small businesses fairly (SB 411, HB 2605)


Ensured Efficient Government to Protect Critical Services

Protected taxpayers from waste by strengthening contracting laws and scrutinizing tax credits (HB 2171, HB 2375, SB 7)


Stretched every tax dollar by ensuring state government serves Oregonians efficiently (HB 3535, HB 2219, HB 2173)


Kept our communities safe by prioritizing emergency services and focusing on crime prevention (SB 941, SB 525, SB 3, SB 5531, HB 2270, HB 3503, SB 5506)


Latest Revenue Forecast

    The state's most recent revenue forecast confirmed that Oregon's economy continues to steadily grow and pick up steam. Additional resources projected in the forecast allowed us to make targeted investments in critical state services, bolster our education budget, and set aside a prudent funding base for the future. I was especially happy that at least 40 percent of additional resources reflected in the forecast are being dedicated to the K-12 budget. It means more than $105 million more for Oregon schools, bringing the total school budget to an historic $7.361 billion.

   Despite this good news, we must not lose sight of our obligation to make sure all Oregonians share in the economic recovery. I am focused on building an economy that works for everyone, especially those Oregon families and small businesses that are still struggling to get by.

    Here are the revenue forecast details:

2013-15 Revenue - The General Fund net revenue forecast for the 2013-15 biennium increased $155.6 million from the March 2014 forecast, with a $4.2 million increase in Lottery Funds. The General Fund increase means both a projected personal income kicker and a significantly higher beginning balance for the 2015-17 biennium.


Economic Outlook - Oregon's economic recovery is stronger than the national recovery, and continues to be stable and growing in the short term.  Wage and job growth were stronger than expected in the last forecast, and this pace is expected to continue for another two years before slowing as the strongest phase of the economic recovery passes.


Personal Kicker - A $477.5 million personal income kicker is projected for 2015, largely due to very strong projected April 2015 tax filings from investment income and 2013 Special Session revenue increases ($185 million over the kicker threshold).  The revenue lost to the projected personal income tax kicker is felt mostly in the 2015-17 biennium.  Calculations to determine if a kicker is triggered do not occur until July 2015.*


Corporate Kicker - A $61.3 million corporate kicker is projected to direct $61.3 million to K-12 funding (Measure 85, 2012).


2015-17 Revenue - Strong General Fund and Lottery Fund growth projections offset much of the revenue lost to the kicker, so the forecast for the 2015-17 biennium is increased by $463.2 million (see chart below).  About $106 million of the increase will be dedicated to K-12 education under HB 5017.


Risks to economic and revenue growth - In addition to uncertain national fiscal policy and growth, and the strength of the housing market recovery, drought and wildfire risks threaten rural economic growth and state revenue growth. The robust pace of recovery growth reflected in today's forecast is only expected over the next two years, after which growth expectations are significantly reduced.

*Note on the personal kicker: The 2011 Legislature changed the return mechanism for the personal income tax kicker from a refund back to a credit, so taxpayers would receive their kicker through a credit on their 2015 income tax return rather than through a mailed refund check. Refund amounts are based on a taxpayer's tax liability before tax credits. For more details on how the kicker works, see: https://www.oregonlegislature.gov/lro/Documents/Basic%20Facts%202015.pdf.

    The next revenue forecast is due to be released by the state Department of Economic Analysis on August 26.


Scam Alert: Hackers Target IRS Website

    In June, an organized crime group stole the personal financial information of more than 104,000 taxpayers directly from the Internal Revenue Service (IRS) website. Stolen information includes Social Security numbers, phone numbers and mailing addresses. While the IRS said it would notify affected taxpayers about the incident, this breach highlights what could happen when personal information is sold on the "black market." Fraudsters who purchase personal information can open bank accounts, credit lines and steal future tax refunds.

    Oregon's attorney general has several tips to help protect your personal information and detect scams:

Use "Multifactor Authentication:" This is when access to online accounts can only be accessed by successfully presenting several separate authentication stages. If this service is offered to you, always turn it on. It usually involves sending you a text with an additional code to enter when logging-in.


Change Your Passwords: It is always a good idea to change your passwords a couple of times a year. Make sure these passwords are varied and unique, with capitals, numbers and special characters.


Don't Rely on Security Questions: Websites often use security questions such as, "What is your mother's maiden name?" or, "What high school did you go to?" to recover a user's account if the password is forgotten. Unfortunately, scammers can often guess the answers to these questions or find them online. Pick a question that only you know the answer to, or answer the question with an alternate password.


Monitor Your Credit: There are a number of free credit monitoring services out there that can help you keep track of your credit. It is best to check your credit often and immediately report any inconsistencies. Visit www.annualcreditreport.com or call 1-877-322-8228 to order a free credit report and review it for errors.

    If you have fallen victim to an IRS-related scam, file a complaint with the Oregon Department of Justice online at www.oregonconsumer.gov or by phone at (877) 877-9392.


2015 eVets News

    Click here to view the latest edition of eVets News, a publication of the Oregon Department of Veterans' Affairs. In this issue, you'll find:

A Final Salute And Military Honors: Nineteen Veterans Interred at Willamette National
Director's Message: Building Momentum to Better Serve All Generations
Letter to the Editor: Delighted to See My Father's Name Published
70 Years Young: ODVA Celebrates
2015 Legislative Session: Veteran Legislation Recap
Civil War Vets Markers Dedicated
Girl Scout Project Is Memorable
Japanese Good Luck Flags Returned to Families
You Aren't Alone: Story from a Vietnam Veteran
A World Divided, America United: WWII 70 Years Later
POW/MIA Flag Bill Signed by Governor
Congress Passes Law Creating Veteran ID Cards
Historical Society Salutes Vets
Education Department Offering Help to Corinthian Students
U.S. Coast Guard Celebrates 225 Years


Fire Protection Update
Courtesy of the Oregon Department of Forestry

    The 2015 fire season started early and abruptly, prompted by a warm winter with little snowpack and ongoing drought conditions. So far this season, drought conditions, coupled with dry lightning storms and extremely high temperatures, have resulted in significant numbers of fires across the state. As of July 30, the Oregon Department of Forestry (ODF) had reported 605 fires, well above the 10-year average for this time of year.


Current Fires in Our Area

    For the latest updates on the Stouts Creek and Cable Crossing fires, click here. At last check, the Stouts Creek Fire was at 24,471 acres and the Cable Crossing Fire was at 1,857 acres.

Rapid response key to early successes

    Contracted statewide severity resources, specifically airtankers and helicopters, have played a key role in keeping fires small. ODF has seen great success in stopping fires at 10 acres or less by proactively and strategically positioning these resources where the fire danger is at its greatest.

Two fires that demonstrate success

    The Fourth of July weekend added a number of challenges this season as fuel conditions were unseasonably dry. One of the fires ignited during that weekend was the Niagara Fire, adjacent to Highway 22 near Detroit Lake. Heavy dry fuels and steep terrain challenged suppression efforts on this fire. With the aid of the contracted airtankers and helicopters, local ODF and USFS crews ultimately contained the fire to less than 100 acres.

    Dry lightning moved through Northeast Oregon during the week of July 20-24, sparking numerous fires. Most of the fires were stopped at 10 acres or fewer, however, the Rye Fire in Wallowa County grew rapidly due to remote conditions, dry fuels, and challenging terrain. A local fire management team was able to stop this fire at around 750 acres.


Roseburg Angel Investor Network (RAIN) Applications Now Open

    In 2013, the Roseburg Angel Investor Network launched its first ever "angel investment competition and conference" in Roseburg, successfully investing $230,000 into one local business. Total amount invested in two years is more than $400,000. Applications are open for 2015. Click here to learn more.

    RAIN is a group of private investors who gather to invest in early stage companies, for the purpose of strengthening the entrepreneurial climate and larger economy of Douglas County.


Roseburg Area Chamber Project Leadership Program

    The Roseburg Area Chamber of Commerce is accepting applications for participants in the 2015-16 Project Leadership program which will commence on Thursday, September 10. The application can be found online, here. Now in its 27th year, the mission of the Roseburg Area Chamber of Commerce's leadership program is to educate, inspire and strengthen community-minded individuals through increased business and community awareness and to promote civic activism through volunteerism. Not your typical leadership program, Project Leadership provides participants with a comprehensive awareness of the many facets of Douglas County and gain a deeper understanding of how our community works, directly from its leaders. The nine-month program not only imparts knowledge about our region, but fosters dedication to our community as participants learn about opportunities for involvement to help create a more vibrant future for Douglas County.


ODFW Emergency Fishing Restrictions to Protect Native Fish

    The Oregon Department of Fish and Wildlife (ODFW) has curtailed fishing hours on most of Oregon's rivers to avoid additional stress on native fish already suffering from high water temperatures and low stream flows from this year's drought. Elevated water temperatures have led to salmon, steelhead, and sturgeon deaths in several rivers. ODFW has closed all waterbodies defined as streams in the 2015 Oregon Sportfishing Regulations above tidewater (where applicable) to fishing for trout salmon, steelhead and sturgeon from 2 p.m. to one hour before sunrise.

    Some streams will remain open for angling under normal hours because they are less prone to high water temperature risks due to springs, tides, cold water releases from some dams and high elevations. Streams in our area that will remain open for angling under normal hours are:

The McKenzie River and its tributaries
The Middle Fork of the Willamette River below Dexter Dam
The Middle Fork of the Willamette River and its tributaries above Lookout Point Reservoir
Alton Baker Canoe Canal

    On days when temperatures soar, anglers can do their part to reduce the stress on fish by adopting the following measures:

Fish early in day when water temperatures are cooler.
Use a thermometer to check water temperatures frequently. Stop fishing when temperatures exceed 70 degrees.
Consider changing locations to high elevation lakes or shaded streams near headwaters. These places are often cooler.
Use barbless hooks so you can release fish easily without harming them.
Use appropriate gear and land fish quickly. The longer the fight, the less likely the fish will survive.
Keep the fish in the water when you unhook it and cradle the fish upright until it revives enough to swim away.
Use your judgment. If conditions where you want to fish seem especially severe (low, hot water), consider fishing somewhere else where water conditions are better.
Check the regulation update pages on the ODFW website before you head out to make sure temporary emergency regulations have not been put in place for the waters you want to fish.

    To check the weekly Recreation Report for updates on stocking, water conditions and boating access, visit: http://www.dfw.state.or.us/RR/index.asp.


Summer Road Construction

    As you've probably noticed, it's a busy season for construction crews on Oregon's roads. Remember, you can always check ODOT's revamped TripCheck.com to "know before you go." In addition to more available camera views, the new TripCheck features maps that allow you to pan and zoom. Please use caution when driving through work zones. You may encounter traffic restrictions, lane closures, detours and delays. Watch for signs, flaggers and pilot cars to guide you through construction zones. Above all, please drive carefully!  


Be Prepared for the "Big One"

    A recent article in the "New Yorker," called "The Really Big One," has drawn a lot of attention both locally and nationally to the damage a Cascadia earthquake and tsunami will cause, and emergency planners have been taking the opportunity to raise awareness about how individuals can prepare, and how the region and Oregon is also continuing to prepare and mitigate for the looming threat.

    One project that the Oregon Office of Emergency Management (OEM) and others are working on is a Cascadia Playbook to synchronize resources during Cascadia and other emergencies. The Cascadia Playbook is a cross-cutting emergency management tool for the state of Oregon that supports various, existing plans and efforts for the first 14 days of a catastrophic incident. Oregon has also committed to being a full partner with Washington, Idaho and FEMA, in the development and presentation of a regional exercise called Cascadia Rising. The statewide exercise planning is in concert and collaboration with the regional effort for Oregon's largest emergency management exercise ever that is scheduled for Spring 2016.

    Beyond the state's organized efforts, individuals and families can prepare by striving to be self-sufficient during a disaster. A good goal is to work toward having two weeks of emergency supplies ready for an emergency. For emergency kits, it's a good idea to add new items over time. Click here for ideas on how to assemble an emergency kit.

   Oregon OEM urges all Oregonians to participate in the "Great Oregon ShakeOut" earthquake drill on Oct. 15 at 10:15 a.m. It is part of the nation's largest earthquake drill. Last year more than 390,000 Oregonians participated. You can register to participate this year, here: http://shakeout.org/oregon/register/. For more information on preparedness, visit the Oregon Office of Emergency Management preparedness page: http://www.oregon.gov/OMD/OEM/Pages/preparedness_information.aspx.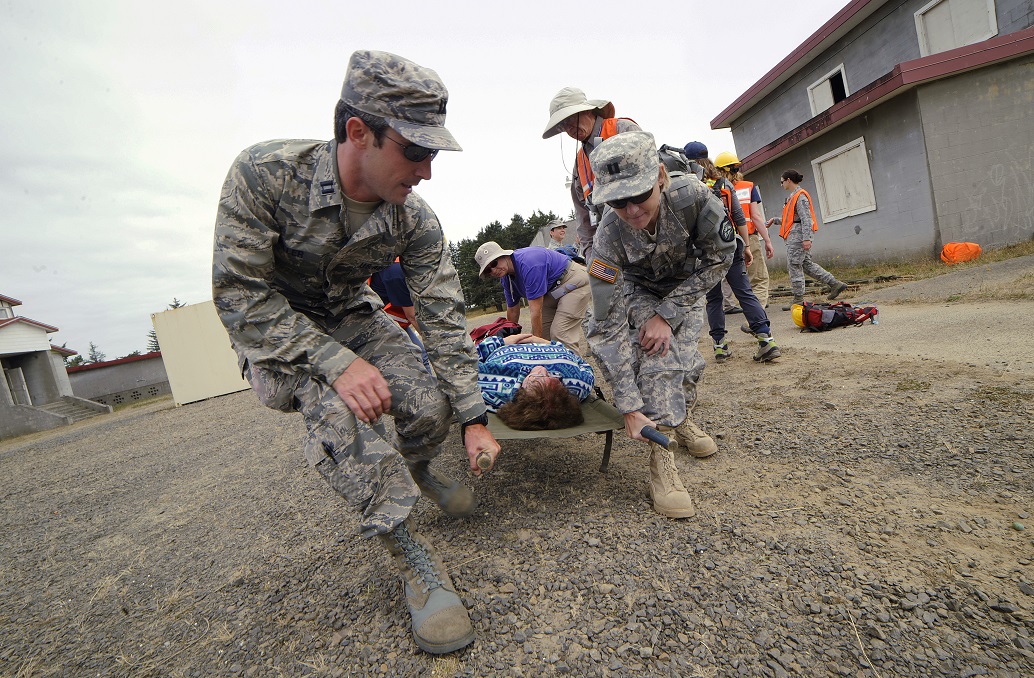 The Oregon National Guard recently concluded a two-day, multi-agency, multi-state disaster preparedness exercise.


Ways to Conserve Water in the Garden During a Dry Year

     The Oregon State University Extension Service offers the following tips to conserve water in gardens and yards this summer:

Water your lawn more deeply and less frequently. If you typically water three to four times per week, it's okay to cut that to one to two times per week.
Plant drought-tolerant turfgrass. Tall fescue is hardy, wide-bladed and deep-rooted. Perennial ryegrass and creeping fescue can also tolerate some dryness.
Choose drought-tolerant plants such as creeping zinnia and sea poppy for your landscape. Native plants such as the Oregon iris and Pacific wax myrtle tolerate dry summers well.

For most plants, watering deeply and close to the roots is more important than frequency. Study each plant's watering requirements. For vegetables, soak soil about six inches deep. Water to a depth of about a foot and a half for shrubs. Trees need water about two feet deep.
Mulching is critical because it improves soil structure, helps retain water in the ground and reduces weeds. Use compost-based mulches for vegetables and woody mulches for ornamental plants. Spread the mulch about two to three inches thick on the soil around your garden.
Water early in the morning before the day heats up.
Use an efficient irrigation system, such as soaker hoses or drip irrigation. If you choose a sprinkler system, select a low-pressure, in-ground system that does not shoot up in the air.