Fairbanks Memorial Hospital awarded $25,000 Association of State and Territorial Health Officers grant to support their work to expand breastfeeding supports.
The overall goal of Fairbanks Memorial Hospital's (FMH) project is to expand services focused on the evidence-based Steps 3 and 10 of World Health Organization's Ten Steps to Successful Breastfeeding.
FMH has an extensive service area encompassing two military bases, and the northern interior villages of Alaska.
FMH will work with an advisory committee consisting of mothers and providers to establish prenatal and postpartum breastfeeding supports, including an outpatient breastfeeding clinic and prenatal community referral system. Pregnant women in opioid use treatment will be offered consultation and support to safely feed their babies. The clinic will bill coverage plans, including Medicaid, for lactation services as allowable.
FMH recognizes breastfeeding as an issue of health equity and will include training on adverse childhood experiences and trauma informed care as an integral component of their efforts. FMH describes access to advice at the right time for the mother is a key issue, so prenatal and postpartum support extending beyond the traditional bounds of time in hospital are critical components of their plan.
The Alaska Breastfeeding Initiative, a collaborative effort of the Alaska Division of Public Health Sections of Chronic Disease Prevention and Health Promotion and Women's, Children's and Family Health, funded by a CDC grant to Chronic Disease Prevention and Health Promotion, supports FMH's work and is committed to provide ongoing support and technical assistance going forward. 
Congratulations to FMH!
<<<<<<<<<<<<<<<<<<<<<<<<<<<<<<<<<<<<<<<<<<<<<<<<<<<<<<<<<<<<<<<<<<<<<<<<<<<<<<<<< 
Two day web based learning opportunity for very early bird Alaskans.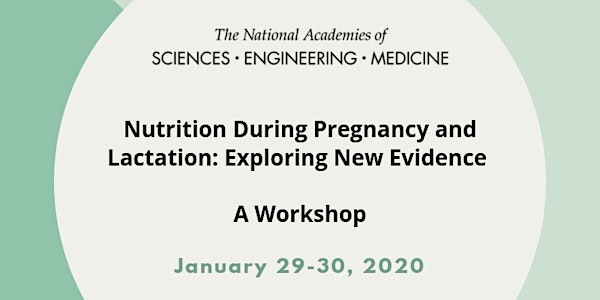 This 2-day public workshop will explore the state of the science on a range of topics related to nutrition during pregnancy and lactation.
The National Academies of Sciences, Engineering, and Medicine will host this FREE two-day workshop on January 29-30, 2020 that will explore the current state of the science on nutrients, dietary patterns, nutritional supplements, and other nutrition-based topics relevant to pregnancy and lactation. The workshop topics will include discussion of equity in access to nutritional care for women of childbearing age.
Join us on January 29-30, 2020 for this free event. Register to attend via webcast:
https://www.eventbrite.com/e/nutrition-during-pregnancy-lactation-exploring-new-evidence-a-workshop-tickets-76824870255?utm_source=HMD+Email+List&utm_campaign=d485ceb868-EMAIL_CAMPAIGN_2019_11_27_04_37&utm_medium=email&utm_term=0_211686812e-d485ceb868-180628753&mc_cid=d485ceb868&mc_eid=394493a1f2#add-to-calendar-modal
Please note: In person seating is full and closed.
Wed, Jan 29, 2020, 8:00 AM –Thu, Jan 30, 2020, 5:30 PM EST
>>>>>>>>>>>>>>>>>>>>>>>>>>>>>>>>>>>>>>>>>>>>>>>>>>>>>>>>>>>>>>>>>>>>>>>>>>>>>>>>>>>>> 
New Recommendations Released on Bedsharing to Promote Breastfeeding
New Rochelle, NY, January 7, 2020—Leading experts representing The Academy of Breastfeeding Medicine (ABM) have released new evidence-based recommendations regarding the benefits and risks of bedsharing for mother-infant pairs who have initiated breastfeeding and are in home settings. The new protocol is published in Breastfeeding Medicine, the official journal of the Academy of Breastfeeding Medicine published by Mary Ann Liebert, Inc., publishers. To read the protocol free on the Breastfeeding Medicine website go to:
https://www.liebertpub.com/doi/10.1089/BFM.2019.29144.psb?utm_source=sfmc&utm_medium=email&utm_campaign=BFM%20PR%20Jan07%202020&d=1/7/2020&mcid=403890921
In "Bedsharing and Breastfeeding," Peter Blair and colleagues cite published evidence to support the overall conclusion that close nighttime proximity facilitates breastfeeding duration and exclusivity. Safe bedsharing is possible and the existing evidence does not support the conclusion that bedsharing among breastfeeding infants causes sudden infant death syndrome (SIDS) in the absence of known hazards. Hazardous circumstances include sleeping with an adult on a sofa or armchair; sleeping next to an adult impaired by alcohol, medications, or illicit drugs; tobacco exposure; preterm birth; and never having initiated breastfeeding.
The protocol emphasizes that all parents should be educated on safe bedsharing, with the understanding that bedsharing is very common, and when bedsharing is unplanned, it carries a higher risk than planned bedsharing.
Arthur I. Eidelman, MD, Editor-in-Chief of Breastfeeding Medicine, states: "This is a most welcome balanced statement that emphasizes the positive value of safe bedsharing while properly delineating the clinical and environmental hazards that should be avoided."
"Having conversations about safe bedsharing is important for removing stigma around the topic and for facilitating open and honest dialogue between parents and providers," said Alison Stuebe, MD, president of the Academy of Breastfeeding Medicine.