HSI targets Orange County vendors suspected of selling designer knockoffs
U.S. Immigration and Customs Enforcement (ICE) sent this bulletin at 11/16/2012 05:06 PM EST
HSI targets Orange County vendors suspected of selling designer knockoffs
Nearly $1 million worth of counterfeit goods seized during 6-month crackdown
Having trouble viewing this email? View it as a Web page.
SANTA ANA, Calif. — Special agents with U.S. Immigration and Customs Enforcement's (ICE) Homeland Security Investigations (HSI) executed state search warrants this week against five local vendors and seized more than $200,000 worth of goods, capping a six month crackdown on Orange County retailers suspected of selling counterfeit merchandise called Operation Fashion Faux Pas.
This week's enforcement actions are the culmination of investigative activities initiated by Orange County HSI special agents in May to identify retailers involved in the theft of intellectual property. Over the course of Operation Fashion Faux Pas, investigators conducted a total of 18 warranted and consensual searches resulting in the seizure of more than $820,000 worth of counterfeit goods. That figure is based on the estimated retail value of the merchandise had it been genuine. The seized goods, including purses, jewelry, sunglasses, cosmetics and perfume, bear the counterfeit trademarks of more than two dozen well-known brands, such as Louis Vuitton, Gucci, Rolex, Hermes and Chanel.
Among the vendors targeted in this week's enforcement actions were a Tustin hair salon, a Garden Grove shoe store and several retail kiosks near the Huntington Beach pier. HSI special agents also executed warrants at private residences in Newport Beach and Westminster linked to individuals suspected of selling counterfeit items.
"As we remind consumers, buying knockoffs doesn't pay off," said Claude Arnold, special agent in charge for HSI Los Angeles. "The vendors who sell counterfeit merchandise are robbing from the legitimate companies, many of them U.S.-based, that make these products. And perhaps most important, they're hurting the men and women who depend on those companies for their livelihood."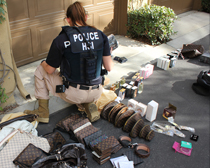 HSI received assistance with the execution of this week's search warrants from the Huntington Beach, Newport Beach, Westminster, Tustin and Garden Grove police departments. HSI also worked closely on the cases with Investigative Consultants, a private brand protection firm that provides expertise on the identification of counterfeit merchandise. The evidence is being turned over to the Orange County District Attorney's Office for review to determine if criminal charges are warranted.
So far, four Orange County vendors have been indicted on state criminal charges as a result of Operation Fashion Faux Pas. Those charged include the suppliers and proprietors of a Laguna Beach shop, Cobbler's Corner, and a Westminster beauty salon and retail outlet, Spa by Mode. Searches of both businesses turned up significant quantities of counterfeit designer accessories, including leather goods, hats and sunglasses. The August enforcement action involving Cobbler's Corner was worked jointly by HSI and the Laguna Beach Police Department.
In fiscal year 2011, intellectual property rights enforcement by HSI and U.S. Customs and Border Protection led to more than 24,000 seizures, a 24 percent increase compared to the previous year. The seized goods had a total value of more than $1.1 billion, based upon the manufacturer's suggested retail price had the products been legitimate.
According to the International Anti-Counterfeiting Coalition, product counterfeiting costs U.S. businesses $200 to $250 billion a year in lost revenue.