BETO Celebrates National Bioenergy Day
On October 22, BETO celebrated National Bioenergy Day with an interactive, educational display about the bioenergy supply chain and bioeconomy in the lobby of the Energy Department's Forrestal building in downtown Washington, D.C. The display featured infographics, videos, examples of biofuel, and factoids about bioenergy. BETO also hosted a virtual tour featuring some of the bioenergy work at the national laboratories through the Office of Energy Efficiency and Renewable Energy (EERE) Blog. The virtual tour features videos created by the national laboratories for BETO's Biomass 2014 conference this last summer. 
Racing with Relevance: Green Racing Redefines Sustainable Motorsports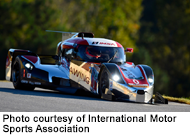 On your mark! Get set! Go green! Racing just got a whole lot greener. On October 13, the Green Challenge Award went to the Porsche team at the TUDOR Championship season-end award ceremony in New York. Reuben Sarkar, EERE Deputy Assistant Secretary of Sustainable Transportation, presented the award and called attention to the importance of partnerships in advancing transportation technologies. Read more on the EERE Blog.
Recent Funding Opportunities
BETO is focused on developing and transforming our renewable biomass resources into commercially viable, high-performance biofuels, bioproducts, and biopower through targeted research, development, and demonstration supported through public and private partnerships. To further its mission, BETO announced two funding opportunities in October.
Landscape Design for Sustainable Bioenergy Systems
Applying landscape design to bioenergy production systems is a promising approach for meeting multiple environmental, social, and economic objectives. To support landscape design approaches, BETO is accepting applicants for a funding opportunity of up to $14 million. This funding supports the Energy Department's efforts to reduce carbon emissions, as well as enhance our energy security. To learn more, potential applicants can register for an informational webinar on November 3, from 1:30 p.m. to 3:00 p.m. Eastern Standard Time.  
Targeted Algal Biofuels and Bioproducts
Assistant Secretary for Energy Efficiency and Renewable Energy, David Danielson, announced a funding opportunity of up to $25 million to improve the economics of making biofuel from algae. This funding supports the development of a bioeconomy that can help create green jobs, spur innovation, improve the environment, and achieve national energy security. View the archived webinar to learn more.
Biomass Research and Development Initiative Notice of Intent
In conjunction with the Energy Department, the U.S. Department of Agriculture, published a notice of intent to issue a fiscal year 2015 funding opportunity for the Biomass Research and Development Initiative. Projects should address feedstocks development, biofuels and biobased products development, or biofuels development analysis. It is anticipated that the request for applications will be posted to Grants.gov in November 2014.
Energy Department Announces Awardees for $13.4 Million to Develop Advanced Biofuels and Bioproducts
This month the Energy Department announced five projects that were selected for up to $13.4 million in funding:The University of Wisconsin, American Process, Inc., National Renewable Energy Laboratory, Natureworks, LLC, and Vertimass, LLC. Each will receive funding to focus on developing integrated processes for the production of advanced biofuels and chemicals. These products will not only help reduce carbon emissions, but also advance the Department's work to enable the production of clean, renewable, and cost-competitive drop-in biofuels at $3 per gallon by 2022.
EERE Blog: Five Energy Department Accomplishments in Algal Biofuels
In tandem with the release of the Targeted Algal Biofuels and Bioproducts funding opportunity, EERE published a blog post featuring five recent Energy Department accomplishments in algal biofuels. One of the most recent achievements was the release of two design case scenarios—the whole algae hydrothermal liquefaction technology pathway and the algal lipid extraction and upgrading technology pathway—from Pacific Northwest National Laboratory and the National Renewable Energy Laboratory, respectively. Read more about this and other recent algae accomplishments on the EERE Blog.
EERE Blog: Five Things to Know About Biorefinery Investments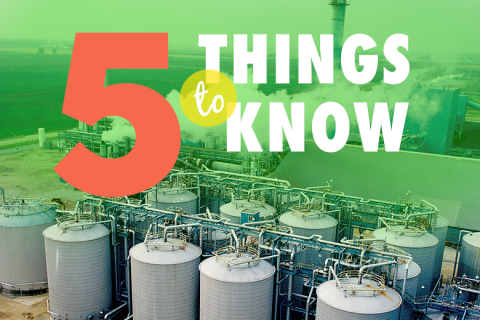 Biorefineries have been generating a lot of buzz lately—from grand openings of cellulosic ethanol biorefineries, to three new biorefineries announced for production of drop-in biofuel for the military. In conjunction with these milestones, EERE released a blog post highlighting five things for the public to know about the way the Energy Department invests in these projects.
Happy 
Fiscal 
New Year from BETO!
To celebrate the beginning of the new fiscal year, BETO has recently released some brand new tools and features on the Bioenergy Knowledge Discovery Framework (KDF) and BETO websites.
Bioenergy KDF
BETO and Oak Ridge National Laboratory released a new version of the Bioenergy KDF just in time for the new fiscal year. This new version includes the new Biomass Scenario Model Tool, based off of the Biomass Scenario Model (BSM) developed at the National Renewable Energy Laboratory. The BSM tool allows users to assess the impacts of national biofuel policies, and it is the first time that data from the BSM has been made publicly available for user-driven scenario analysis. Another key feature is the Energy Department-Funded Content page, which allows users to identify which content comes from the Department's portfolio of bioenergy research.
BETO Website
With the addition of the Education Toolbox on the Education and Workforce Development web page, students and educators can use a searchable database to easily find a variety of bioenergy resources and lesson plans. The toolbox features education-related content, including lesson plans, energy basics, and videos. Another new addition to the website is the Field to Fuel Gateway—an interactive animation that provides users with the chance to learn more about the bioenergy supply chain. By clicking through the gateway, the viewer can learn about the different technology areas that make up the supply chain while viewing pictures, graphics, and animations. You can explore both of these new features on the BETO website today!

Past Events with Bioenergy Technologies Office Representation
8th Annual Algae Biomass Summit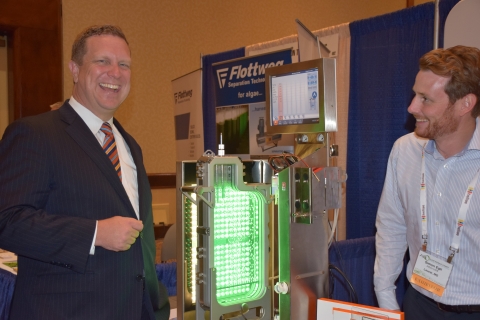 The 8th annual Algae Biomass Summit—the largest algae conference in the world—was held in San Diego, California, from September 29–October 2. This four-day event brought together industry professionals from all over the world and included an opening keynote speech by Assistant Secretary David Danielson. BETO Director Jonathan Male also attended and participated in a plenary session on the state of U.S. funding and the regulation of algae.
Southern Partnership for Integrated Biomass Supply Systems Annual Meeting
The third annual meeting of the Southern Partnership for Integrated Biomass Supply Systems was held from October 8–10, in Knoxville, Tennessee. The event kicked off from the University of Tennessee's Plant Biotechnology Building. BETO's Acting Feedstocks Program Manager, Alison Goss Eng, was also in attendance.
Bioenergy Deployment Consortium 2014 Fall Symposium
More than 50 people attended the Bioenergy Deployment Consortium's 2014 Fall Symposium on October 21­–22, in Fort Myers, Florida. BETO's Algae Program Manager, Neil Rossmeissl, delivered the opening keynote on expanding the bioeconomy. He highlighted the fact that "We need to create high-value jobs and education opportunities. The bioeconomy is an avenue to get us there in this worldwide competitive environment." The event wrapped up with a tour of the Algenol facility.
Gasification Technologies Conference
From October 26–29, more than 400 people gathered in Washington, D.C. for the 2014 Gasification Technologies Conference. BETO's Melissa Klembara, Technology Manager, presented on the current efforts of the Energy Department's Biomass Gasification to Fuels and Products Program. 
Upcoming Events with Bioenergy Technologies Office Representation