If you're having trouble viewing this message, please visit my legislative web page at http://www.leg.state.or.us/prozanski/, click on "News" in the lower left-hand column and scroll down.

Dear friends,

    Now that we're thawed out and life is returning to normal, I want to provide a year-end bulletin for your review. In late November, the legislature met for committee meetings and to consider executive appointments. The Senate Judiciary Committee, which I chair, met with the House Judiciary Committee. We held an informational meeting on marijuana legalization, among other topics. In addition to experts from Colorado and Washington who shared their states' experiences with legalization, we were honored to hear from Oregon Congressman Earl Blumaneur on his perspective with the issue at the federal level. An audio recording of the meeting is available, here: https://olis.leg.state.or.us/liz/2013I1/Committees/SJUD/Overview (click on the "play" symbol in the upper righthand corner next to the meeting date: 11/22/2013). 

    Below you will find information on:

        - December Revenue Forecast
        - Bills Effective January 1, 2014
        - Cover Oregon Update
        - Impact of the End of Federal Emergency Unemployment Compensation
        - Highway 36 Exposure Investigation Update
        - Snowed-out Fundraiser Threatens Summer Reading
        - Scam Alert: Unlicensed Payday Lenders
        - Tips for Staying Warm this Winter

    I hope this information is helpful and informative for you or someone you know. As always, feel free to share your comments, questions or concerns with me by phone, mail or e-mail. Seasons Greetings and Happy New Year to you and your family!

                                                              
 

December Revenue Forecast
(Summary provided by the Senate Majority Office)

    The December 2013 revenue and economic forecast was released in late November. The Office of Economic Analysis reported that the net Lottery and General Fund revenue forecast for the 2013-15 biennium increased $132.6 million from the September 2013 forecast. The latest forecast includes $168 million in General Fund revenue raised and dedicated during the October 2013 Special Session, which masks modest decreases of about $31 million in projected General Fund revenues and $3.8 million in projected Lottery revenues. The increased net revenues were dedicated by special session legislation, so this does not indicate that new resources are available.  However, Oregon's overall economic recovery is clearly growing stronger, and the statewide seasonally adjusted unemployment rate of 7.7 percent for October is the lowest in five years.

Economic Outlook

    Oregon's slow, steady growth is expected to continue through the rest of the 2013-15 biennium, with job gains around the state, an improving housing market and slowing public sector job cuts. Even with October's seasonally adjusted unemployment rate of 7.7 percent, the long-term unemployment remains high and middle-wage jobs have been slow to return.

    The Office of Economic Analysis also identified potential gains and risks to Oregon's economic outlook. Oregon's housing market continues to improve, and the peak of foreclosures has passed. Construction activity has increased significantly through 2013, which is expected to continue in 2014. However, federal fiscal policy and the uncertain federal budget could hurt our recovery, as could reductions in employment and services as a result of reduced federal timber payments for rural Oregon counties.

Revenue Forecast

    Expectations for General Fund revenue growth have remained largely unchanged since the September 2013 forecast, aside from the impact of tax reform measures enacted during the October 2013 Special Legislative Session. Projected Lottery revenues are decreased by $3.8 million from the September forecast primarily due to slightly lower traditional game sales and a downgraded outlook for unclaimed prizes.

    Tax collections have largely matched expectations so far in the 2013-2015 budget cycle. Personal income tax collections were $13.5 million below projections in the September forecast, and are expected to grow at modest rates for the rest of the biennium. Strong growth in corporate tax revenue is expected to continue through the biennium, and corporate collections are $18.5 million higher than expected in the September 2013 forecast.


Bills Effective January 1, 2014
(Listed in numerical order)

    Here are a few legislative highlights from 2013 that will become Oregon law on January 1, 2014:

    SB 9 - Raising Penalties for Texting While Driving: Makes Oregon roads safer by discouraging the dangerous practice of texting and driving. The law will raise the penalties for using a hand-held cell phone while driving, and fund 100 new signs across Oregon that warn motorists that using a cellphone while driving is against Oregon law.

    SB 241 - Increasing Collaboration to Boost Economic Growth: This law will help universities and cities collaborate in order to bolster economic growth. Specifically, SB 241 creates the South Willamette Valley Regional Accelerator and Innovation Network (RAIN) and appropriates $3.75 million to the effort, which enables cities to tap into the research and education expertise of Oregon's universities.

    SB 420 - Improving Awareness and Early Detection of Breast Cancer: Promotes the early detection of breast cancer by requiring doctors to notify patients of dense breast tissue indicated by a mammogram. Dense breast tissue is a risk factor for breast cancer, and it can also obscure diagnosis. This bill takes a huge step forward for addressing early detection and improving survival rates for Oregon women.

    SB 444 - Protecting Kids from Secondhand Smoke in Cars: Protects children from the harmful effects of secondhand smoke by prohibiting smoking in a motor vehicle when children are present. SB 444 prevents significant health problems and helps create more healthy environments for children.

    SB 692 - Improving Energy Efficiency Requirements for Household Appliances: Improves Oregon's requirements for energy-efficient appliances and brings them in line with those in California, which will ensure that Oregon doesn't become a dumping ground for obsolete household appliances.

    HB 2536 - Increasing Protections for Oregonians Who Suffer an Injury: In 2005, the legislature passed a law allowing injured Oregonians to sell their structured settlement agreements to vendors in exchange for a lump sum payment. One-time cash payouts can have a wide-ranging impact on the long-term financial stability of recipients. HB 2536 responds to concerns about one-time cash payouts by requiring courts to consider additional criteria and consumer safeguards before they can rule that exchanging a structured settlement for a one-time payout is in the best interest of the recipient.

    HB 3400 - Supporting Local Businesses with "Buy Oregon": Help the public keep track of "Buy Oregon" incentives that encourage agencies to buy agricultural products produced and transported entirely within Oregon, as long as the Oregon product costs no more than 10 percent above the lowest bid. This bill supports local businesses and helps grow our state economy.


Cover Oregon Update

    Like many of you, I've been frustrated by the botched rollout of Cover Oregon. Below is an update that I received from Dr. Bruce Goldberg, acting director of Cover Oregon.
 
Deadline Extended to December 27

    Oregon's insurance carriers have stepped up and are giving Cover Oregon more time to process applications. People who submitted completed applications by December 4 have until December 27 at 5 p.m. to choose a plan. That will give Cover Oregon additional time to provide people coverage through Cover Oregon.
 
Enrollments

    Cover Oregon has enrolled nearly 30,000 people, including about 7,500 in private insurance plans. They have between 25,000 – 30,000 additional completed applications to process.
 
Options for Coverage on January 1

    It is important that individuals understand what their options are for coverage starting January 1. This is particularly true for people who have not yet heard from Cover Oregon and are unsure what to do:

If you are in the Oregon Medical Insurance Pool (OMIP), you will be automatically enrolled in a new temporary program to provide time to enroll in a private plan within or without Cover Oregon. Information about the new plan can be found at: www.oregon.gov/oha/OPHP/TMIP/Pages/default.aspx.

If you have coverage today, you may be able to keep your current plan and should talk with your carrier about extending coverage through at least March 31, 2014.

If you do not have coverage today and need it by January 1, you can enroll directly with a carrier. You cannot get a tax credit when buying outside of Cover Oregon, but you can return to Cover Oregon in February and take advantage of the tax credit.


If you are Medicaid-eligible, and Cover Oregon receives your application before January 1, coverage will start January 1. If the application is received after January 1, coverage will start on the date the application is received. There will be cases where individuals are notified of their January 1 effective date after the fact. Further, there are cases where coverage will be provided retroactively. 

Cover Oregon has promised to respond to everyone who has submitted an application.

Website

    Cover Oregon's website still does not work. One of the major problems with the website was that before the rollout, the vendor did not conduct adequate testing. That is happening now. In the meantime, Cover Oregon will continue to accept and process paper applications.


Impact of the End of Federal Emergency Unemployment Compensation

    In typical times, people who become unemployed through no fault of their own may be able to receive up to 26 weeks of unemployment insurance (UI) benefits. Throughout the recent "Great Recession" and its recovery, there have been several extensions of the normal benefit periods. These extensions have changed several times, at some points permitting people to receive up to 99 weeks of benefits on a single claim for UI benefits.

    Some of these extensions have already phased out due to decreases in Oregon's unemployment rate and to federal legislative changes. Some people in Oregon are still eligible to receive Emergency Unemployment Compensation (EUC) benefits, permitting them to receive up to 63 weeks of UI benefits on a claim. These EUC benefits are federally funded UI benefits available to people who have exhausted their regular UI benefits. Unless Congress takes action to extend the EUC benefits, no one will be eligible to receive EUC benefits after December 28, 2013.

    Absent Congressional action, the end of EUC benefits will mean that some people who currently receive EUC benefits will stop receiving any UI benefits, and that others who will run out of regular UI benefits in 2014 will not be able to start receiving EUC benefits.

    At the end of December, approximately 20,000 people will be receiving EUC benefits in Oregon. Of those, about 2,200 are projected to be eligible to receive other UI benefits. The remaining 17,800 people, however, will not be able to receive any further UI benefits.

    Additionally, it is estimated that an average of about 900 people per week will exhaust their regular UI benefits in 2014. These individuals would generally have been eligible to begin receiving EUC benefits, but will not have those benefits when the program expires.


Highway 36 Exposure Investigation Update
(From the Oregon Health Authority)

    The Environmental Public Health investigation team is continuing their work to address comments received on the May 9, 2013, Public Health Assessment about pesticide use and exposure in the Triangle Lake area. They received comments, some very extensive, from 54 individuals and anticipate releasing a final version of the report in the spring of 2014.

    On August 30, 2013, the U.S. Environmental Protection Agency (EPA) was given an official "notice to proceed" for passive air sampling development. The overall budget for the project, not including EPA staff time, increased from the original estimate of $70,000 to $82,000. Extra funding was provided by EPA's Office of Research & Development, through its National Exposure Research Laboratory (NERL), because of the potential for advancing the ability to measure off-target movement of pesticide applications at a national scale.

    With NERL's assistance, some technical hurdles have been resolved, including the development of a single analytical technique that can detect the different classes of herbicides used in the investigation area. Work will begin within three to five weeks to assess the sampling device's effectiveness to be deployed in the field for as long as 128 days. Actual work on the extraction development (the way the herbicides get extracted from the air samplers) will begin in January. The project was delayed several weeks because of the federal government shutdown.


Snowed-out Fundraiser Threatens Summer Reading

    The snowy weather hit Lane Library League's Authors & Artists Fair hard on December 7. After many years of successfully raising funds for summer reading programs, the event lost money this year. About half of the authors and artists canceled, and crowds were thin, but the League couldn't reschedule without losing its rent, insurance, and publicity investment. The League's bank account is now nearly empty.
 
    As you consider charities for year-end donations, the League asks that you please consider adding it to your list. It is a 501(c)3 non-profit. Donations are tax-deductible and qualify for matching donations to the Oregon Cultural Trust. Checks payable can be sent to:

Beth Hammond, Treasurer
87728 Tiernan Road
Mapleton, OR 97453


Scam Alert: Unlicensed Payday Lenders

    The Oregon Department of Consumer & Business Services (DCBS) is seeing an increase in the use of unlicensed payday loans by Oregonians. The majority of the complaints are from consumers who agree to a loan (by an unlicensed lender) and have been charged numerous fees and excessive interest rates (200 - 800 percent). They are unaware of the laws Oregon has in place that limits the fees and interest rates in order to protect them against predatory lending, such as HB 2871, which I carried in 2007. Among the thousands of companies offering payday loans online, only three are licensed in Oregon. Once consumers enter their information – even to check for loan terms, i.e. payments, etc. – lenders have inappropriately accessed the consumers' bank accounts and debited money from their accounts without their permission.

    When seeking a payday loan, DCBS recommends that you check the proper Oregon licensing of a prospective payday lender. Click here to access DCBS's online services web page.


Tips for Staying Warm this Winter

    While our recent cold snap is in the record books, it could happen again this winter or next. According to the Eugene Water & Electric Board, simple and cost-free actions can help us stay warm and cut down on energy costs. EWEB's list of five no-cost ways to stay warm is available, here: www.eweb.org/cc/oct2012/tips.


Seasons Greetings and Happy New Year to you and your family!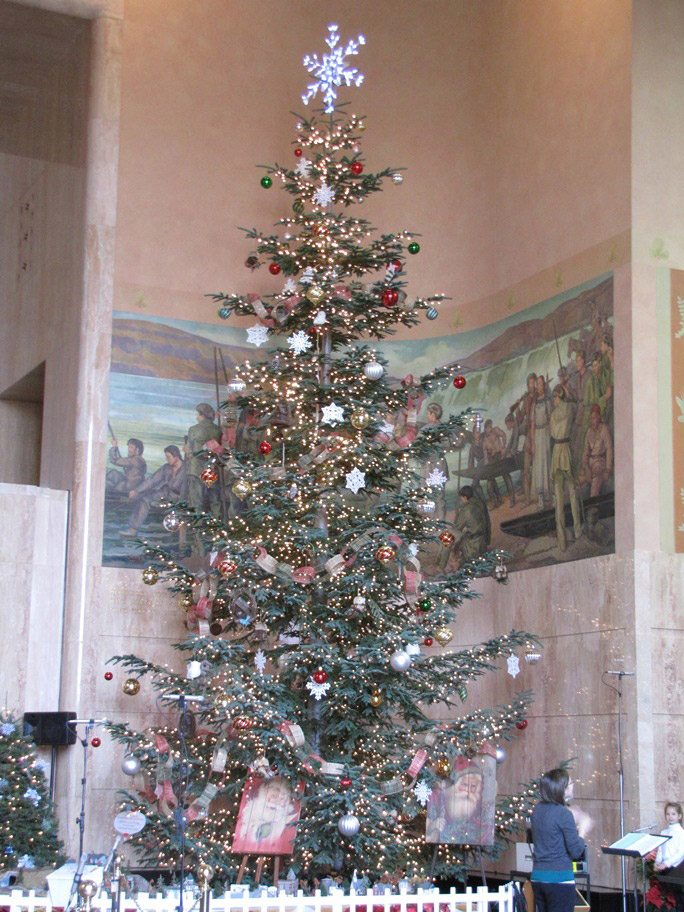 This year's Capitol tree in Salem
Photo credit: Peggy Guillen