If you're having trouble viewing this message, please visit my legislative web page at http://www.leg.state.or.us/prozanski/, click on "News" in the lower left-hand column and scroll down.


Dear friends,

    I hope this finds you well, having enjoyed our beautiful stretch of fall weather. I'd like to thank everyone who turned out for the health care town hall that I co-hosted with other area legislators in September. It was a fruitful conversation. If you weren't able to attend, a recording of the town hall can be found on KLCC's web site, at: http://klcc.org/post/legislative-health-care-town-hall-meeting.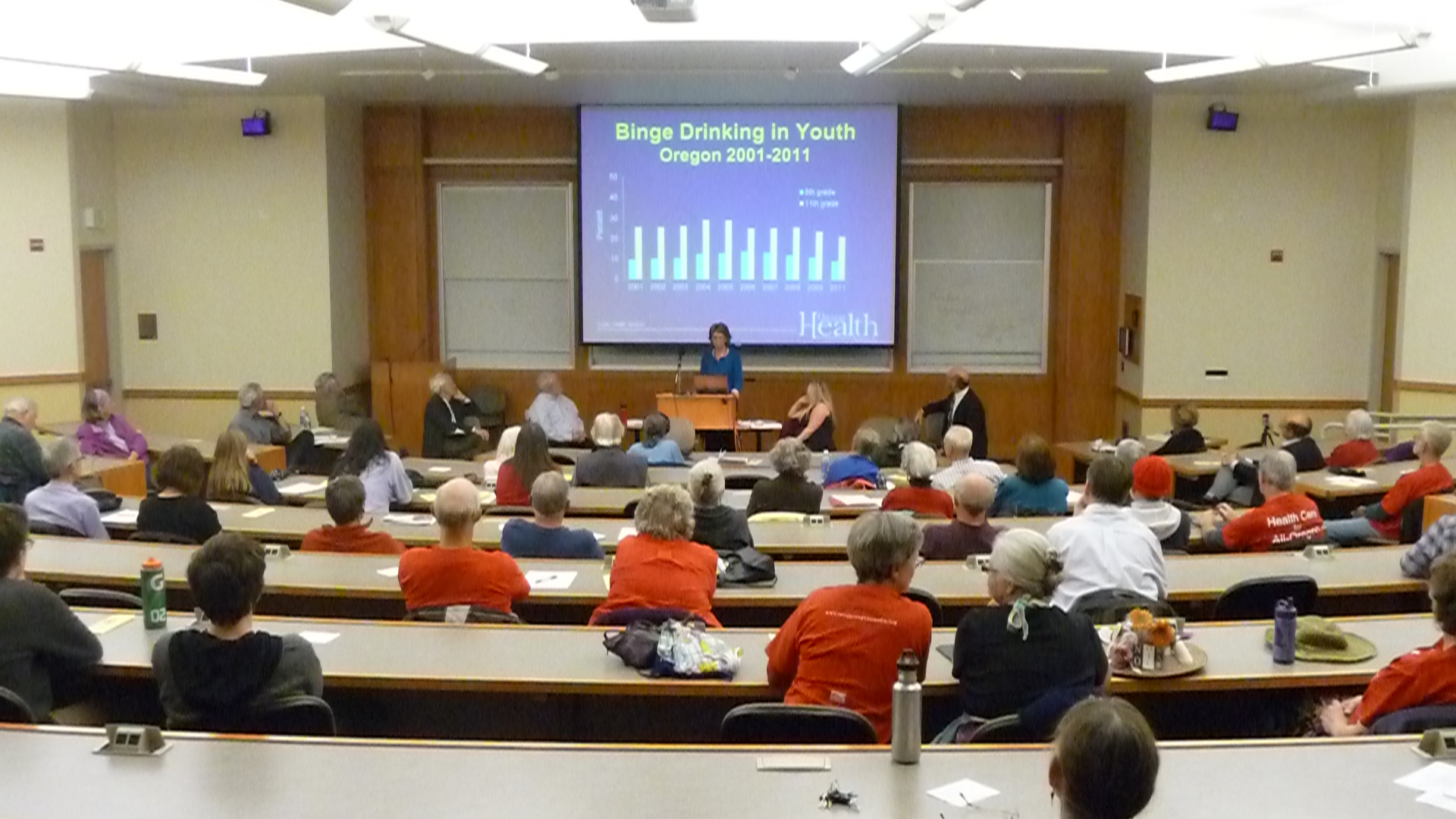 As you may know, the Legislature in September met in a special session called by Governor Kitzhaber to pass a set of bills bundled into a "Grand Bargain." The bills dealt with PERS, revenue, spending and GMO crops. I was opposed to holding the special session because none of the issues was time sensitive, and because the process was rushed. I did not support any of the bills. Below you will find my analysis. In addition, you will find information on:

        - 2013 Regular Session in Review: Legislation Impacting Rural Oregon
        - "Fast-track" Enrollment for the Oregon Health Plan
        - Reduction in SNAP Benefits
        - OR 58 Salt Creek Tunnel Project Update
        - New Traffic Signal in Cottage Grove
        - Halloween Traffic Safety Tips from the State Police
        - Scam Alert: Credit Card Imposters
        - Eugene Ranked as Eighth Best Place to Live in the U.S.
        - Historic Oakland TV Segment 9
  
    I hope this information is helpful and informative for you or someone you know. As always, feel free to share your comments, questions or concerns with me by phone, mail or e-mail. Remember that Daylight Savings Time ends Sunday, November 3 at 2 a.m., so set your clocks back an hour! Enjoy the extra hour of sleep!

                                                              
Special Session: My Analysis

    Since 2008, the legislature's annual sessions have drastically reduced the need to hold expensive special sessions. I believe that all of the bills rushed to approval in September's special session could easily have waited until our February 2014 regular session, four months from now. That would have given more time to fully develop the bills' concepts and would have allowed for greater public participation. For those reasons, I opposed all of the bills.

    The revenue bill was probably the most straightforward of the five bills. It increases the corporate tax rate on incomes above $1 million and adjusts the personal exemption credit for higher incomes. It reinstates a 10-cent tobacco tax that expired a number of years ago. It also reduces medical deductions for high-income seniors. Again, none of these policies needed to be addressed before the February 2014 session.

    The spending bill was trickier. It will provide an additional $100 million to K-12 public schools, a one-time infusion of money. There is no guarantee that the same level of funding will continue to be available in future bienniums. And there is another catch: The bill provides a new business tax credit that will cost the state $482 million over the next six years! This new tax credit will largely benefit wealthy individuals and does not require businesses to create any new jobs. I objected to this spending bill because the new tax break it creates costs nearly five times the amount going to schools.

    Two bills in the special session dealt with PERS, the Public Employee Retirement System. One bill contained three distinct policy issues that also could have waited for the next regular session. The first prevents future state legislators who are not already in PERS from enrolling in the program. The second prohibits public employees from including insurance benefits in their final salary formula. The third permits a PERS pension to be subject to execution, garnishment and attachment if the PERS member is convicted of a crime. I believe these three issues should have been considered separately instead of as a bundle during a regular session.

    The second PERS bill will reduce state retirees' cost-of-living adjustments (COLA). This comes on top of reductions already approved in the 2013 regular session. The COLA reductions from Senate Bill 822 passed during regular session is estimated to save $455 million and billions of dollars over the life of the bill. However, retirees affected by the COLA reduction are challenging the law in court. The legislature should have waited until the courts rule on the current challenge to SB 822 before considering cutting the COLAs even further. Even though I supported SB 822, I think it was unfair to single out retired public employees for additional cuts during the special session.

    The fifth bill prohibits local governments from regulating GMO (Genetically Modified Organism) crops. During the 2013 legislative session, we considered SB 633 that dealt with this preemption issue. I voted against it in committee and on the Senate floor because I do not believe there is a reason to deny citizens the right to pass local ordinances concerning GMOs. I remained opposed to this legislation during the special session. Making the bill that passed even worse, legislative leadership agreed in the "thirteenth hour" to add an "emergency" clause, putting the ban on GMO regulation into effect immediately. The emergency clause will have the effect of prohibiting citizen referendums on GMOs from going forward. I believe this was a misuse of the legislative process.


2013 Regular Session in Review: Legislation Impacting Rural Oregon
(Bills that passed during the 2013 regular session, listed in numerical order)

    SB 839 - Water Management: Established the Water Supply Development Account to assist rural Oregon communities in building water storage projects for needs in summer.

    HB 2216 - Provider Tax for Expansion of Health Care Coverage: Renewed health care provider taxes on hospitals and long term care facilities, leveraging federal funds to provide health care for more Oregonians. Rural hospitals are mostly exempt from the hospital tax.

    HB 2649 - Expanding the Farm to School Program: The Farm to School program enables schools to offer fresh, locally sourced products in their cafeterias, and to design corresponding hands-on curricula that may include farm visits, gardening, cooking, composting and recycling. This bill appropriated $500,000 to the program.

    HB 3452 - Wolf Management: Stipulated that nothing in wildlife laws is intended to prevent Oregon Fish and Wildlife Commission or Oregon Department of Fish and Wildlife from lethally taking wolves to address chronic depredation of livestock, regardless of management status of wolves.
 

"Fast-track" Enrollment for the Oregon Health Plan

    As you may know, the Oregon Health Plan has been opened to more adults as allowed by federal health reform. People can now apply for coverage that starts January 1, 2014.

    While, Cover Oregon is the one-stop shop for people applying for health coverage in Oregon, including the Oregon Health Plan (OHP), there is another option, called "fast-track," available for some low-income Oregonians.

    Fast-track enrollment is an easier way for qualified Oregonians to enroll in OHP. It also allows the Oregon Health Authority (OHA) to create a more efficient and streamlined process without repeating eligibility work that has already been done for other programs.

Fast-track enrollment is available to Oregon residents who  meet the qualifications for the Oregon Health Plan and are either enrolled in the Supplemental Nutrition Assistance Program (SNAP) or have children enrolled in Healthy Kids/OHP.

    OHA will mail fast-track enrollment forms to people who meet the qualifications. People eligible for fast-track enrollment do not need to apply through Cover Oregon or through any other means. They simply send back a completed "fast-track" form and they will be enrolled in OHP.

    More information can be found, here. please be aware that there are people receiving SNAP or Healthy Kids who will not qualify for fast-track enrollment because their income exceeds the limit for the Oregon Health Plan. This option is available to only a portion of the approximately 800,000 Oregonians who receive food benefits through SNAP. Through Cover Oregon, there is financial assistance available to help them buy coverage on the commercial market.


Reduction in SNAP Benefits

    On November 1, all Oregonians receiving benefits from Supplemental Nutrition Assistance Program (SNAP, formerly know as food stamps) will receive a reduction in their benefits. The reduction is due to Congress allowing expiration of extra SNAP funding provided in the American Reinvestment and Recovery Act of 2009. In Oregon, this means that more than 800,000 families will have fewer resources each month to spend on food in our local economies. Here are the estimate impacts:


| | | |
| --- | --- | --- |
| Household Size | Reduction per month in SNAP benefits – starting November 2013 | Total yearly SNAP benefit reduction |
| 1 person | -$11 | -$132 |
| 2 persons | -$20 | -$240 |
| 3 persons | -$29 | -$348 |
| 4 persons | -$36 | -$432 |



OR 58 Salt Creek Tunnel Project Update

    Paving at the Salt Creek Tunnel site is now complete and two-way travel is allowed until construction resumes in spring of 2014.

    According to the Oregon Department of Transportation, significant delays in construction this season have affected the $9.37 million project to rebuild four half-viaducts and repair and improve the tunnel liner. ODOT and the contractor are in disagreement over the cause of the delays. Consequently, a third construction season will be necessary to complete the project.

    Work in 2014 will include construction of two remaining viaducts (bridges), installation of  two message signs, and completion of  final paving and striping. While no final construction schedule has been established for 2014, ODOT will work to keep travel impacts to a minimum and any nighttime closures short-lived. While there will be a single lane restriction and intermittent nighttime closures, ODOT does not expect any extended or complete closure of the highway.


New Traffic Signal in Cottage Grove

    Motorists in downtown Cottage Grove should expect nighttime lane closures at the intersection of Highway 99 (9th Street) and East Main this week, with flaggers providing traffic control, according to ODOT. Nighttime work may continue into next week but daytime traffic will not be effected.

    ODOT recently turned on the new traffic signal at the Highway 99-East Main intersection. The contractor is now taking down the old signal poles and finishing the sidewalks around the intersection.


Halloween Traffic Safety Tips from the State Police

    The Oregon State Police (OSP) reminds you to watch for trick-or-treaters when driving in neighborhoods or going to a Halloween party. For parents, OSP encourages you to:

Dress children in bright costumes. Use reflective tape or stickers on dark costumes

Apply face paint or cosmetics appropriate for children directly to the face. It is safer than a loose-fitting mask that can obstruct a child's vision

If a mask is worn, cut the eyeholes large enough for full vision

Have children carry flashlights or glow sticks to improve their visibility

Secure hats so they will not slip over children's eyes

Remind children to cross streets only at intersections

Teach them to stop and look for cars, looking to the left, right and left again before crossing, and then to keep looking both ways for cars while they cross

Teach them never to dart into a street or cross a street from between parked cars


Scam Alert: Credit Card Imposters

    The recordings claim the consumer's credit or debit card has been "locked" and they need to enter their 16-digit card number immediately to "unlock" the card.

    MasterCard has stated it does not solicit personal or account information from cardholders in this or any other manner and that cardholders should not provide their account information in response.

    DOJ urges Oregonians to simply hang up the phone if they receive a recorded call seeking cardholder account information, such as account number or PIN. Do not press a button to talk to a sales person, and never give personal information or credit card numbers over the phone unless you have initiated the contact or you are sure you know who you are dealing with.
    If you think you have fallen victim to these imposters, contact the Oregon Department of Justice online at oregonconsumer.gov or call 1-877-877-9392.


Eugene Ranked as Eighth Best Place to Live in the U.S.

    Livability.com, a web site that explores what makes small to mid-sized cities great places to live, work and visit, recently ranked Eugene as the Eighth best place to live in the U.S., citing its proximity to the coast and mountains as well as its sustainable businesses and thriving food and music scenes. You can review the entire list, here. Eugene's downtown came in at number nine on Livabilty's list of top-ten downtowns.


Historic Oakland TV Segment

    Earlier this month, Portland TV station, KGW in conjunction with Travel Oregon, filmed and aired part of a program segment in and around Oakland. The short video can be found on Travel Oregon's web site: http://traveloregon.com/trip-ideas/grants-getaways/main-street-oregon/.